2 Scott Hardkiss remixes featured on Dean & Britta's limited edition of 13 Most Beautiful : Songs for Andy Warhol's Screen Tests
Having sold out the 2XCD limited edition of "13 Most Beautiful" and after numerous requests from fans, Dean & Britta are releasing a revised single-disc version on their own Double-Feature label. This new disc is re-sequenced to match the original running order of the DVD and live 13 Most Beautiful show. The CD has been newly packaged in a fluorescent pink gatefold designed by Frank Olinsky.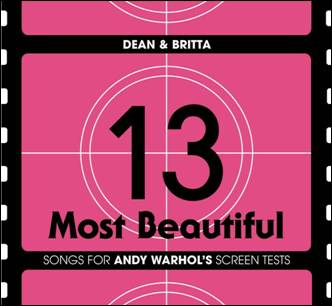 This definitive version of 13MB includes avant-garde electro-rock remixes by Scott Hardkiss: 
"I'll Keep It with Mine (Scott Hardkiss electric remix)"  
"It Don't Rain In Beverly Hills (Scott Hardkiss)"  
When Dean & Britta, the electro-pop duo formerly of Luna, opened their vaults of their music for the Andy Warhol screen tests to DJ/ producer Scott Hardkiss a kinetic force drew him to several of their recordings:
One was a cover of Bob Dylan's unreleased "I'll Keep It With Mine," the song Dean & Britta performed to accompany Warhol's transfixing screen test of Nico of The Velvet Underground. This remix combines classic indie rock sounds (psychedelic, shoegazer & drone) with electronic dance music transforming the essential elements of the track while placing it in a new electronic space. A futuristic effect on Britta Phillips' voice, strings replaced with synths, and trippy chimes by Sonic Boom (Spacemen 3 / MGMT) give Dean Wareham's classic Galaxie 500 guitar sound a whole new 21st century feel. Timeless electro-space rock!!!
Scott also jumped at the chance to remix the perfect rainy-day pop song "It Don't Rain in Beverly Hills," which Dean & Britta recorded for Warhol's screen test of Edie Sedgwick. Hardkiss adds a subtle tapestry of programmed drum beats, synthesizer sweeps, delays & fx to modernize the feel w/ electronic touches while keeping all the warmth of Dean Wareham's melodic vocal and guitars. The result perfectly captures Edie's iconoclastic "poor little rich girl" glamour & sweetness, which was lost forever as Edie died shortly after this screentest shot in 1964.
To view exclusive behind the scenes footage of the string quartet session for "I'll Keep it With Mine" click below.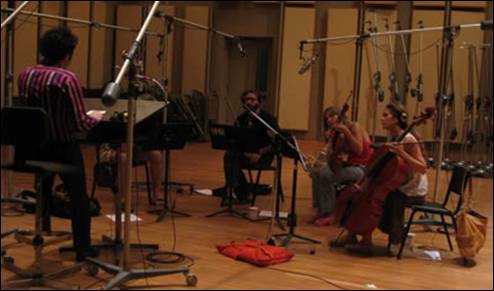 Purhcase Dean & Britta's 13 Most Beautiful… Songs for Andy Warhol's Screen Test:iTunes, Amazon, DeanandBritta.com
More about 13 Most Beautiful:
Dean & Britta have been making waves with their highly acclaimed 13 Most Beautiful: Songs for Andy Warhol's Screen Tests a special, limited-edition album. Originally commissioned by the Andy Warhol Museum, the project began as a live multimedia show featuring Dean & Britta performing in front of 13 shorts selected from Andy Warhol's Screen Tests collection. The screen tests are silent portrait films made by Andy Warhol at the Factory between 1964 and 1966 with each film focusuing on a unique subject. The duo selected 13 subjects (including Dennis Hopper, Nico, Lou Reed), which became the inspiration for the music. Produced by Dean & Britta in Brooklyn, the album version features studio recordings of material written by the pair from the live show as well covers including Bob Dylan's "I'll Keep It with Mine" and the Velvet Underground's "Not a Young Man Anymore" plus several extraordinary remixes & versions by Scott Hardkiss, Sonic Boom (Spacemen 3 / MGMT), Tony Visconti (David Bowie, T-Rex) and My Robot Friend.