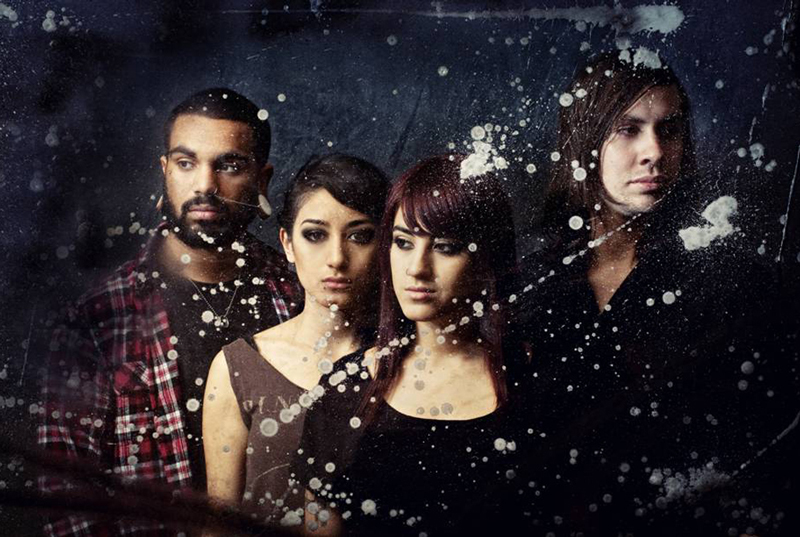 Click Here to listen to White Lotus 
Eyes Set To Kill Members
Alexia Rodriguez – Vocals / Lead Guitar
Anissa Rodriguez – Bass
Cisko Miranda – Screams / Rhythm Guitar
Caleb Clifton – Drums
A White Lotus traditionally represents a rebirth. Just like the beautiful flower, Eyes Set To Kill has gone through a metamorphosis. After years of steadily growing as a band, measured in accomplishments, fan base as well as growing and maturing musically, the Phoenix, Arizona-based collective finally reveal their true identity on their upcoming fourth studio album appropriately entitled White Lotus.
"It's a symbolic name," Alexia Rodriguez states. "We have a clear mind set, we have purity and we know exactly what we want to do with our music. We know who we are and where we want to go, and so we wanted to use a white lotus to symbolize how confident and focused we are. It's a leap for us because we have an even clearer vision of what we want."
Down to a more concentrated four-piece, Eyes Set To Kill slowly drowned out their screamo vibe and have transformed into a metal band led by Rodriguez's piercing vocal prowess. Tie that in with stellar musicianship, mature songwriting and an adrenaline-charged resonance, and it's clear this explosive quartet is on the verge of redefining the genre.
Those sentiments are further backed up by smash singles like "The Secrets Between," a heavy single about withholding the truth from a significant other; "Forget," an intense ditty about the desire to erase your memory from a terrible experience with an ex-lover; and "Where I Wanna Be," a love song with a dark edge.
The new and improved style of White Lotus is the culmination of their years striving towards this point.
Formed in 2003 by the Rodriguez sisters, Eyes Set To Kill's passionate music connected with fans early on and led them to becoming one of MySpace.com's top unsigned screamo bands in 2006. The group signed with BreakSilence/Suburban Noize Records the following year and released three critically acclaimed studio efforts – 2008's Reach, 2009's The World Outside and 2011's Broken Frames.
After fulfilling their label obligations, the metal quartet decided to independently release White Lotus through a joint venture between their own imprint Forsee Records and Maphia Entertainment.
Eyes Set To Kill is making a career on their own terms and the versatile White Lotus is a testament to their craft. "I've found that the more unique people are, the more unique their tastes are gonna be," Rodriguez says. "So I think people that are diverse and are into all types of music, they'll like this album because it's diverse, but a lot heavier." 
Now, it's time for this White Lotus to bloom.