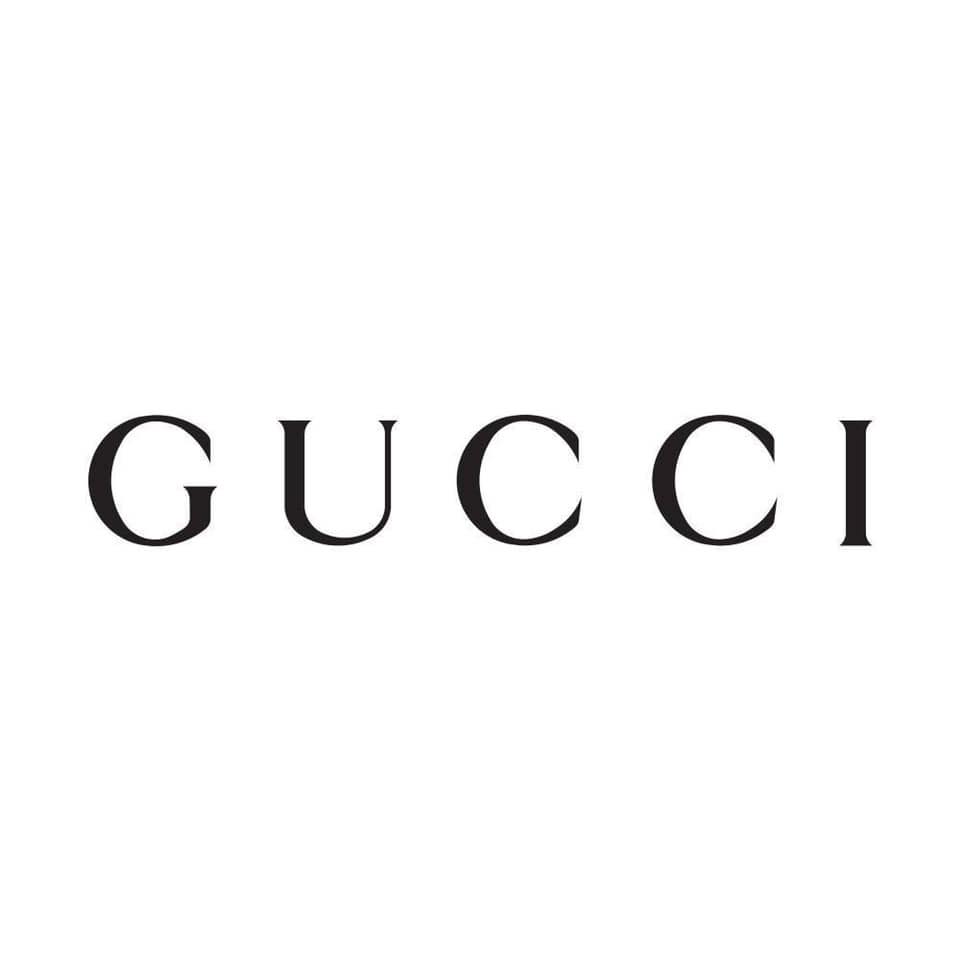 GUCCI ANNOUNCES THE OPENING OF ITS NEW WYNN LAS VEGAS STORE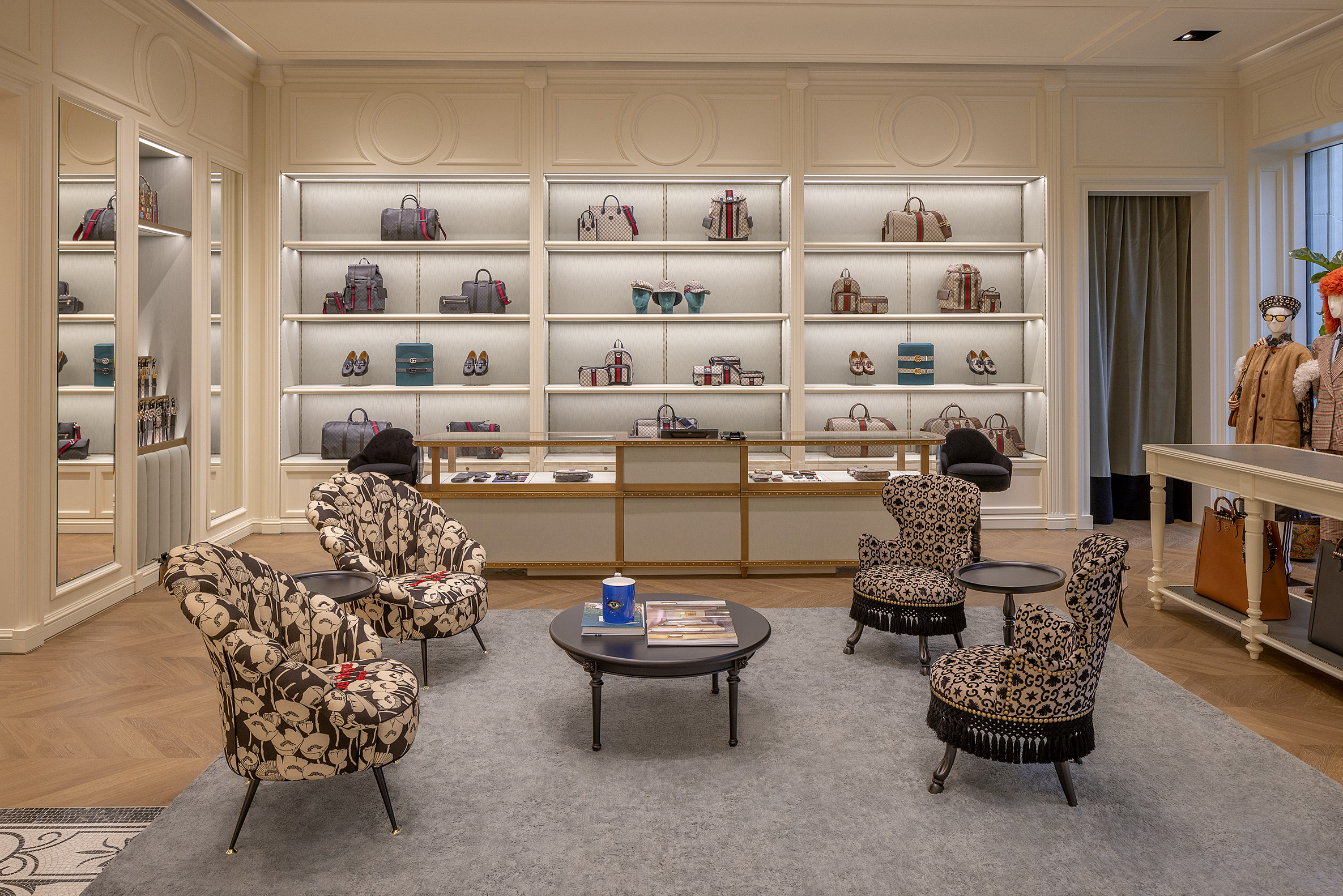 Gucci is pleased to announce the opening of its new store located at the Shops at Wynn in Las Vegas, Nevada. The expansive two-story boutique features a grand staircase inviting clients to feel like they are constantly discovering new aspects of the store, including two spacious private VIP shopping areas. Spanning over 13,000 square feet, the boutique showcases the full assortment of the Gucci collection with men's and women's ready to wear, shoes, handbags, luggage, Gucci Décor, and Gucci Beauty.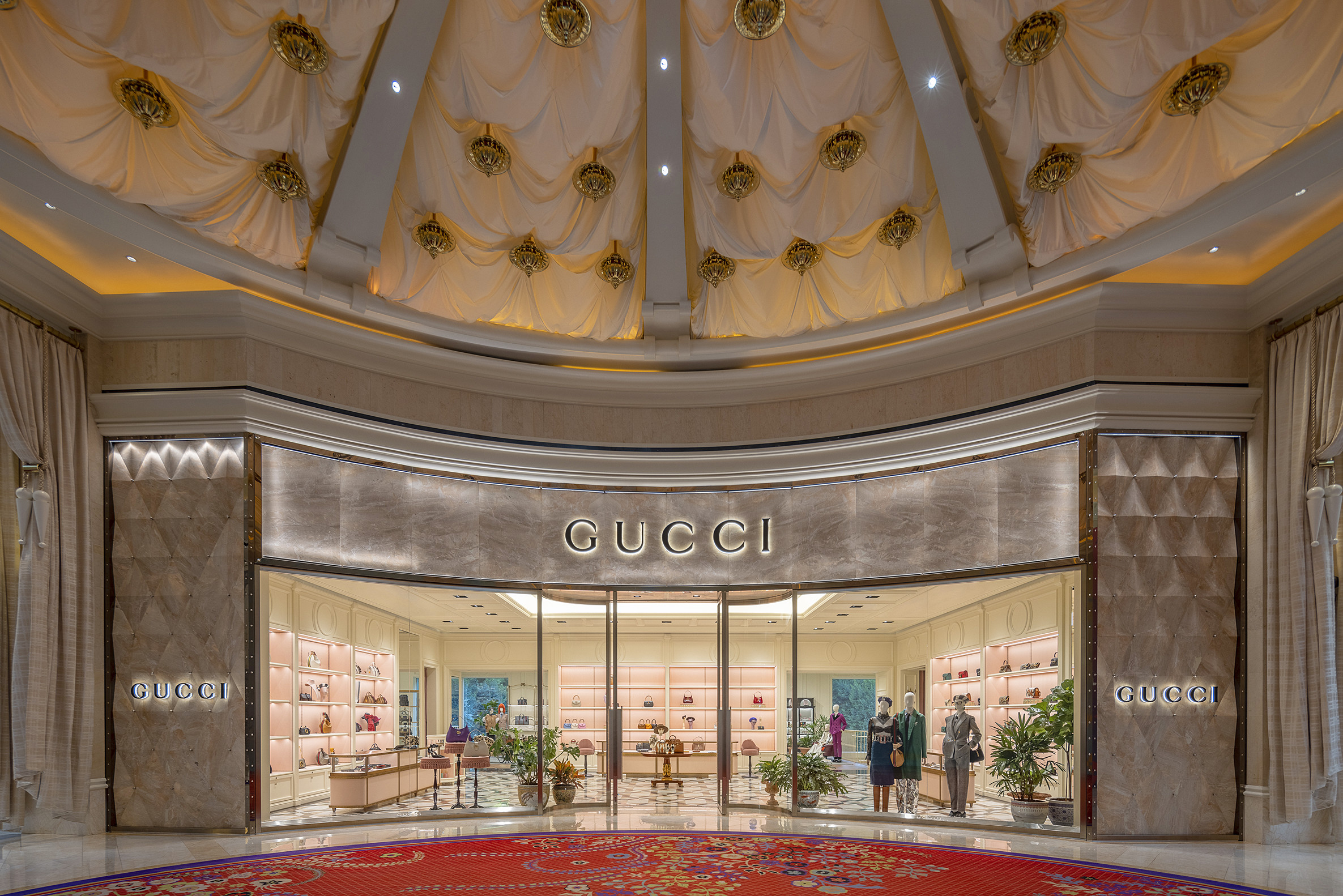 In a nod to Las Vegas, the boutique will also feature several special collections, including an expanded eveningwear offering across ready-to-wear and accessories, as well as pieces from Gucci's High Jewelry collections, and precious leather goods. Additionally, Gucci HA HA HA, a collection that represents the synthesis of a friendship between Gucci's Creative Director Alessandro Michele and Harry Styles, will be available.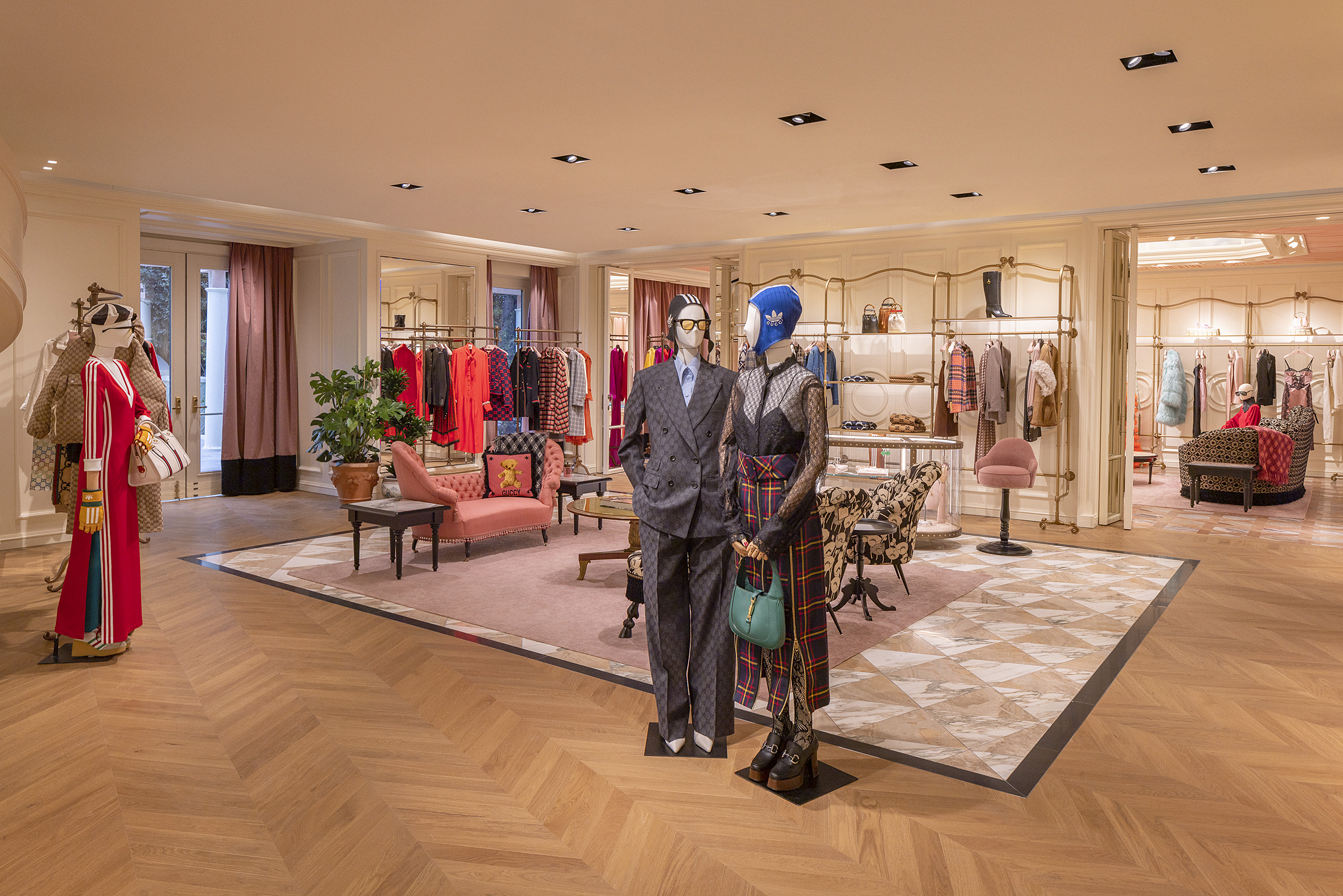 Celebrating the Las Vegas lifestyle, Gucci is thrilled to present exclusive items in honor of the Wynn boutique, including a limited-run dice game, poker set, and card set wrapped in a crocodile leather = case. Additionally, clients can discover exclusive offerings from the Gucci Décor collection, including a floral print motif that is available across a range of chairs, stools, and wallpapers.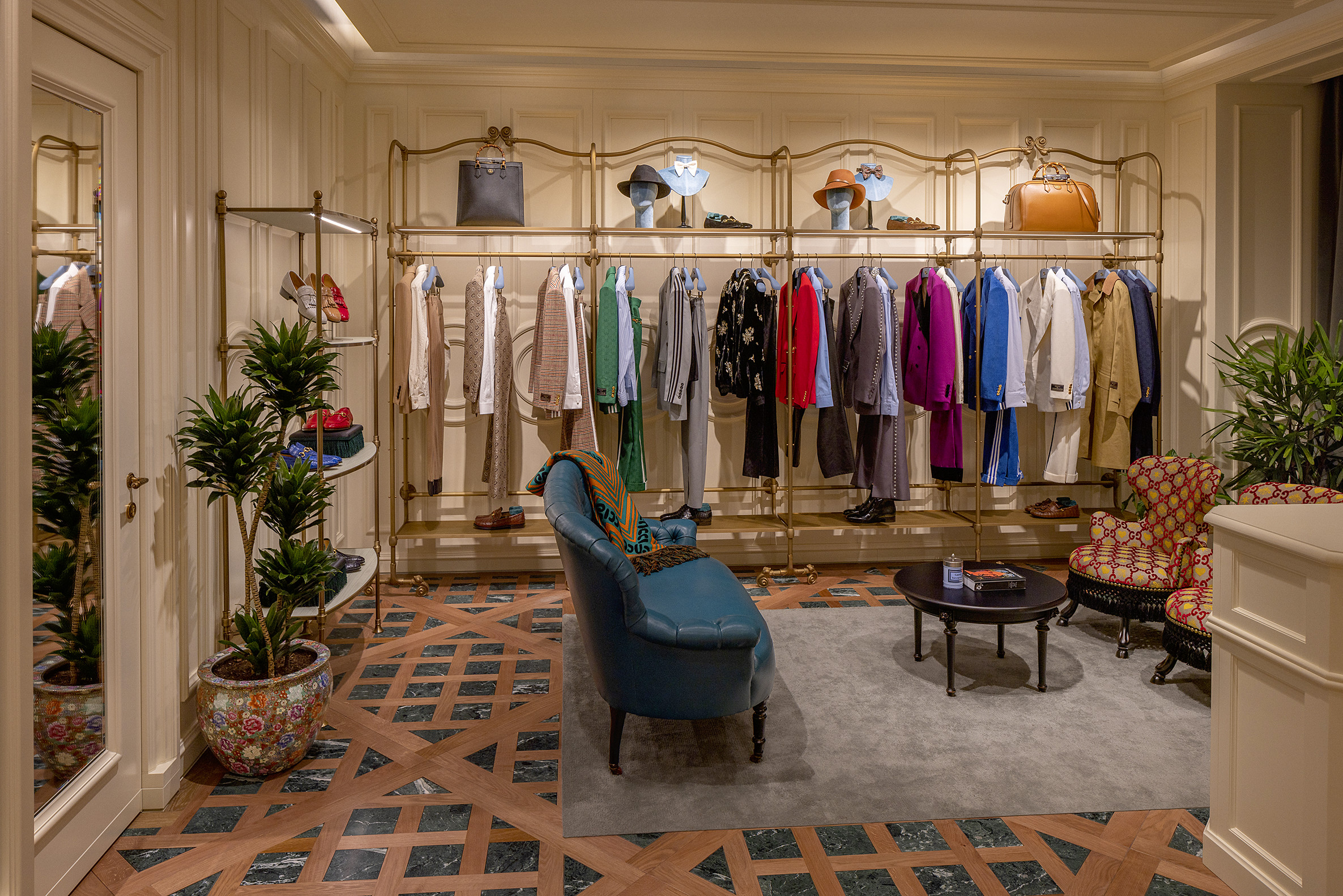 With a design that invites customers to feel welcome and relaxed, the expansive boutique creates a journey of discovery across the two floors and a lush outdoor garden. As the only boutique in the country with a private outdoor area, the calm oasis welcomes guests to escape to a verdant, Italian garden with a lagoon and features a restored antique Italian fountain from Rome.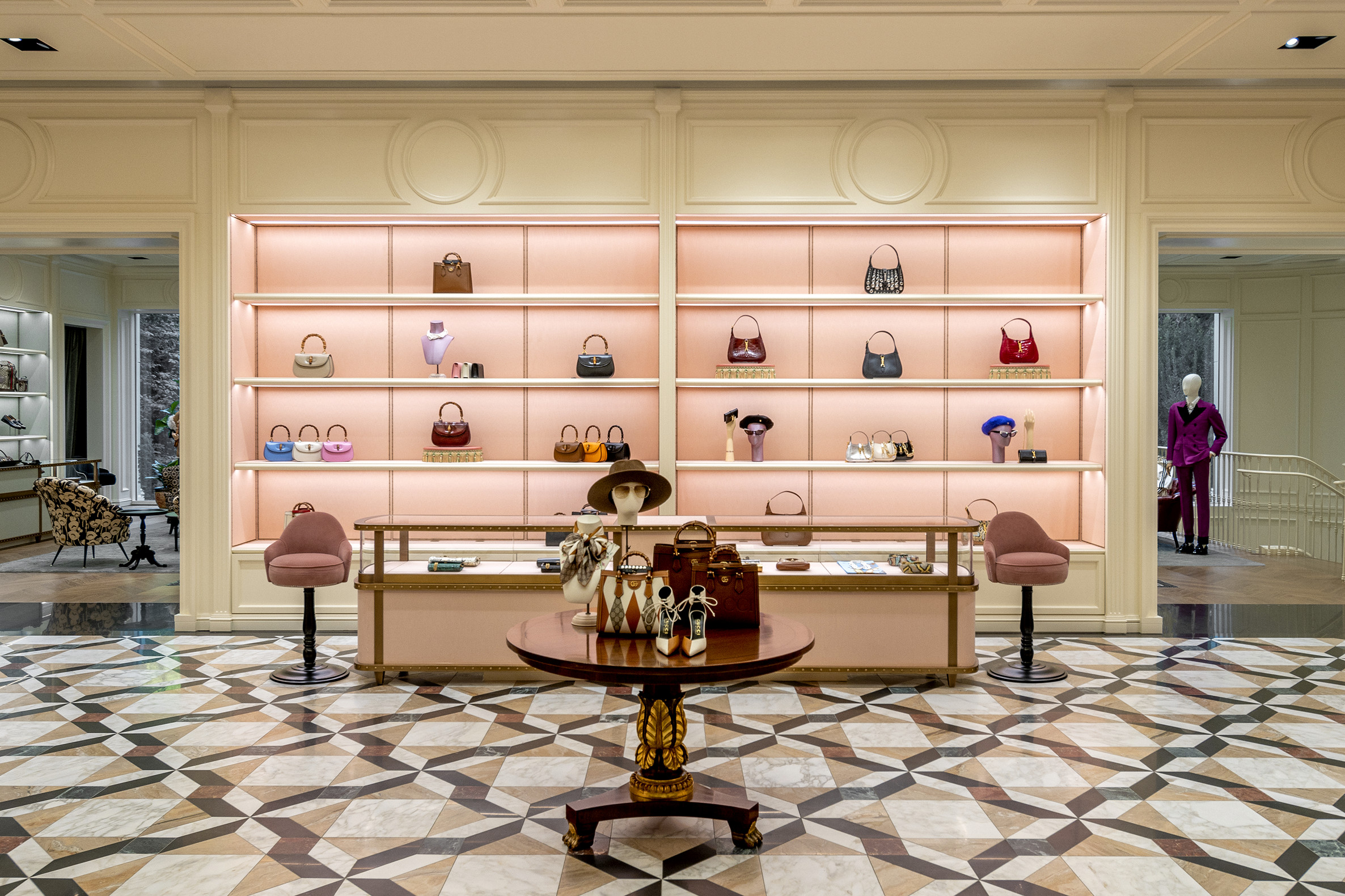 Contemporary luxury is suggested not only by the employment of beautiful and idiosyncratic materials in the interior design, but also through a determinedly spare use of space. In keeping with the elegant and contemporary eclecticism that characterizes Gucci's collections, the store sees the combination of traditional and modern, industrial and romantic.
The mood within the store is one of discretion, where understated drama is created by the surprising and unexpected combination of materials. Custom geometric painted wood floors and marble polychrome inlays produce decorative three-dimensional effects on the floors, while being harmoniously integrated with the herringbone wood flooring. Juxtaposition of this sort, where opposites forge a new connection, is repeated throughout: technical, mechanical display units contrast with the softness of the rich fabrics that adorn the rooms; antique furniture and light fixtures complement pink velvets, used for upholstery and fitting rooms. Throughout the store one finds sumptuous chairs, while vintage oriental rugs are layered over each other for a textured effect. The result is a space that entices, surprises and feels personal to Gucci.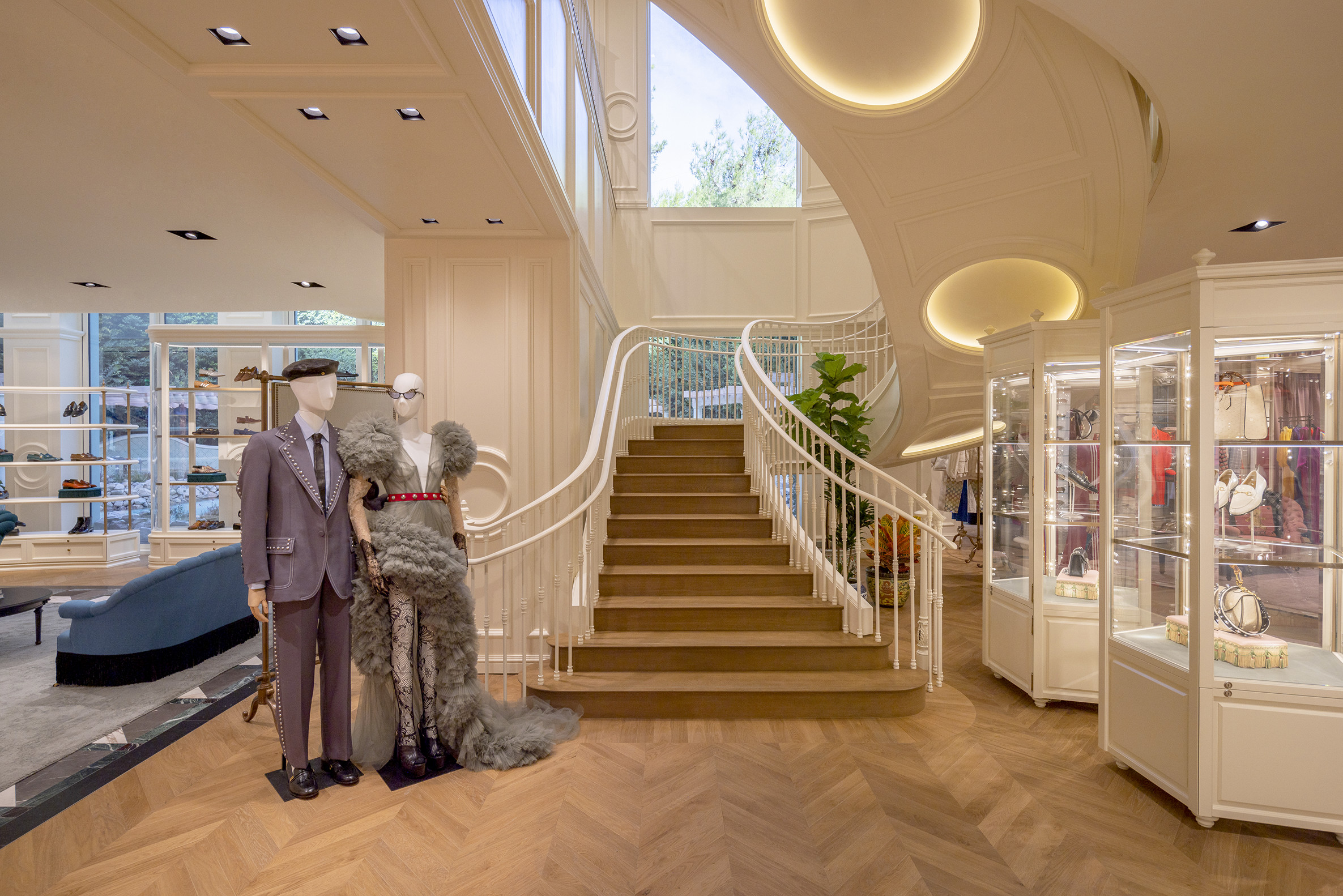 As part of Gucci's commitment to implement and enhance eco-friendly initiatives and energy-efficient technologies in the House's stores worldwide, the new store is LEED certified1 and uses with LED lighting2.
GUCCI
Founded in Florence, Italy, in 1921, Gucci is one of the world's leading luxury brands, led by President and CEO Marco Bizzarri and Creative Director Alessandro Michele. Following the House's centenary, Gucci forges ahead into the next hundred years, continuing to redefine luxury while celebrating the creativity, Italian craftsmanship, and innovation at the core of its values.
Gucci is part of the global luxury group Kering, which manages the development of a series of renowned Houses in fashion, leather goods, jewelry and watches.
Discover more about Gucci at www.gucci.com.