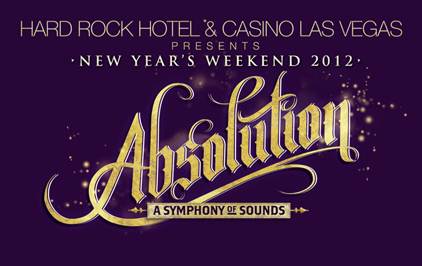 Hard Rock Hotel & Casino Rings in the New Year with Special Menus and a Sweet Finale
Venues include 35 Steaks + Martinis, Johnny Smalls, Pink Taco, LTO Pizza & More, Mr. Lucky's Café and The Lounge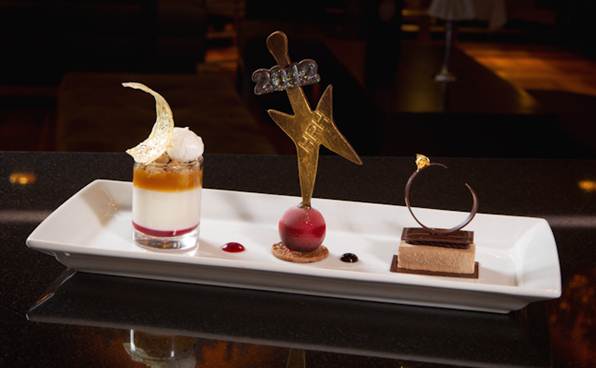 Hard Rock Hotel & Casino celebrates the closing of one year and the dawning of 2012 with limited-time prix fixe menus and specialty dishes at the rock and roll resort's restaurants and lounges during New Year's Weekend Absolution – A Symphony of Sounds.  Venues include 35 Steaks + Martinis, Johnny Smalls, Pink Taco, LTO Pizza & More, Mr. Lucky's Café and The Lounge.  Special food offerings are available on New Year's Eve, Saturday, Dec. 31 and New Year's Day, Sunday, Jan. 1, 2012. 
Hard Rock Hotel & Casino satisfies taste buds with the Symphony of Sweets, available at all restaurant outlets Saturday, Dec. 31 and Sunday, Jan. 1, 2012.  The dessert trio consists of three perfectly-portioned confections that create a marriage of sweets – a Raspberry Vanilla Praline and Crème (chocolate shell, filled with vanilla ice cream and raspberry swirl), Tropical Mousse Coupe (exotic fruit mousse layered with a mango jam and topped with fresh toasted coconut) and Chocolate Silk Cake (rich silk chocolate mousse covered with milk chocolate and topped with a Chantilly cream and chocolate disk).  A winning finale to a savory dinner, the Symphony of Sweets is available as part of the prix fixe menus or a la carte. 
35 Steaks + Martinis, traditional steakhouse with a Hard Rock edge, offers a delectable four-course meal, priced at $135 per person.  The menu features signature dishes such as Foie Gras (two ways, seared with fig compote and terrine with black truffle); Beet Salad (warm goat cheese, picked red onion, watercress and aged balsamic), New York Strip Steak "Oscar" (USDA choice strip loin steak, lump crab, béarnaise sauce, asparagus and potato puree) and Sweet Potato Gnocchi (Brussels sprouts, candied chestnuts, salsify and sage brown butter).  To enhance dinner, guests may take advantage of the open martini or champagne bar, for an additional cost.  35 also offers a late night menu, featuring small bites, including the 35 Benedict "Steak + Eggs" (35-day dry aged prime rib, poached egg, onion braised potato and béarnaise) and 35 Burger at the Bar (10-ounce prime steak burger, apple wood bacon, aged cheddar, tomatoes and signature steak sauce).  Regular dinner menu is going to be available from 5 to 8:30 p.m., prix fixe menu from 9 p.m. to midnight and late night menu available from 11 p.m. to 1 a.m. on Saturday, Dec. 31.  Live entertainment hits the stage at 10 p.m.
Johnny Smalls celebrates the New Year Weekend by offering specialty a la carte dishes as well as endless spreads of cuisine at the buffet station.  Exclusive festive tapas include Individual Lobster Pot Pie, Butter Poached Lobster Flat Bread and Thai Crab Cake Bites, all available a la carte or as part of the All-You-Can-Eat Experience priced at $29.99 per person.  For $45 per person, guests may feast their eyes and appetites on the brunch buffet, featuring breakfast pastries and preserves, fresh fruit, omelets made-to-order, petit desserts and salad.  Guests who purchase the buffet may also enjoy the items from the prepared-to-order menu which includes New York steak and eggs, crème brulee French Toast, Roast Chicken Panini and Penne Puttanesca.  As if it could not get better, buffet guests may sip on bottomless mimosas, champagne or Bloody Mary cocktails (inclusive in cost).  A la carte dishes as well as regular dinner menu are available from 5 to 10 p.m. Saturday, Dec. 31 and Sunday, Jan. 1, 2012.  Johnny Smalls buffet offerings are available from 10 a.m. to 2 a.m. on Sunday, Jan. 1, 2012.
Pink Taco, specializing in traditional Mexican cuisine with a California twist, offers limited-time cuisine featuring appetizers, entrees and a NYE Pink Taco Package which includes one appetizer, one entrée and choice of a Dos Equis or Tacate bucket or margarita pitcher, all for $45 per person.  A la carte items include Chilled Serrano Shrimp (served with Serrano cocktail sauce) and Tierra y Mar (petit beef filet and calamari sticks served on saffron rice with jalapeno roulade).  Pink Taco specials are available from 11 a.m. to 3 a.m. on Saturday, Dec. 31. 
LTO Pizza & More offers mouthwatering Italian favorites through NYE three-course prix fixe meals, priced at $50 per person ($80 per person, with open bar).  Dishes to choose from include the LTO Misto Salad (mixed field greens, pine nuts, goat cheese and tomatoes), Veal Satimbocca (sautéed scaloppini, provolone, sage, prosciutto and linguini), Braised Chicken Cacciatore (red sauce, sweet peppers, onions and penne pasta) and Mare e Monti (petit filet mignon, scampi style prawns and broccoli rabe).  Menus are served from 5 p.m. to midnight on Saturday, Dec. 31. 
Mr. Lucky's Café, featuring diner favorites 'round the clock, offers two limited-time dishes.  For the steak and seafood enthusiasts, Mr. Lucky's offers a special Surf and Turf, featuring grilled NY strip steak, six grilled shrimp, sautéed mushrooms, fresh vegetables and garlic mashed potatoes.  Also available is the New Year's Burger, served Oscar style with crab meat, grilled asparagus and béarnaise sauce, alongside French fries or Cole slaw.  Mr. Lucky's Café is open 24 hours a day, seven days a week and specialty dishes are available from 11 a.m. to 3 a.m. on Saturday, Dec. 31.
The Lounge located across from Pink Taco presents New Year's Day Rock'N Bowl Day, featuring sports viewing and game day food.  Served buffet style, items are individually priced and include hot dogs and bratwursts, a nacho bar with the works, mini beef sliders, football hero submarine sandwiches and more.   An Absolut Bloody Mary Bar is available for only $10 per person.  Must be 21 years of age and older.
Complete menus and pricing are available upon request.  For more information or to make reservations at 35 Steaks + Martinis, LTO or Johnny Smalls (Mr. Lucky's, Pink Taco and The Lounge do not accept reservations), guests may call 702.693.5585 or visit www.hardrockhotel.com.
About New Year's Absolution – a Symphony of Sounds
Hard Rock Hotel & Casino presents Absolution – a Symphony of Sounds, New Year's Weekend.  As 2011 closes its gates, guests will access a world of experiences that will afterwards require forgiveness, absolution and detoxification of the mind, body and soul.  The multi-venue, multi-performance three-day festival will have partygoers sinning it up, one last time before the clock strikes 12.  At various rooms across the casino floor, music enthusiasts will penetrate their ear drums with the diversity of sounds – alternative artist Corey Taylor at Body English, local rock group Sin City Sinners at The Lounge, as well as rock and roll icons Guns N' Roses and hip-hop sensation Drake at The Joint.  Taste buds will be seduced by mouthwatering seasonal cuisine and libations at restaurants such as 35 Steaks + Martinis, Johnny Smalls and Pink Taco.  With hosted bars starting at $55 and featuring locations all across the property, no one will go thirsty.  Outside at RELAX Bar poolside, spectators will enjoy the visual display of fireworks as they welcome 2012.  At Vanity Nightclub, partygoers will dance their socks off to the hypnotizing beats of dance and electro DJ Pauly D, electronic DJs Stellar and Richard Beynon and also rejoice the first day of the year alongside Drake during the official after-concert party.  With Absolution at Hard Rock Hotel & Casino, revelers will journey into the New Year amongst an orchestra of hedonism and debauchery of immortal proportions, cleansing their souls as 2012 is delivered.  One weekend, one destination, one helluva' confession to come. To buy tickets or for more information, visit www.newyearsabsolution.com.