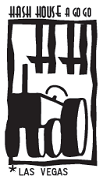 Hash House A Go Go and MIX 94.1 host the
4rd annual official Bite of Las Vegas Kick Off Party
Festivities include food and drink specials, live remote, fun and giveaways
WHAT:         
Hash House a Go Go and MIX 94.1 host the 4th annual official Bite of Las Vegas Kick Off Party. Tents will be set up in the front parking lot of the restaurant's Sahara location, serving $1 draft beer to get the party started. Other food and drink specials during the party include the Mashed Potato and Bacon Stuffed Burger for $5 and the popular Kiwi Watermelon Lemonade, which was voted Bite's "Best Drink" for $4, all of which will be available at Bite of Las Vegas.
JC Fernandez of MIX 94.1 will be doing remote call-ins and the station will be giving away prizes during the live remote, including family four-ticket packages to Bite of Las Vegas along with Hash House a Go Go gift cards every 15 minutes.  In addition, the first 100 attendees will receive a pair of tickets to see comedian George Wallace at The Flamingo. Many more show tickets and other prizes will be given out throughout the night.
The 15th annual Bite of Las Vegas will take place Saturday, Oct. 15 at Desert Breeze Park, featuring musical performances by O.A.R., Colbie Caillat, Michelle Branch, Imagine Dragons, 100 Monkeys and more. The event will also feature booths with food and beverages from more than 40 local restaurants as well as fun activities for the whole family.
WHEN:
Bite of Las Vegas Kick Off Party
Thursday, Oct. 13, 2011
6 p.m. until 8 p.m. 
WHERE:   
Hash House A Go Go
6800 W. Sahara Ave.
Las Vegas, NV 89146
Front parking lot
About Hash House A Go Go
Hash House A Go Go brings farm-fresh food with a funky, modern twist to the locals and visitors of Las Vegas. The well-known restaurant is famous for its unusual décor and enormous portions. The restaurant has garnered dozens of local and national accolades and has been featured on the Food Network, "Martha Stewart," "Dr. Phil" and most recently, the popular Travel Channel program, "Man v. Food." For reservations or inquiries, please call the Sahara location at (702) 804-4646, the Imperial Palace location at (702) 254-4646, the M Resort Spa Casino location at (702) 797-1500, the Plaza Hotel & Casino location at (702) 386-2594 or visit hashhouseagogo.com.
About CBS RADIO Las Vegas
KMXB Mix 94.1 is owned and operated by CBS RADIO, one of the largest major-market radio operators in the United States.  A division of CBS Corporation, CBS RADIO operates 130 radio stations, the majority of which are in the nation's top 50 markets.  CBS RADIO owns and operates KMXB, KLUC, KXTE, KYDZ, and KXNT AM/FM in Las Vegas.