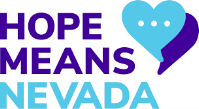 HOPE MEANS NEVADA'S "#ASK5 TO SMASH STRESS" CAMPAIGN
ANNOUNCES APRIL 17 – 23 VIRTUAL EVENTS HIGHLIGHTING PANIC ATTACKS VS. ANXIETY ATTACKS
WHAT:
For the third week of its monthlong "#Ask5 to Smash Stress" social media campaign for National Stress Awareness Month, Hope Means Nevada (HMN), the community-based non-profit focused on eliminating youth suicide in the state, will focus on Panic Attacks vs. Anxiety Attacks.
All month long, the social media campaign will encourage teens to #Ask5 of their friends how they are doing and provide actionable techniques to foster mental wellness. Each week will focus on a different theme, each chosen to raise awareness of effective ways to alleviate stress. Teens will be encouraged to log onto social media daily to learn about different stress-relieving strategies, including everything from meditation and creating strong social support groups, to yoga and creating visual art. In daily live presentations and short videos posted to social media, teens and a variety of professionals will share helpful mental wellness tips and meaningful discussion. The campaign is sponsored by Anthem Blue Cross and Blue Shield.
WEEK 3 SCHEDULE: SOCIAL MEDIA
Sunday, April 17: Weekly introduction with Shane Taylor, Hope Means Nevada Teen Committee Member
Monday, April 18: HMN Teen Co Chair, Caroline Edgeworth will be interviewing Annie Weisman, PhD., director of wellness and integrative medicine for the University of Nevada, Las Vegas on trauma and how it appears in the body.
Tuesday, April 19: Infographic describing the difference between panic attacks vs. anxiety attacks.
Wednesday, April 20: NFL cheerleader Mackenzie Vojvoda will speak about what to do when stress turns to panic live at 5 p.m.
Thursday, April 21: Check in & chat box question.
Friday, April 22: HMN teen committee co-chair Lauren Edgeworth will interview Dr. Sheldon from the National Alliance on Mental Illness about anxiety and paranoia.
Saturday, April 23: Weekly Recap – 5 takeaways from the week.
WHERE:
Facebook, Twitter and Instagram
SOCIAL MEDIA:
Facebook, Twitter and Instagram: @hopemeansnevada
HASHTAGS:
#Ask5toSmashStress
#Ask5
#SuicidePrevention
#MentalWellness
#ItsOKtoNOTbeOK
#StressAwarenessMonth
Summary
Title
Hope Means Nevada's "#Ask5 To Smash Stress" Campaign Announces April17-23 Virtual Events Highlighting Panic Attacks Vs. Anxiety Attacks
Description
Hope Means Nevada's "#Ask5 To Smash Stress" Campaign Announces April17-23 Virtual Events Highlighting Panic Attacks Vs. Anxiety Attacks