IN CELEBRATION OF NATIONAL VOLUNTEER MONTH, CREDIT ONE BANK® MAKES DONATION to U.S. VETS – LAS VEGAS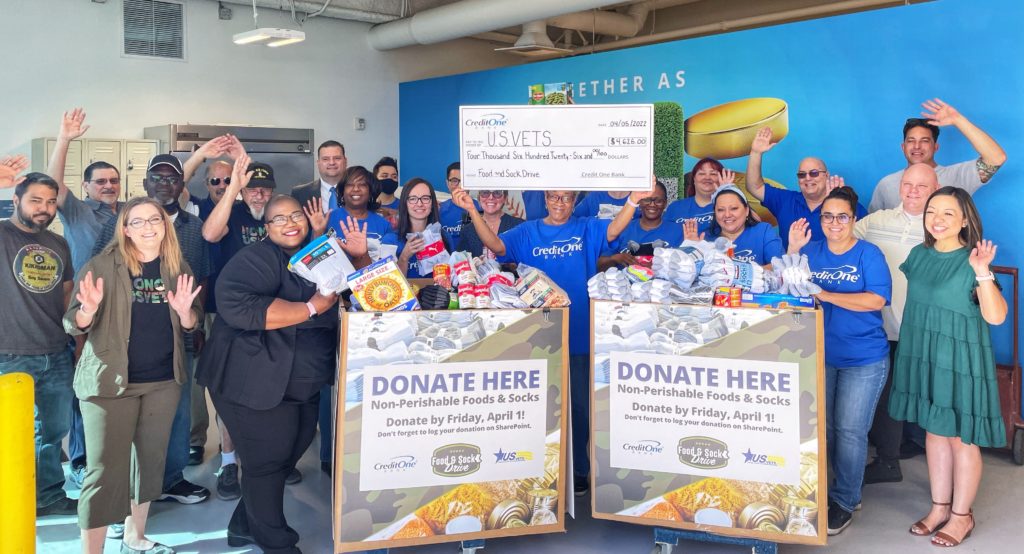 (credit: Credit One Bank)
 On Tuesday, April 5, Credit One Bank, a Las Vegas-based financial services company, continued to exemplify their philanthropic efforts during National Volunteer Month by organizing a food and sock donation drive for U.S.VETS – Las Vegas and presented the nonprofit with a check for $4,626. Credit One Bank's employees also donated 616 non-perishable food items and 639 pairs of socks in support of the drive.
"Credit One Bank is honored to contribute to the amazing work U.S.VETS does to give back to our local community," said Mamta Kapoor, executive vice president of marketing partnerships at Credit One Bank and co-chair of the advisory board for U.S.VETS. "We're proud to support an organization where 86% of the dollars brought in go directly back to assisting veterans and their families in the form of housing, mental health and wellness services, and workforce development and individualized support."
"We are thankful for the support that Credit One Bank has given us over the years and the partnership we have built," said Shalimar Cabrera, Executive Director, U.S.VETS – Las Vegas. "The time, effort and donations they have provided us has been significantly impactful toward furthering our mission."
Credit One Bank is the top corporate donor to the Las Vegas chapter of U.S.VETS, providing both monetary donations and sponsorship of annual events. Bank employees also volunteer their time with the nonprofit throughout the year to support their mission of ending veteran homelessness. U.S.VETS – Las Vegas hosts many events and initiatives each year to benefit local veterans.
About Credit One Bank
Credit One Bank, N.A. is a financial services company based in Las Vegas. Driven by data, Credit One Bank offers a spectrum of products for people in all stages of their financial life including credit cards through the Visa®, Mastercard® and American Express® networks. Founded in 1984, Credit One Bank is one of the fastest-growing credit card providers in the United States. Credit One Bank is the Official Credit Card of NASCAR®, the Las Vegas Raiders, the Vegas Golden Knights, and Best Friends Animal Society®, and is a proud partner of WWE® and Six Flags®. Learn more at CreditOneBank.com and on social media (@CreditOneBank) on Facebook, Instagram, Twitter, YouTube, and LinkedIn.
About U.S.VETS – Las Vegas
U.S.VETS – Las Vegas opened in 2001 and operates two residential facilities and a community support office.
The Las Vegas location operates over 330 beds of transitional and permanent housing. Employment services are provided through a workforce program that helps over 110 veterans return to employment each year. Additionally, over 400 veteran households are provided rapid re-housing and homeless prevention services annually.
Summary
Article Name
IN CELEBRATION OF NATIONAL VOLUNTEER MONTH, CREDIT ONE BANK® MAKES DONATION TO U.S. VETS - LAS VEGAS
Description
IN CELEBRATION OF NATIONAL VOLUNTEER MONTH, CREDIT ONE BANK® MAKES DONATION TO U.S. VETS - LAS VEGAS