KARL JONES SIGNS WITH RUNNIN' REBELS

6-foot-10-inch forward will join the UNLV men's basketball program starting with the 2022-23 season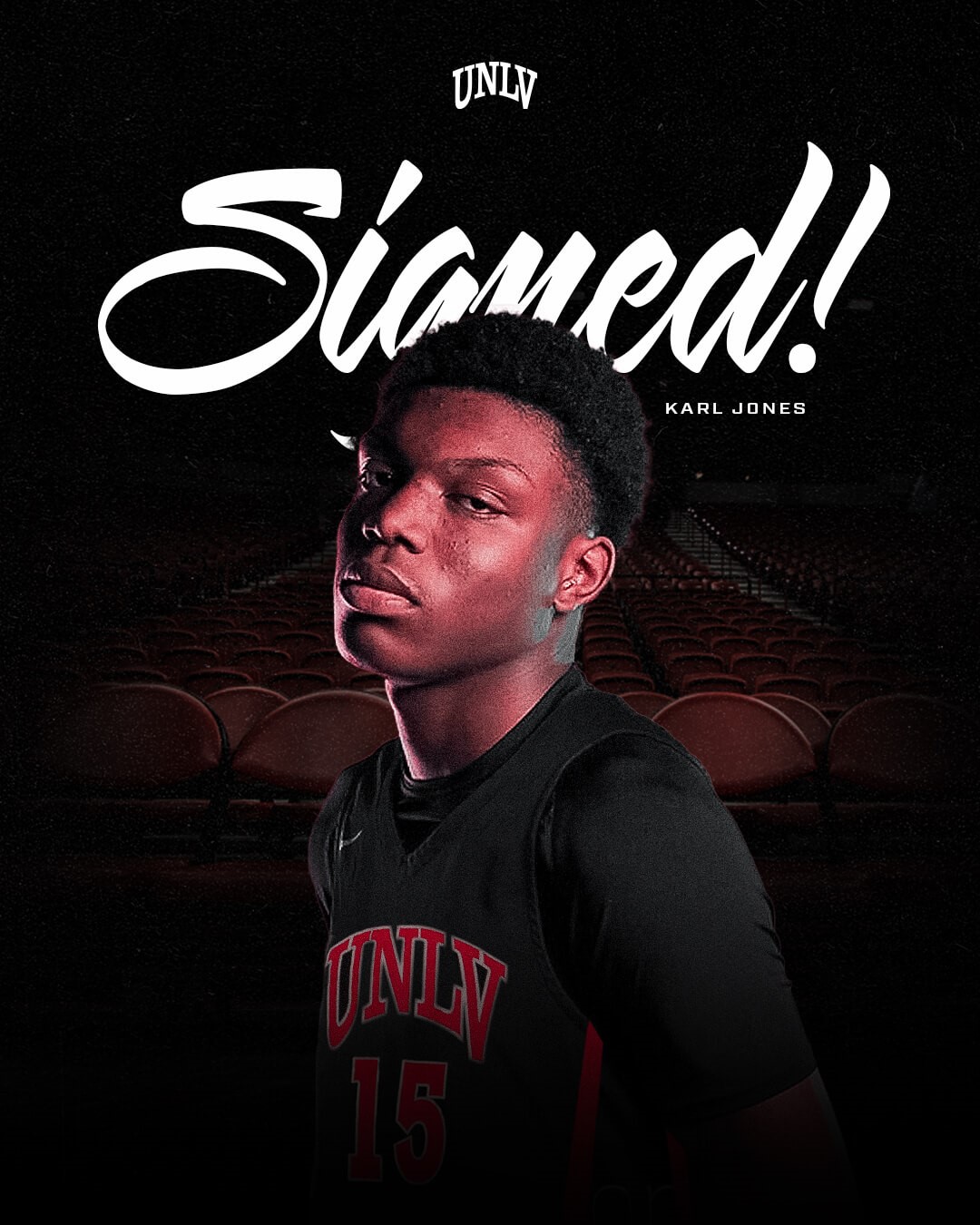 @UNLVAthletics  |  @TheRunninRebels
The UNLV men's basketball program has received a signed commitment from Karl Jones to join the Runnin' Rebels for the 2022-23 season, head coach Kevin Kruger announced Monday.
Jones is a 6-foot-10-inch, 250-pound forward, who is transferring to UNLV from Los Angeles Southwest College. He will be a junior this season with two years of eligibility remaining.
"We are excited that Karl has chosen to be a Runnin' Rebel," Kruger said. "He has a great attitude and is hungry to get here and to help the team. He is an efficient scorer at the rim as well as an outstanding rim protector, and rebounds aggressively. He will also help provide us with length and athleticism."
Originally from Chicago, Jones graduated from Morgan Park High School, one of the best public high school basketball programs in the country.
He started all 29 games for LA Southwest this past season, averaging 10 points, 8.2 rebounds and 2.8 blocks per game, while shooting 63.3% from the field. Jones also attended Wabash Valley College in Illinois and Iowa Western Community College.
Morgan Park HS won the state title his junior year and he has also played for Nike EYBL circuit teams Mac Irvin Fire and Meanstreets before attending college.
Jones joins Jackie Johnson III, Eli Parquet, EJ Harkless, Luis Rodriguez, Isaiah Cottrell, Keyshawn Hall and Shane Nowell as incoming student-athletes to the Runnin' Rebels for the upcoming season.
2022-23 SEASON TICKETS: Ticket prices for the 2022-23 season have been adjusted with affordability and family friendly value at the forefront of the changes. Click the links for more information or to purchase.
2021-22 SEASON RECAP: The Runnin' Rebels are coming off a successful 2021-22 season, which marked the first under head coach Kevin Kruger. The team accumulated 18 wins – its most in four years – and recorded 10 Mountain West victories, exceeding preseason expectations in the league standings.
With a revamped roster that included nine transfers, the team continually showed improvement as the season progressed, advancing 43 spots in the national KenPom ratings along the way. In addition, Coach Kruger was recently recognized as one of the nation's top first-year head coaches in Division I men's college basketball.
Summary
Article Name
Karl Jones Signs With Runnin' Rebels
Description
Karl Jones Signs With Runnin' Rebels