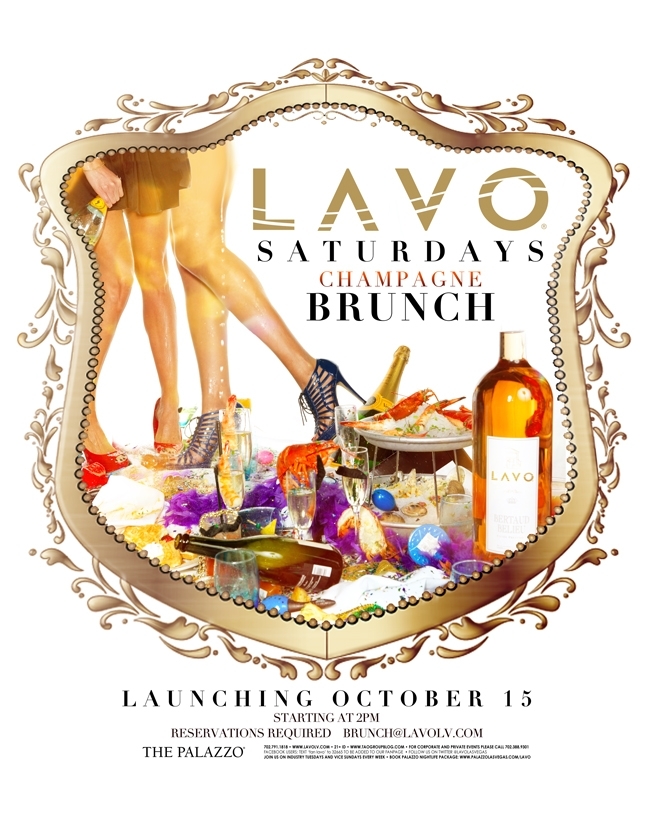 LAVO LAS VEGAS LAUNCHES CHAMPAGNE BRUNCH SATURDAYS
Famed NYC Party Arrives in Las Vegas
Pool season may be winding down, but day life will explode this fall at LAVO Italian Restaurant and Nightclub with the introduction of LAVO Saturday Champagne Brunch – a hedonistic afternoon soiree combining food, Champagne and European house music. LAVO first debuted in 2008 at The Palazzo in Las Vegas, and two years later expanded with a New York City location.
Now taking a cue from the Manhattan outpost, Lavo Las Vegas will be bringing the famed Saturday brunch to the Strip with gold painted dancers, mysterious costumed hosts surfing  the crowd, confetti showers, a mimosa bar, and high energy staff and entertainment to keep the party going all afternoon.  Launching October 15, LAVO Saturdays will prove that in this 24-hour city the sun doesn't have to go down for the party to start.
Corks will be popping with more than fifteen types of Champagne including a variety of large format bottles ranging from Magnums and Jeroboams all the way up to Nebuchadnezzars and 30 liter bottles that will no doubt keep the party going.  Brunchers can also enjoy a menu of signature cocktail "remedies," perfect for the day after a big night.
Brunch specialties include the White Polenta Pancakes topped with toasted hazelnuts and wildflower honey apricot jam, Lemon Ricotta Waffles with glazed apples, dark raisins and whipped yogurt and the Seafood Plateau, a smorgasbord of fresh seafood, including jumbo shrimp, oysters and little neck clams, to share, available in piccolo and grande. Those looking for heartier options can indulge in Parmigiano Classico with eggplant, chicken or veal, Spaghetti with Kobe Meatballs or a 14 ounce dry-aged New York Strip Steak with truffle sauce and spicy fries.
The LAVO Champagne Brunch will be offered each Saturday from 2 pm to 6 pm.  For Saturday brunch and bottle service reservations call 702.791.1818 or brunch@lavolv.com.