LIFE IS BEAUTIFUL ANNOUNCES LINEUP FOR RISING STARS STAGE AT 2022 FESTIVAL
15 new and emerging artists to perform on special stage dedicated to music discovery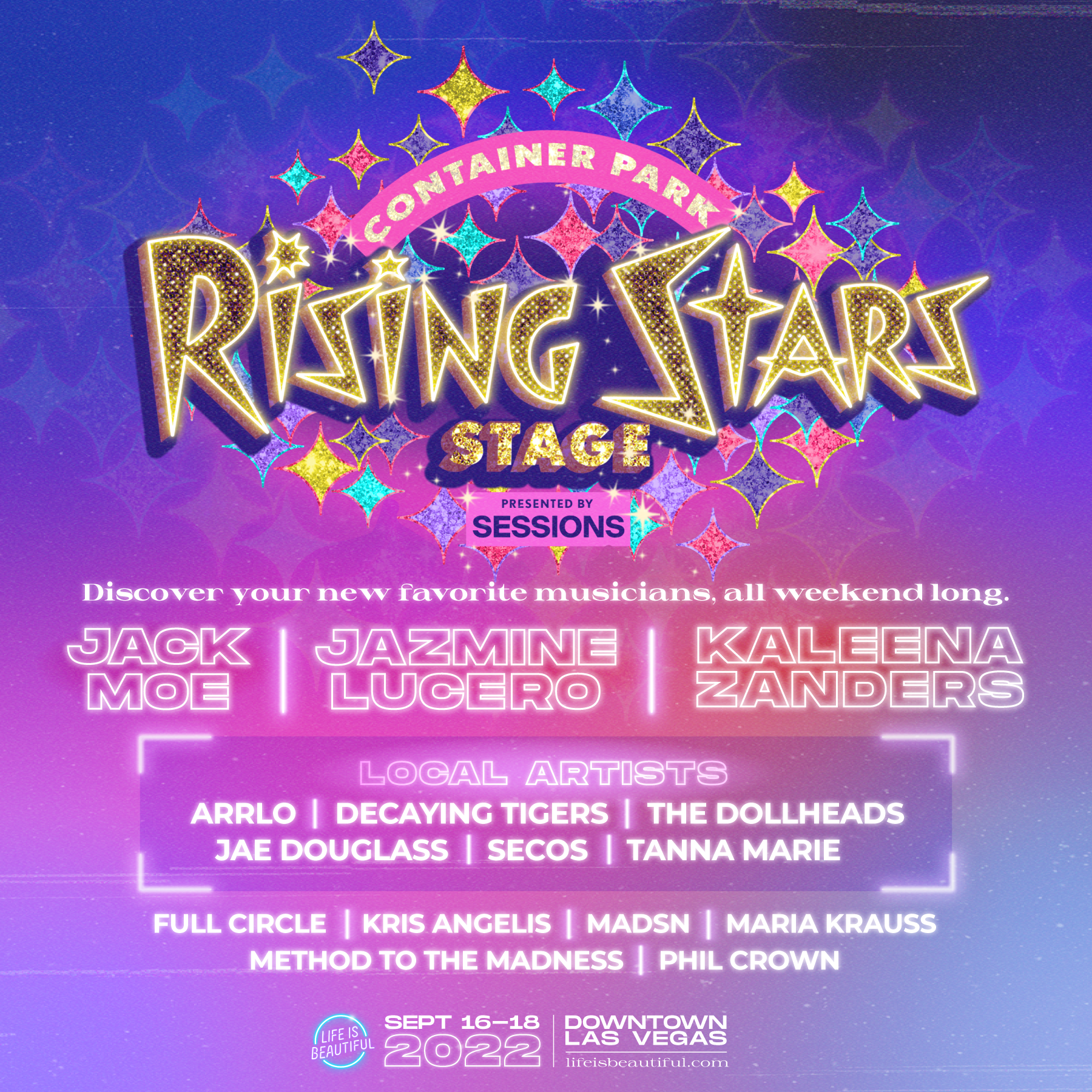 Life is Beautiful has announced the 2022 lineup for their popular Rising Stars Stage, returning to the premier 3-day music and arts festival from Sept 16-18. Featuring a roster of new and emerging artists and offering a space for music fans to discover their next favorite performer, the festival teamed up with Sessions Live to curate a music lineup that spans genres and generations. As part of the Road to Life is Beautiful online competition, 15 winners were chosen by a panel of judges to showcase their talents on the coveted stage.
"The competition was tough this year," said Tim Westergren, Co-Founder of Sessions. "We saw a ton of great performers, and we're really excited about the artists moving forward. We know their sets will add to an already great festival!"
The full list of Rising Stars performers will include:
Jazmine Lucero
Jack Moe
Kaleena Zanders
Arrlo*
Decaying Tigers*
Full Circle
The Dollheads*
Jae Douglass*
Kris Angelis
MADSN
Maria Krauss
Method to the Madness
Phil Crown
SECOS*
Tanna Marie*
*Indicates local Las Vegas performer
Life is Beautiful partnered with Sessions at the 2021 festival to produce the special stage at Container Park, and will be bringing the same magic to the 2022 event. The emerging artists featured on this stage will join an impressive roster of must-see performers including Arctic Monkeys, Calvin Harris, Gorillaz, Lorde, Jack Harlow, KYGO, MIGOS, Cage The Elephant, Beach House and more.
The locals edition of the online competition saw more than 172 acts fight for a spot to perform on the Rising Stars stage, which puts music and fans at the forefront by shining a light on undiscovered talent.
For more information on Life is Beautiful, visit www.lifeisbeautiful.com or follow along on social media on Facebook, Instagram, Twitter, and YouTube.
About Life is Beautiful
Life is Beautiful was born in 2013 as part of the major transformation of Downtown Las Vegas as a cultural hub and has since contributed over $350M of economic impact and cultural capital to the area. During the three-day festival, premier musical acts, experiential artists, comedians, thinkers and culinary talent flow into the urban streets of DTLV, in addition to the festival's 170,000 attendees. What started as an event has become something more: a symbol of connection, joy and creativity. Life is Beautiful continues to be driven by its core mission to create a holistic experience which aids in positive community transformation and individual empowerment by collectivizing and inspiring through shared experiences driven by art and culture.
Summary
Article Name
LIFE IS BEAUTIFUL ANNOUNCES LINEUP FOR RISING STARS STAGE AT 2022 FESTIVAL
Description
LIFE IS BEAUTIFUL ANNOUNCES LINEUP FOR RISING STARS STAGE AT 2022 FESTIVAL