LIFE IS BEAUTIFUL PARTNERS WITH SESSIONS LIVE TO HOST VIRTUAL MUSIC COMPETITION FOR LAS VEGAS PERFORMERS
15 Acts Will Be Chosen to Take the Stage at "Battle of the Bands" Event in July; Six Winners will Perform on the Rising Stars Stage at 2022 Festival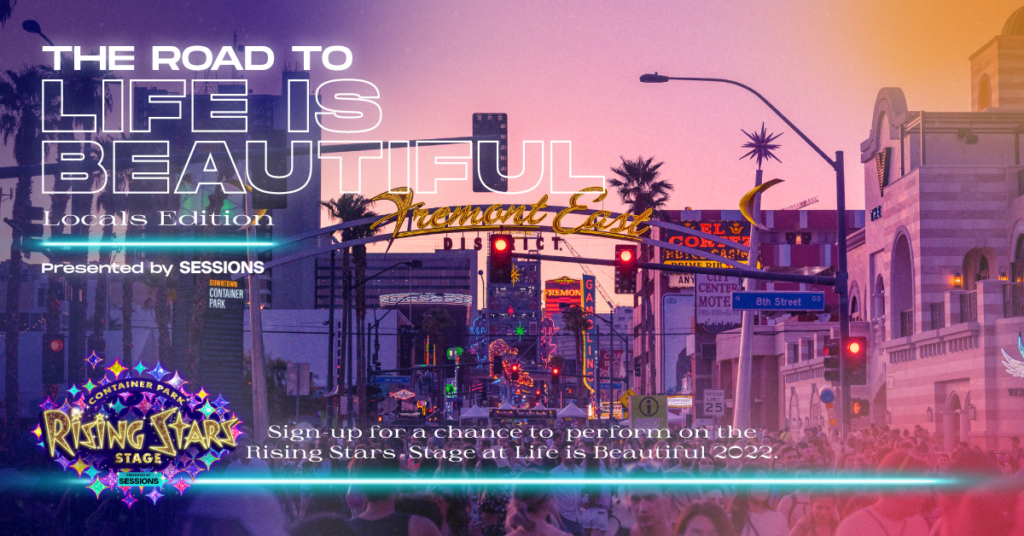 Las Vegas musicians, listen up! Life is Beautiful is partnering with Sessions Live to launch the Road to Life is Beautiful – Locals Edition competition, exclusively for Las Vegas performers. Hosted on Sessions' music-only streaming platform, musicians will have the chance to perform virtually for fans across the world, who will then vote on their favorite sets. The top 15 local acts will be invited to compete at an in-person "Battle of the Bands" event, where six talented performers will then be chosen to appear on the Rising Stars Stage at the 2022 Life is Beautiful festival taking place September 16-18.
"We are thrilled for the Rising Stars Stage to return to the festival this year," said Craig Asher Nyman, Head of Music & Programming at Life is Beautiful. "Giving local musicians the opportunity to perform at this year's event – while being discovered by fans from around the world on Sessions' platform – is really exciting. We look forward to the performances, and we can't wait to welcome six Las Vegas artists to the lineup this fall."
To enter the online competition, Las Vegas musicians are encouraged to visit go.sessions.live/LIB2022 to sign up on the platform. After providing information about themself or their group, artists will also be prompted to upload a performance video. Participants will then receive a private invite to schedule their live stream during the Sessions' online contest weekends, taking place June 16-20 or June 23-27.
Putting the decision-making in the hands of the fans, viewers will be able to send votes (stickers) to artists during their virtual sets. The five acts with the most votes after both weekends will automatically secure their spots at the in-person Battle of the Bands competition. A group of esteemed judges will then hand-select the remaining 10 spots in the Las Vegas competition taking place at The Space on July 22-23. From this event, six local performers will be chosen to hit the stage at this year's Life is Beautiful, which will be streamed live across the world.
"The partnership between Sessions and Life is Beautiful is a window into the future," said Tim Westergren, Sessions co-founder and former founder of Pandora. "We are marrying the democratizing effect of a large scale, global creator and audience platform with the power of a live concert. Every aspiring musician on Sessions, spanning over 150 countries, will now have the legitimate opportunity to perform at one of the highest profile festivals of the year."
In addition to the locals-only contest, Sessions is also currently hosting a worldwide, all-virtual Road to Life is Beautiful competition that will bring even more eclectic sounds to the annual festival. Taking place May 30 – July 31, musicians from around the world will compete to earn a spot on the Rising Stars Stage. Nine visiting artists will be chosen to bring their talent to the special stage, which will feature a total of 15 performers and 3 local DJs throughout the weekend. Non-local performers can sign up to compete at www.sessionslive.com.
With music and fans at the forefront, Life is Beautiful partnered with Sessions at the 2021 festival to produce the Rising Stars Stage at Container Park and will be returning this year to continue to shine a light on undiscovered talent.
Helping creators every step of the way, Sessions is a live streaming platform dedicated to helping artists build their fanbase, earn money, and make a living doing what they love. They provide everything musicians need to succeed: live streaming, music marketing technology, audience development, fan engagement, and state of the art monetization drawn from the most advanced techniques of virtual gaming.
Rounding out the roster with must-see sets, this year's festival will also feature musical performances from Arctic Monkeys, Calvin Harris, Gorillaz, Lorde, Jack Harlow, KYGO, MIGOS, Cage The Elephant, Beach House and more. Additionally, fans will get to indulge in world class food offerings, discover original works from international artists, catch hilarious standup sets, and more.
For more information on Life is Beautiful, visit www.lifeisbeautiful.com or follow along on social media on Facebook, Instagram, Twitter, and YouTube.
About Life is Beautiful
Life is Beautiful was born in 2013 as part of the major transformation of Downtown Las Vegas as a cultural hub and has since contributed over $350M of economic impact and cultural capital to the area. During the three-day festival, premier musical acts, experiential artists, comedians, thinkers and culinary talent flow into the urban streets of DTLV, in addition to the festival's 170,000 attendees. What started as an event has become something more: a symbol of connection, joy and creativity. Life is Beautiful continues to be driven by its core mission to create a holistic experience which aids in positive community transformation and individual empowerment by collectivizing and inspiring through shared experiences driven by art and culture.
Summary
Article Name
Life Is Beautiful Partners with Sessions Live to Host Virtual Music Competition for Las Vegas Performers
Description
Life Is Beautiful Partners with Sessions Live to Host Virtual Music Competition for Las Vegas Performers