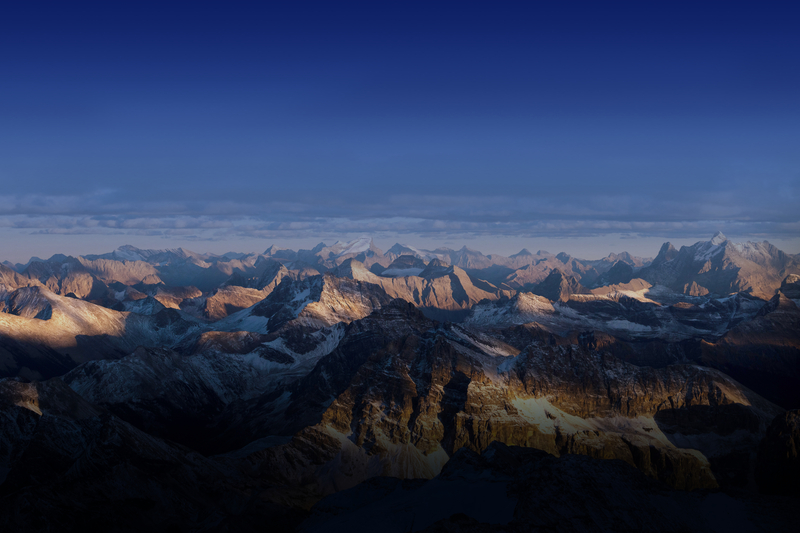 NOW PLAYING: FLYOVER IN LAS VEGAS' NEW FLIGHT RIDE "WINDBORNE: CALL OF THE CANADIAN ROCKIES" LANDS ON THE STRIP
Immersive Attraction Offers Nevada Residents 50 Percent Off Ticket Prices and a Free Photograph Through November 20
LAS VEGAS (September 26, 2022) – FlyOver in Las Vegas, the Strip's premier flight ride attraction, is celebrating its first anniversary with the launch of its newest flight ride experience, Windborne: Call of the Canadian Rockies.
Featuring incredible footage captured in remote areas of the Canadian Rocky Mountains, the film spotlights areas unreachable to most, providing a rare glimpse into the most isolated and untouched areas of the mountain range. Las Vegas visitors will explore Canada's snow-capped peaks, turquoise lakes, picturesque valleys and dramatic vistas as they travel over Banff, Jasper and Yoho National Parks amongst other spectacular locales.
Tickets to this immersive adventure are now on sale and can be purchased online at flyoverlasvegas.com. To kick off the launch and celebrate FlyOver's first anniversary in Las Vegas, Nevada residents can receive 50 percent off ticket prices and a free photograph with a valid state ID through November 20.
Created by parent company Pursuit, FlyOver is a multi-sensory voyage that uses a state-of-the-art moving platform with six degrees of motion. Riders get the sensation of soaring via helicopter over Canada's beautiful landscapes as they feel every sweeping movement of the journey with weather-simulating effects and location-specific scents that enhance the experience. During the flight ride, the 8K resolution film captivates audiences as they are suspended through the air above a 52.5-foot spherical screen.
"We're thrilled to give visitors and locals the ability to learn about and explore the heart of the Canadian Rockies by sharing stories of people who heard the call of the region and developed a lifelong connection to it," said Lisa Adams, Vice president of FlyOver Attractions. "Windborne: Call of the Canadian Rockies pushes our guests' imagination by allowing them to build a strong connection with the land, culture and sprit of one of the country's most iconic natural wonders without ever having to leave the Las Vegas Strip."
Setting the Stage
Patrons are guided through a three-part experience. To kick off the journey, guests are introduced to a member from the Piikani Nation in Western Canada who invites attendees to hear the call of the drum that guides them to the next experience. Visitors are then led into the second part of the expedition by entering a circular room where a panoramic, six-minute show plays on 360-degree wraparound walls and on a central, hanging medallion. Blackfoot Elder Peter Strikes With A Gun from the Piikani Nation in Western Canada narrates the story and shares wisdom regarding the Rockies. The video also showcases a young traveler encountering the mountains for the first time as well as Rockies geology expert Dr. Grant Mossop – the father of Windborne: Call of the Canadian Rockies' co-creative director Dave Mossop. Narration of the voyage is set to a stirring original score by Calgary-based music and sound house 6 Degrees, in collaboration with celebrated Blackfoot powwow drum group Sorrel Rider.
Lift Off into New Lands Windborne: Call of the Canadian Rockies
During the third and final part of the journey, visitors take flight over 18 locales and observe beautiful valleys and vistas, dive into the serenity of the alpine air and experience challenges the rugged terrain presents. Throughout the film, riders get a front-row seat to incredible feats of human ability. In one scene, Sonnie Trotter — one of the world's most accomplished rock climbers — ascends his route on Mount Louis' massive, detached flake. In another, ice climber and renowned athlete Will Gadd makes his way up the stunning Curtain Call in the Columbia Icefield — a climb Mossop says was completed 27 times to get the shot exactly right. Elsewhere, internationally acclaimed freeskier Christina Lustenberger carves amongst cascading snow in an adrenaline-inducing sequence.
Windborne: Call of the Canadian Rockies was filmed on the traditional territories of the Nakoda, Blackfoot, Tsuut'ina and K'tunaxa Nations, who have been stewards of these mountains since time immemorial. The film includes an important Indigenous perspective of the mountain range, which local Nations revere as "The Backbone of the World." Through collaboration and involvement from the Indigenous communities, Windborne: Call of the Canadian Rockies weaves together the rich cultures and landscapes of the Canadian Rockies.
The ride film was created by some of the entertainment industry's most inventive minds. Joining Cannes Lion Award-wining director Dave Mossop is co-creative director and former Walt Disney Imagineer, Rick Rothschild. Mossop also collaborated with Blackfoot advisor, Piikani knowledge keeper Harley Bastien to develop the shots seen in the film. Bastien helped to bring an Indigenous voice to the film, both through his creative advising and through his connection to Windborne narrator, fellow Piikani Elder Peter Strikes With A Gun.
The film was made in collaboration with Parks Canada. Pursuit and FlyOver Attractions are committed to protecting the ecology and wildlife of the region and to the health and safety of all adventurers and communities. All requirements for filming in this sensitive region were fully respected and all athletic feats were done by professionals.
FlyOver also offers The Real Wild West and Legendary Iceland experiences, where riders are immersed in the breathtaking and picturesque settings of the American West and regions in Iceland. The attraction is open daily from 9 a.m. – 9 p.m Monday – Thursday and 9 a.m. – 10 p.m Friday – Sunday. Tickets start at $36.
FlyOver in Las Vegas by Pursuit
The FlyOver flight ride utilizes a unique and state-of-the-art moving platform with six degrees of motion, multi-sensory special effects and a 52.5-foot spherical screen that provides guests with an unparalleled flight across iconic locations and natural landscapes. Special effects, including wind, mist and scents, combine with the ride's motion to create an unforgettable entertainment experience. Owned and operated by Pursuit, the Las Vegas location marks the third FlyOver attraction for the global tourism and hospitality brand, which also includes FlyOver Canada in Vancouver, FlyOver Iceland in Reykjavik, FlyOver Chicago (expected opening 2024) and FlyOver Canada in Toronto (expected opening 2025). The Las Vegas attraction is located next to Hard Rock Café on the Las Vegas Strip. This location currently offers the flight ride films, The Real Wild West, Legendary Iceland and Windborne: Call of the Canadian Rockies.  For more information about FlyOver in Las Vegas, visit flyoverlasvegas.com.
About Pursuit         
Pursuit is an attractions and hospitality company that owns and operates a collection of inspiring and unforgettable experiences in iconic destinations. From world-class attractions, distinctive lodges and engaging tours in stunning national parks and renowned global travel locations, to our growing collection of FlyOver flight ride experiences in the vibrant cities of Vancouver, Reykjavik, Las Vegas, Chicago (expected opening 2024) and Toronto (expected opening 2025), Pursuit's elevated hospitality experiences enable visitors to discover and connect with these iconic destinations. With a strategic direction to build an expanding portfolio of extraordinary travel experiences, Pursuit remains focused on delivering unforgettable and inspiring experiences in iconic locations worldwide. Pursuit is part of Viad Corp (NYSE: VVI). For more information visit pursuitcollection.com.
Summary
Article Name
Now Playing: FlyOver in Las Vegas' New Flight Ride "Windborne: Call of the Canadian Rockies" Lands on the Strip
Description
Now Playing: FlyOver in Las Vegas' New Flight Ride "Windborne: Call of the Canadian Rockies" Lands on the Strip