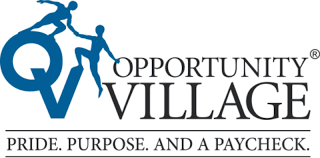 It's Tip-Off Time: Opportunity Village Gears up for Development Disabilities Awareness Month (March), Unveiling 'March to $100K Game Plan'
Month-long fundraising initiative features OV's Hoops Hoopla bracket tournament (discounted through February 28!), basketball-inspired awareness campaign and more
For those looking to experience a bit of the March hoops magic and support a good cause while you're at it, Opportunity Village (OV) is stepping in with the assist.
Following a successful 2021 March to $100K initiative – which raised more than $100,000 for its multifaceted operations during Developmental Disabilities Awareness Month (DDAM) – the nonprofit announced today its 2022 March to $100K Game Plan presented by Burger King.
The Game Plan builds on the spirit of its popular Hoops Hoopla bracket tournament, integrating basketball-inspired themes and happenings into all its awareness efforts, events and more throughout the month. The public is encouraged to get in on the action with components including:
Swish – Take your shot in the Hoops Hoopla bracket tournament presented by NUTRISHOP and win big prizes! Registration is now open through March 17th. In its third year, those who sign up for Hoops Hoopla using the code OVHOOPS22 before February 28 will save $25 off the regular registration fee of $50. For more information or to sign up, visit com and engage throughout the competition using #PicksforOV.
Slam Dunk – Donate to OV and your gift will be matched by one of its all-star community partners. The list of matching sponsors may be found on the Marchto100K.com website. If you donate $25 or more between March 15-31, you will be eligible to win unique artwork created by OV artists.
Timeout – Take a moment to learn about OV's efforts/impact during DDAM and beyond at com.
Assist – In the spirit of DDAM, sharing is caring. Visit OV's Facebook, Twitter and Instagram pages and share important updates with your friends, family and followers using the #Marchto100K hashtag.
Jump Ball – Businesses and restaurants are participating in a giveback program with a portion of proceeds from sales benefitting OV on select March dates. These include Shake Shack and Panda Express – with more to come. For the complete list of Give Back partners, visit com.
"Together, Opportunity Village and its supporters continue to be a winning team," said Bob Brown, President & CEO of Opportunity Village. "Developmental Disabilities Awareness Month is a critical time of year for us in spotlighting the human impact of our efforts as well as generating funding, which ultimately makes a difference in the lives of thousands of locals each year. With our March to $100K Game Plan, we're pulling out all the stops to exceed our goal of $100,000 raised in the month of March."
All funds raised from March to $100K Game Plan components benefit the programs and services Opportunity Village offers at no cost to over 3,000 individuals with disabilities in Southern Nevada. The 2021 March to $100K generated $110,825 for the organization.
About Opportunity Village
Mission: Opportunity Village is a not-for-profit organization that serves people throughout our community with intellectual disabilities, to enhance their lives and the lives of the families who love them.
Seven families who were determined to give their children with disabilities the best lives possible founded Opportunity Village in 1954. Now, more than six decades later, Opportunity Village is one of the most recognized and respected organizations of its type in the United States.
Nevada's largest employer of people with disabilities, Opportunity Village serves over 3,000 individuals annually, providing vocational training, employment, habilitation and social recreation programs and services that improve their lives.
Primarily a self-funded organization, Opportunity Village generates the majority of its operational funding through the generosity of the community and special events such as the Magical Forest and the Great Santa Run, along with its employment contracts, multiple business lines, and grants on the federal and state level, saving Nevada taxpayers more than $37 million annually. For more information on Opportunity Village, visit www.opportunityvillage.org.
Summary
Article Name
Opportunity Village Gears up for Development Disabilities Awareness Month (March), Unveiling 'March to $100K Game Plan'
Description
Opportunity Village Gears up for Development Disabilities Awareness Month (March), Unveiling 'March to $100K Game Plan'