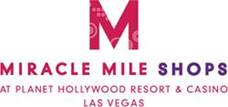 ORiginal penguin and D'Amore's Famous Pizza NOW OPEN AT MIRACLE MILE SHOPS
Original Penguin and D'Amore's Famous Pizza open first Las Vegas Strip locations at Miracle Mile Shops
Miracle Mile Shops at Planet Hollywood Resort & Casino welcomes the timeless style of Original Penguin and authentic East Coast style pizzeria D'Amore's Famous Pizzato the center.
An American clothing line and complete lifestyle brand, Original Penguin's Miracle Mile Shops location is the brand's first and only store in Las Vegas. With roots dating back to 1955, Original Penguin started with men's golf shirts and has since grown to specialize in men's, women's and children's clothing. The brand offers iconic craftsmanship redesigned to reflect today's styles. Its logo, Pete the Penguin, adorns not only clothing but bags, shoes, hats, wallets and much more.
New to the Las Vegas Strip as well as to Miracle Mile Shops, D'Amore's Famous Pizza combines a 100-year old recipe with the finest ingredients from around the world. Its brick-oven pizza, rated among the top-ten in America for 10 years running, is crafted with specialty ingredients, including cheese from Wisconsin. The pizza dough is made with water imported from the Italian Alps, giving the crust a crunchy, buttery taste unlike any other pizza. D'Amore's also serves salads, sandwiches and pastas and is open for lunch and dinner.
Original Penguin and D'Amore's Famous Pizza are two of 16 tenants representing more than 30,500 square-feet that have opened or are scheduled to open at Miracle Mile Shops in 2011.  Additionally, 11 tenants totaling 35,474 square-feet such as Victoria's Secret, Lucky Brand Jeans and bebe have chosen to upgrade their existing location by investing in a remodel. 
About Miracle Mile Shops:
Miracle Mile Shops at Planet Hollywood Resort & Casino is a 1.2 mile retail/entertainment complex at the heart of the famed Las Vegas Strip featuring 170 specialty stores, 15 restaurants and three live entertainment venues.  The center is home to PBR Rock Bar & Grill, boasting a Strip-side location with excellent food, drinks and bull riding; H&M; Sugar Factory, the sweet shop adored by Hollywood's hottest celebrities; American clothing line and complete lifestyle brand Original Penguin; GUESS; Urban Outfitters; True Religion Brand Jeans; 15,000-square-foot bar and restaurant Cabo Wabo® Cantina; Las Vegas' very own Sin City Brewing Co.; Club Tattoo, featuring some of the best tattoo artists and body piercers in the nation; the only House of Hoops by Foot Locker in the city; as well as a multi-million dollar fountain show.  Miracle Mile Shops is owned by David Edelstein and Aby Rosen, in conjunction with leasing and marketing consultant Robert K. Futterman & Associates LLC. 
Miracle Mile Shops is open 10 a.m. – 11 p.m. Sunday – Thursday and 10 a.m. – midnight Friday – Saturday.  For more information, call (888) 800-8284 or visit www.miraclemileshopslv.com. Keep up with the latest Miracle Mile Shops news via Facebook, Twitter and YouTube.