Vegas24Seven had the honor, pleasure and privilege of attending and covering the 48 Hours Festival powered by Rockstar Energy Drinks and presented by Revolver. The event was on the fabulous Las Vegas Strip just south of the Luxor and Mandalay Bay. 2 days, 22 bands and thousands and thousands of concert go-ers later we emerged drained, enlightened and entertained. I went wanting to see my personal favorites Hatebreed and Five Finger Death Punch but left the festival with a new-found respect for several local bands and several well known bands that I hadn't seen before. The festivities began Friday night at a kick-off party at the House of Blues and Saturday morning there was a Topless Pool Party at the Mandalay Bay Moorea beach Club. We arrived at the main event early Saturday and picked up our press and photo passes and went to work. I walked the grounds and found The Rockstar tent, the Best Buy autograph centers, the Gibson/Revolver tent, the Metal Mulisha motocross Jump Show, the wrestling ring, the Rat Pack Vegas Lounge, the Old Mexico saloon, the Debauchery VIP tent, The VIP bungalows complete with pools, the Ricky Bobby lounge, the sponsor village area, the Ernie Ball second stage and the enormously impressive Rockstar main stage. Then we checked out the backstage compound, Godfather VIP area, media tent and the Red Carpet area. Now lets get to it!
Day 1 kicked off with Orange Blossom Special playing the Ernie ball second stage stage at 2pm. This California band played a quick and energetic set and got the whole festival going. Later I had the chance to talk to them on the red carpet and they said they felt a little pressure kicking off the biggest rock and roll party ever to hit the Las Vegas strip. But they pulled it off and had fun doing it.
Next was the Butcher Babies. They were a late addition and most of the guys at the festival were glad of that. They are from LA and are the undisputed darlings of the Sunset Strip. I'm not gonna argue with 'em. Scantily clad and brutal front women Heidi and Carla really whipped they crowd into a frenzy. They were a heavier metal sound and that's just what this metalhead likes.
Leading off on the Rockstar Energy Drink main stage at 3pm was Las Vegas own Otherwise. The crowd had been gathering there waiting and were it wasn't long until the full festival feel was present at the overwhelming stage constructed just the day before.
Brothers Adrian and Ryan Patrick put together a great set and it's no wonder they are billed as #1 unsigned act in America by Fox news.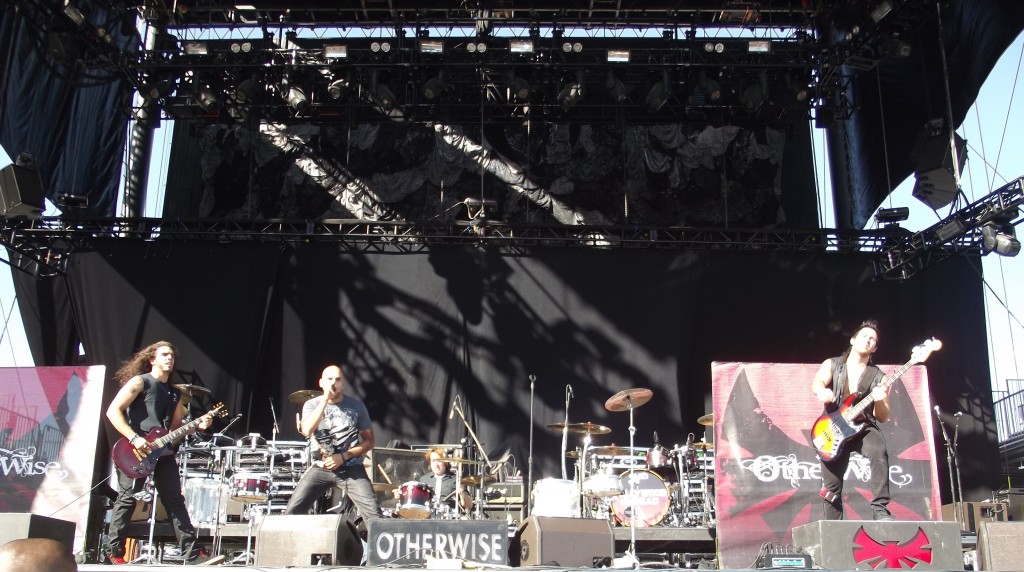 The next couple of hours I was bouncing back and forth from the main stage to the second stage to the red carpet and it got a little hectic. But hey I like hectic. Next on second stage was up and coming California band Hell or Highwater. Playing songs from there debut album Begin Again it was a great sound and set. By now the crowds were getting bigger and bigger and louder and louder. Art of Dyings guitarist Tavis later told me this was one of the bands he wanted to check out at the festival.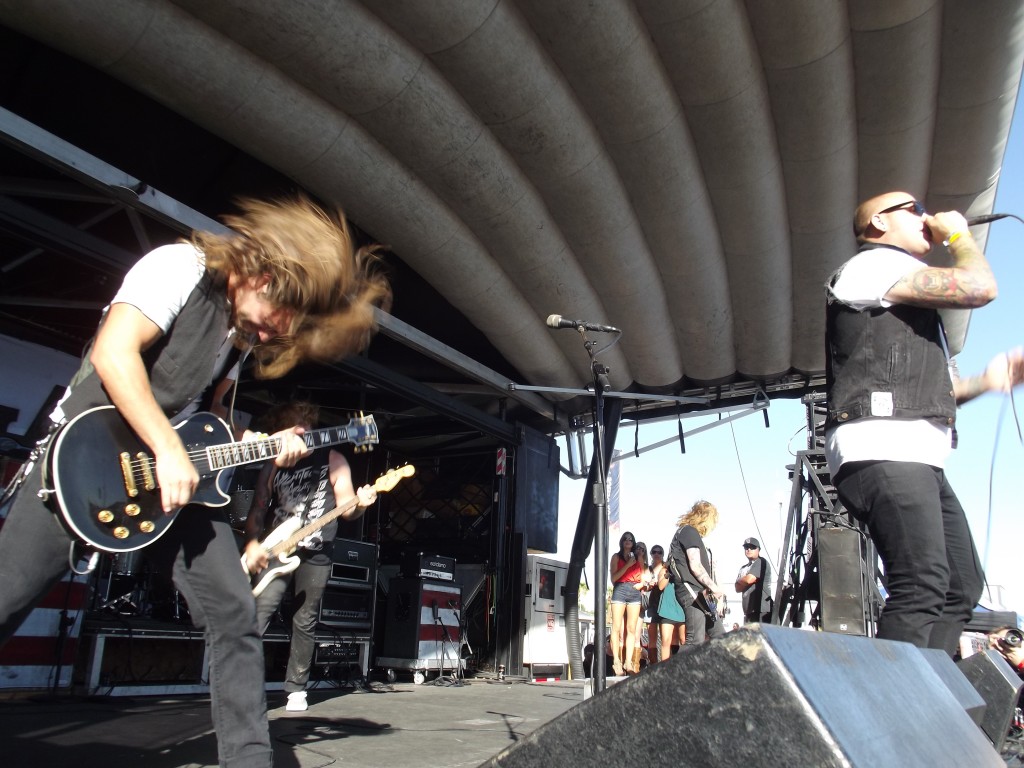 Back to the main stage at 4PM for our very own Adelitas Way. This band is really making some noise on the music scene and it's no wonder. They kick ass!. Frontman Rick DeJesus pounds it out while guitarists Rahji and Keith sizzle. Derek's on the Bass and manager Trevor pounding out the drums. Fresh off the Carnival of Madness Tour they played songs from recent CD Home School Valedictorian and self titled debut CD Adelitas Way. We had conflicting schedules all day and I didn't get the interview I wanted but I did talk to Rick some and we're going to get together later here in Vegas. Maybe at a show or maybe at Kevin Churkos Rock and Roll Hideout studio opening. Look for that interview and story in the future on Vegas24Seven.com.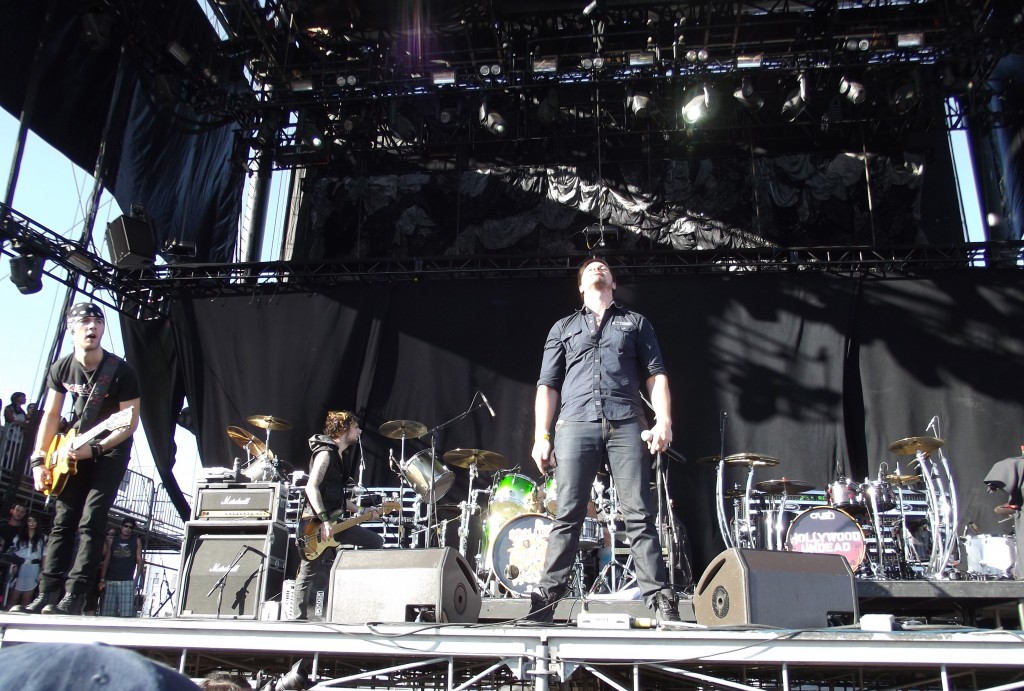 4:30pm and Black Tide is tearing it up and the Ernie Ball stage. An intricate and powerful set of songs from recent Cd Post Mortem and previous releases. I was kind of rushed away from this one, to the red carpet and then to the main stage. But I enjoyed what I did hear and the crowd did too.
Now we're starting to get to the more well known bands with Las Vegas Escape the Fate hittin' the big stage. This band made a very quick rise to the top and has played the Sunset Strip Music Festival with Mötley Crüe and Rockstar Energy Drink Uproar Festival. And to think I saw them a couple of years ago at Extreme Thing here in Vegas. Of course this band has a HUGE local following and their crowd was ready and waiting to really get into it and lose themselves. It was a great performance and I know everyone enjoyed it.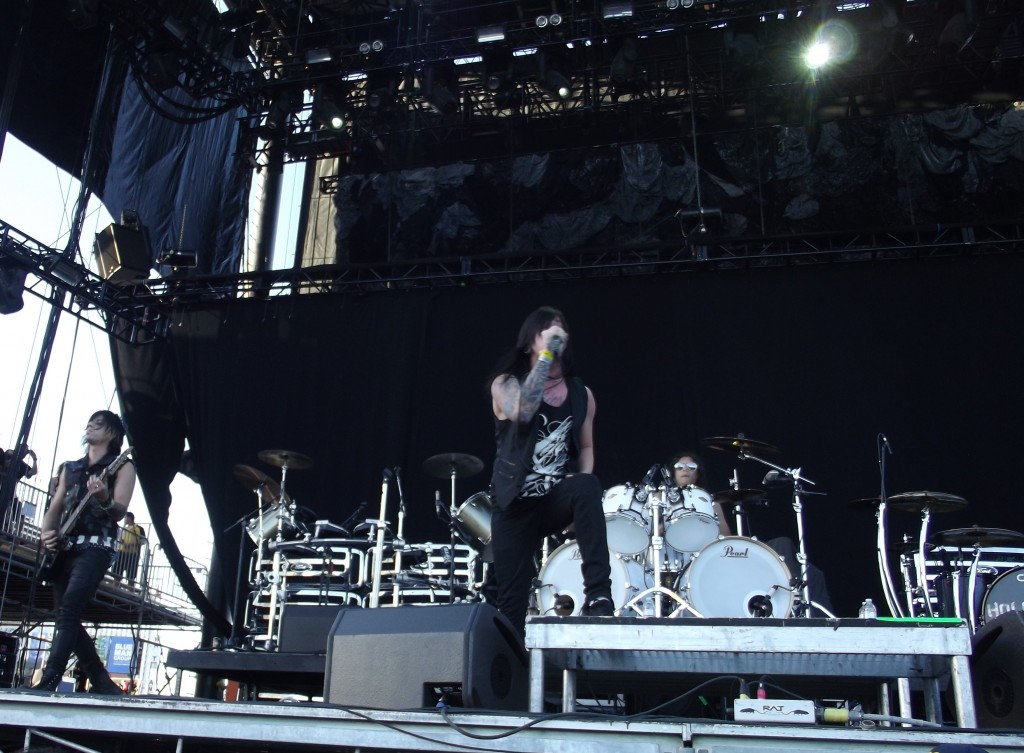 Now I don't have a clue why mega star metal band Hatebreed was stuck on the Ernie Ball stage but I was kind of glad they were. It's not often you can get that close to performers the way I was. Lead singer Jamey Jasta was right beside me in the photo pit until I retired to the crowd with my pit buddy Justin. I knew most of the vocals and about screamed my brains out when played In Ashes They Shall Reap (Born to bleed, fighting to succeed Built to endure what this world throws at me) and when they finished with Destroy Everything. It was a rowdy set with probably the best moshpit of the festival. I also ranked it as the best performances of the festival. Maybe a little biased but definitely the best METAL performance of the 48 hours, This was the last artist on the second stage for the night and a fitting way to close it.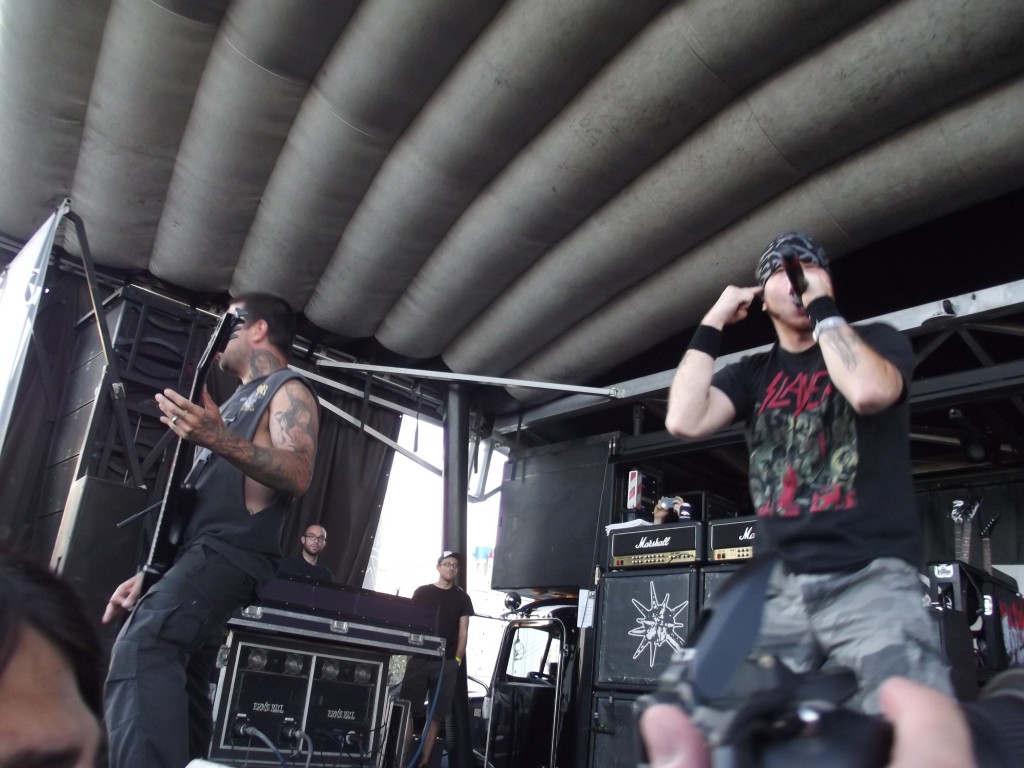 Back to the main stage for one of the crowd favorites Hollywood Undead. Even though their rap-rock style is not one of my favorites I do appreciate the way they get through to their crowd. I saw them last year at Extreme Thing and again they worked the crowd into a frenzy of hardcore dancing. They've also had a lot of recent success with their new CD American Tragedy.
I've seen Five Finger Death Punch numerous times and can't get enough of them. They are one of my favorite bands and Ivan Moody is a character. He's the first artist I admired for switching back and forth between clean and hard vocals. Zoltan is a great guitarist and they compliment each other well. The main stage show area was packed by now and it was electric when they hit the stage. They opened with Under and Over It from their new CD American Capitalist, They played Way of the Fist, Bad Company, No One Gets Left Behind, a Never Enough medley, White Knuckles, Bulletproof and finished with Burn It Down. I though Ivan was going to burn the place down because show administrators had to ask him to stop playing. He probably would have played all night if they would have let him, FFDP is not used to being on the undercard (and maybe shouldn't have been). I just couldn't seem to get close enough to the pit area during this show to get into it. The pit wasn't quite what I am used to but it was fun and the rest of the crowd seemed to enjoy it as well.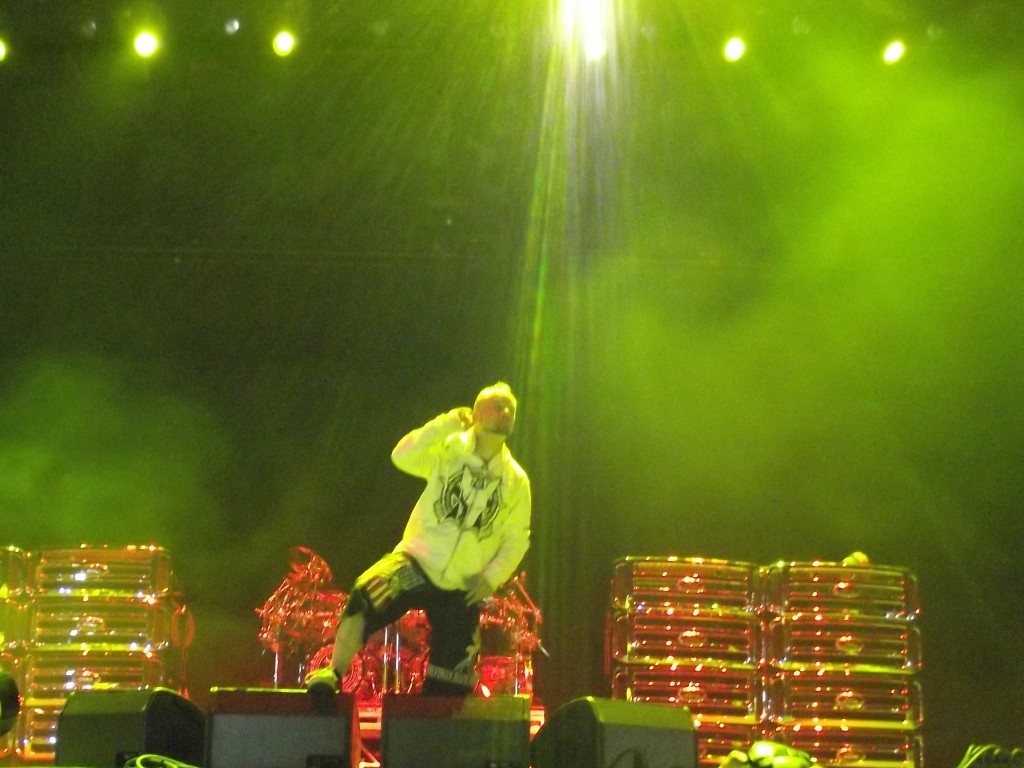 Day 1 of the 48 Hours Festival ended with Avenged Sevenfold. They've got it goin' on in 2010 they tore up the charts with CD Nightmare and really got the crowd going this night. Immediately it sounded like an arena show and probably got more response from the crowd that any other performer of the festival. They opened with Nightmare and Beast and the Harlot and by now you couldn't move, everyone was a little lit up, hot and worked up. The concert staff did a great job of making sure everyone was OK. Almost Easy and Bat Country were really good and they finished with Unholy Confessions. This was a fitting way to end the largest rock and roll party ever to hit the strip. But was it really over…. Nope. Now on to the afterparty at the House of Blues Mandalay Bay All-Star Jam hosted by Jamey Jasta and then the limos began rolling to the O.G. Gentlemen's Club. So even though the performances were over for the evening the party continued Vegas style right into the next day.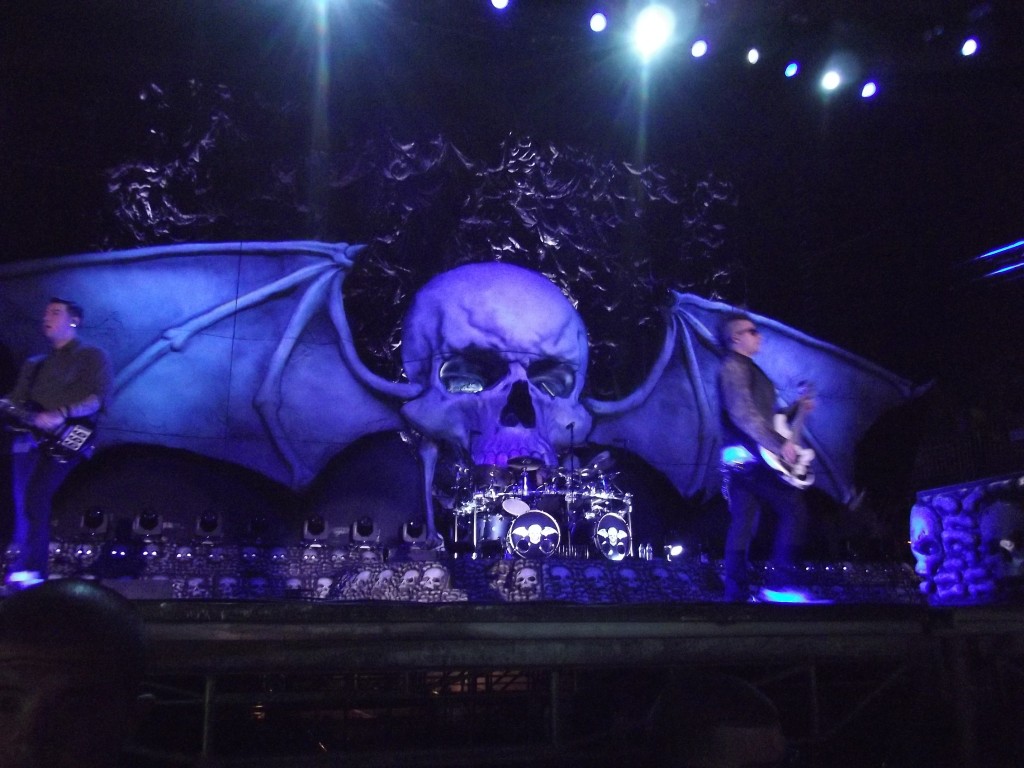 Day 2 continued for some people at the Mandalay Bay Beach hangover brunch with a bevy of Bloody Mary's, some great food and Korns Jonathan Davis DJ'ing. I arrive early but not quite as early as Saturday and went straight at it. It seemed a little more organized on Sunday with more regular and scheduled arrivals on the red carpet. I was bouncing back and forth again from the red carpet to the second stage to the main stage.
California band Valora went off right on time at 2pm and started day 2 off great. Front-woman Syd Duran was a hit on the red carpet and a crowd favorite onstage as well. It was a short set but big on appeal. Look for Valora to rise quickly as their first single is due out any day now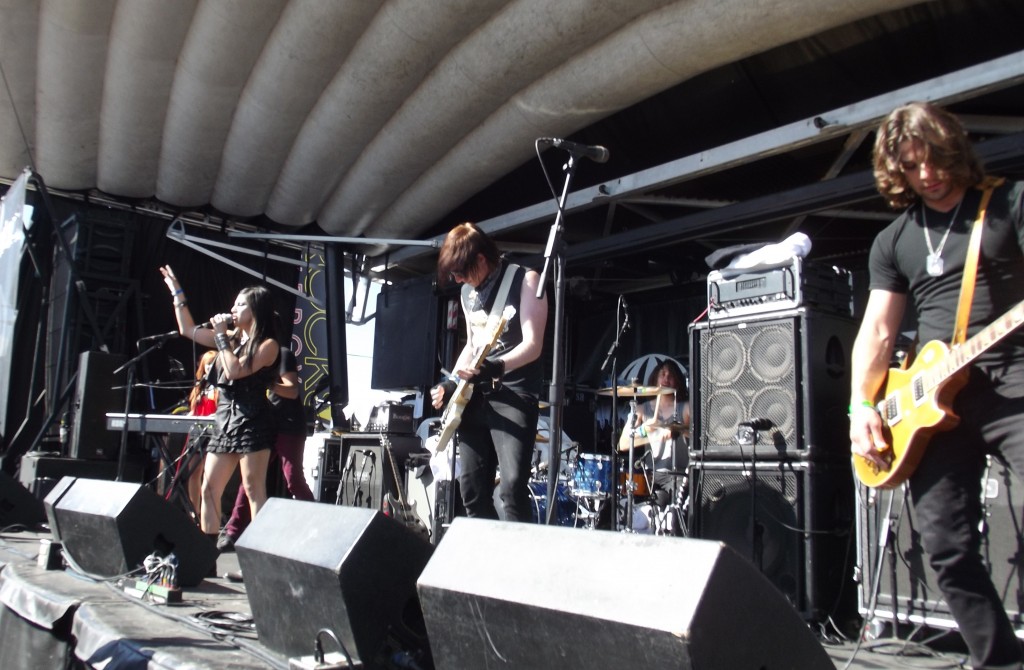 Next on the Ernie Ball stage was Arizona band Eyes Set To Kill. Back to back lady lead singers had the male audience mesmerized and they put on a good show. By now the crowd at the event was getting bigger, the weather was heating up and so was the concert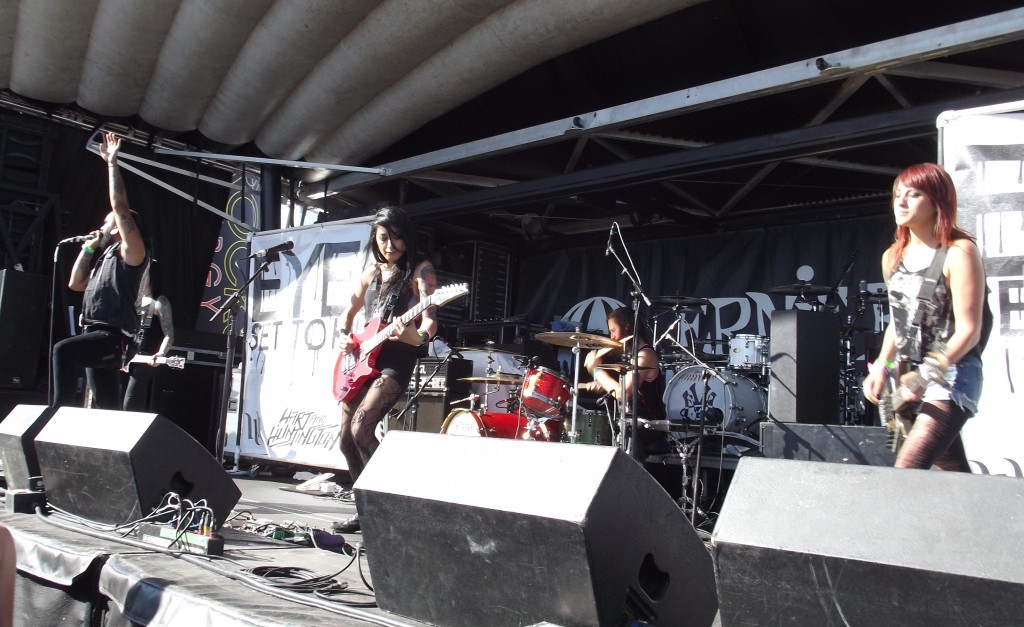 Kickin' off our day two main stage experience was Tennessee band 10 years. They are a well respected veteran band and put on a great show. With their recent more aggressive, harder, darker style they fit right in with the kind of music I like. The crowd liked them a lot as well.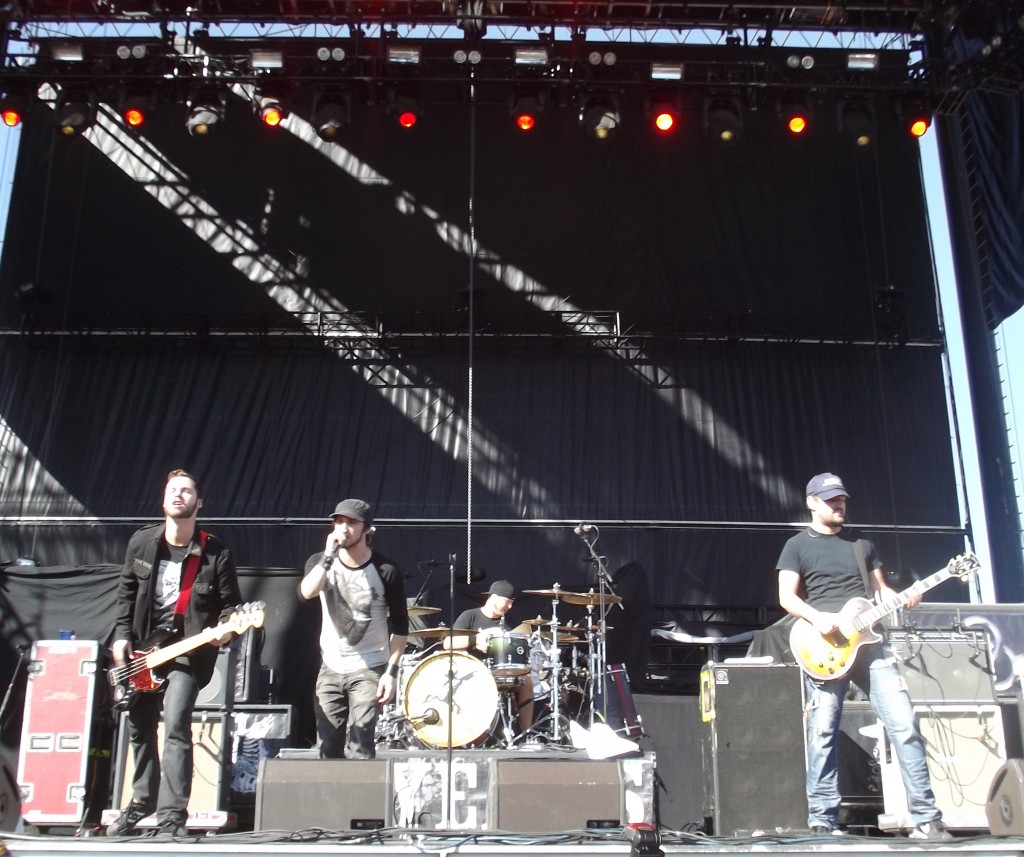 Vegas band Taking Dawn was next and again we got the heavier music that I favor so much. A no nonsense in your face here's our music approach is refreshing with all the "fake" bands out there. Not only did they kill this stage the next night they killed local hotspot Count Vamp'd with Adelitas Way as well.
Australian band Sick Puppies hit the main stage next and the place was really hoppin now. This one of the bands I have a newfound respect for. How could a band this good be "off my radar"? Well they're not anymore and there were a LOT of fans there for this band. I found that ever since this band moved to LA they have been in the right place at the right time and are doing great.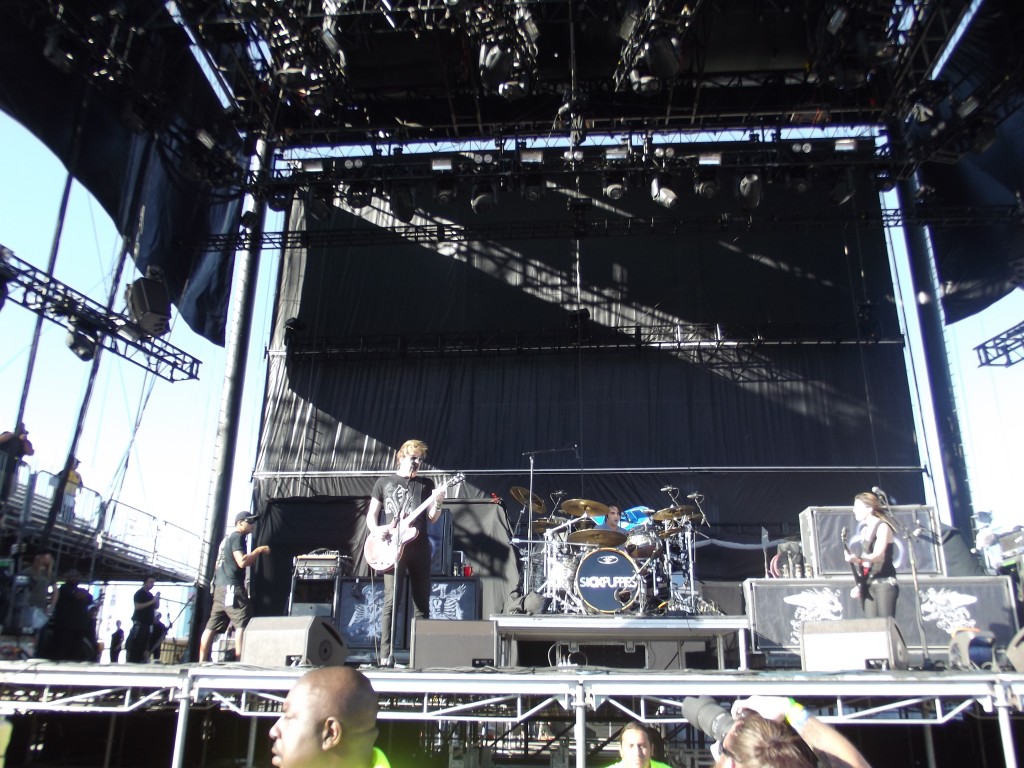 I met Canadian band Art Of Dying on the red carpet, interviewed them a little bit and immediately hit it off with these guys. We joked around about them playing hockey against other bands (they're undefeated), visiting Vegas and other bands they wanted to check out at the festival. I took a couple pictures that are a big hit on twit-pic with the chicks. They had just wrapped up the Uproar Festival also and were ready to tear up Vegas. Frontman Jonny ruled the stage, Greg and Tavis ripped the guitars and bass-man Cale and drummer Jeff completed this polished act that is just tearing up the music scene right now. They have a fairly new CD out now called Vices and Virtues and look for them to rise to the top.
Next on the mainstage was Seether and again this is another well known huge band that I had not paid enough attention to. Until you see this band you don't really appreciate the fact that this is just 3 dudes making all this awesomeness. They have a CD just released this spring Holding onto Strings Better Left to Fray and played this and songs from their 3 previous releases. Great Band, new respect, many happy fans.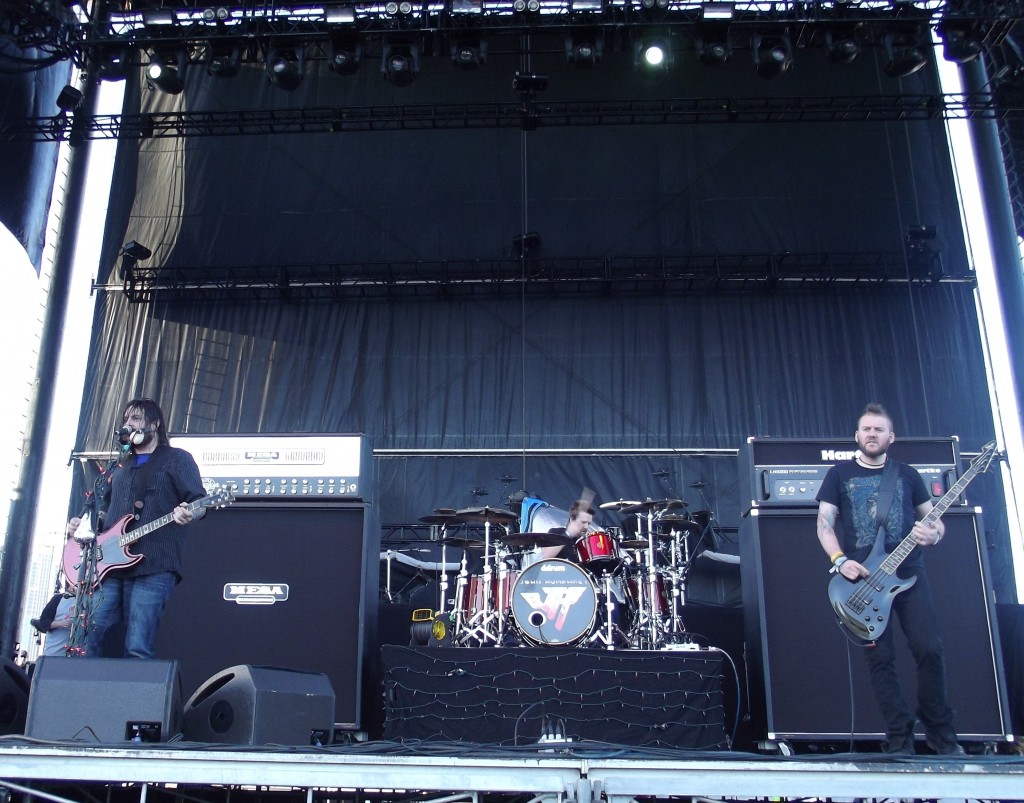 4 big acts coming up in a row now and again I don't know why the monsters Sevendust were on the smaller stage. But just like Hatebreed I was glad to get up close to this Atlanta band. Got some great pictures of Lajon up close and this was in my top three bands of the festival as well. The second stage area was completely packed for them and the few lightweights that were in the crowd were sent packing when the place erupted into a frenzy. Great presence and show put on by these guys.
No more running back and forth from stage to stage now and only one more red carpet to get to so I was able to really enjoy Canadians Three Days Grace. Big time band with big time performance getting the crowd into that "arena sound" and everyone was right on with them. They opened with The Good Life, played Break, Pain, I Hate Everything About You, Home/Lose Yourself, Never Too Late, Riot and ended with and extended Animal I Have Become. This set up the big two getting ready to assault Las Vegas.
Boston's Godsmack took the stage at 7:40pm and look out. After shooting the opening pictures I had to go the the red carpet for a while and Voodoo came on the sound from the crowd was awesome. I had the old Goose bumps pop up on my bod when this happened. It was a strong, energetic performance that left most people drained. Most mortals would have packed it in. But not the 48 Hours Festival fans.
KOOOOOORN. Finally what this whole weekend had been building up to Korn!   Hailing from Bakersfield California this band put a whooping on Las Vegas. Started out with Blind, followed up by Here to Stay, Freak on a Leash and Shoots and Ladders what a way to start a set. And the crowd went nuts. They did 6 other songs and then a 7 seven song medley and finally ended with Y'All Want a Single. When Korn said thank you and good-night we were all so alive but completely drained and just like the concert – finished.
So the first of hopefully many 48 Hours Festivals came to a close. It was at times perfect, mostly chaotic, often risqué and lewd but enormously entertaining. Can't wait until next year.