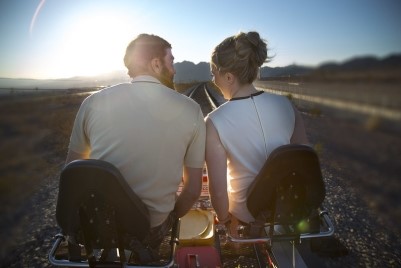 Couple rides on a Rail Explorers® rail bike in Boulder City, Nevada.
(Photo Courtesy of Rail Explorers USA)
RAIL EXPLORERS® LAS VEGAS VALENTINE'S TOURS INCLUDE
GOURMET CHOCOLATES, SPARKLING WINE FEB. 11 – 14
WHAT:
Rail Explorers®, the year-round, all-ages, outdoor-adventure attraction offers memorable photo opportunities and romantic amenities on its Valentine's Day tours Feb. 11 – 14.
Couples will marvel at the starlit sky on their 8-mile, roundtrip journey powered by Rail Explorers®' new REX Propulsion System—custom-built electric motors that make the adventure truly effortless. A relaxing stop at the tour's rest area will find lovebirds cozying up by the firepit (weather permitting) in Rail Explorers®' signature red Adirondack chairs, surrounded by twinkling café lights. All tour participants will enjoy complimentary chocolate and sparkling wine on the Valentine's tours, which will take place at 6:30 p.m. on Feb. 11 and 14 and 7:30 p.m. on Feb. 12 and 13.
All Valentine's tours begin at the Nevada State Railroad Museum and continue 4 miles downhill to Railroad Pass, where guests relax at the rest stop while guides turn the rail bikes around for the 4-mile trip back. Guests should allow 1.5 hours for these tours, including check-in, turnaround and the 8-mile roundtrip railbike ride.
WHEN:
Friday, Feb. 11 and Monday, Feb. 14: 6:30 p.m.
Saturday, Feb. 12 and Sunday, Feb. 13: 7:30 p.m.
To book any tour, click here.
COST:
A tandem rail bike for two starts at $110.
A quad rail bike for four guests starts at $195.
Book online today at www.railexplorers.net, or by phone at (877) 833-8588.
ABOUT RAIL EXPLORERS®
Located in historic Boulder City, Nevada—just minutes from the Las Vegas Strip en route to Hoover Dam—Rail Explorers® offers exhilarating, guided excursions in two- or four-seat rail bikes along the same tracks used during construction of the dam. Rail Explorers® Las Vegas has a brand-new fleet of Explorers fitted with the REX Propulsion System – custom built electric motors that make riding the rails truly effortless. Tours include five memorable options, including the Southwest Round-Up, an 8-mile round trip tour, the Southwest Ramble, a scenic daytime rail bike ride which includes a trip on a historic train; the Desert Sunset Tour, a picturesque ride in the evening as the sun sets behind the River Mountains; the Fireside Starlight Ride, a one-of-a-kind experience featuring personal fire pits under the vast desert sky; and the Night Lights Tour offering a colorful illuminated rail bike ride. All rides start at the Nevada State Railroad Museum and continue downhill to the Pass Turnaround point and back. Each tour also includes free museum entry. Rail bikes provide a truly distinctive way to explore this extraordinarily scenic and historic area. For more information, visit www.railexplorers.net or follow on Facebook, Instagram and Twitter.
Summary
Article Name
Rail Explorers Las Vegas Valentine's Tours Include Gourmet Chocolates, Sparkling Wine Feb. 11 - 14
Description
Rail Explorers Las Vegas Valentine's Tours Include Gourmet Chocolates, Sparkling Wine Feb. 11 - 14