UNLV DROPS CONFERENCE OPENER TO COLORADO STATE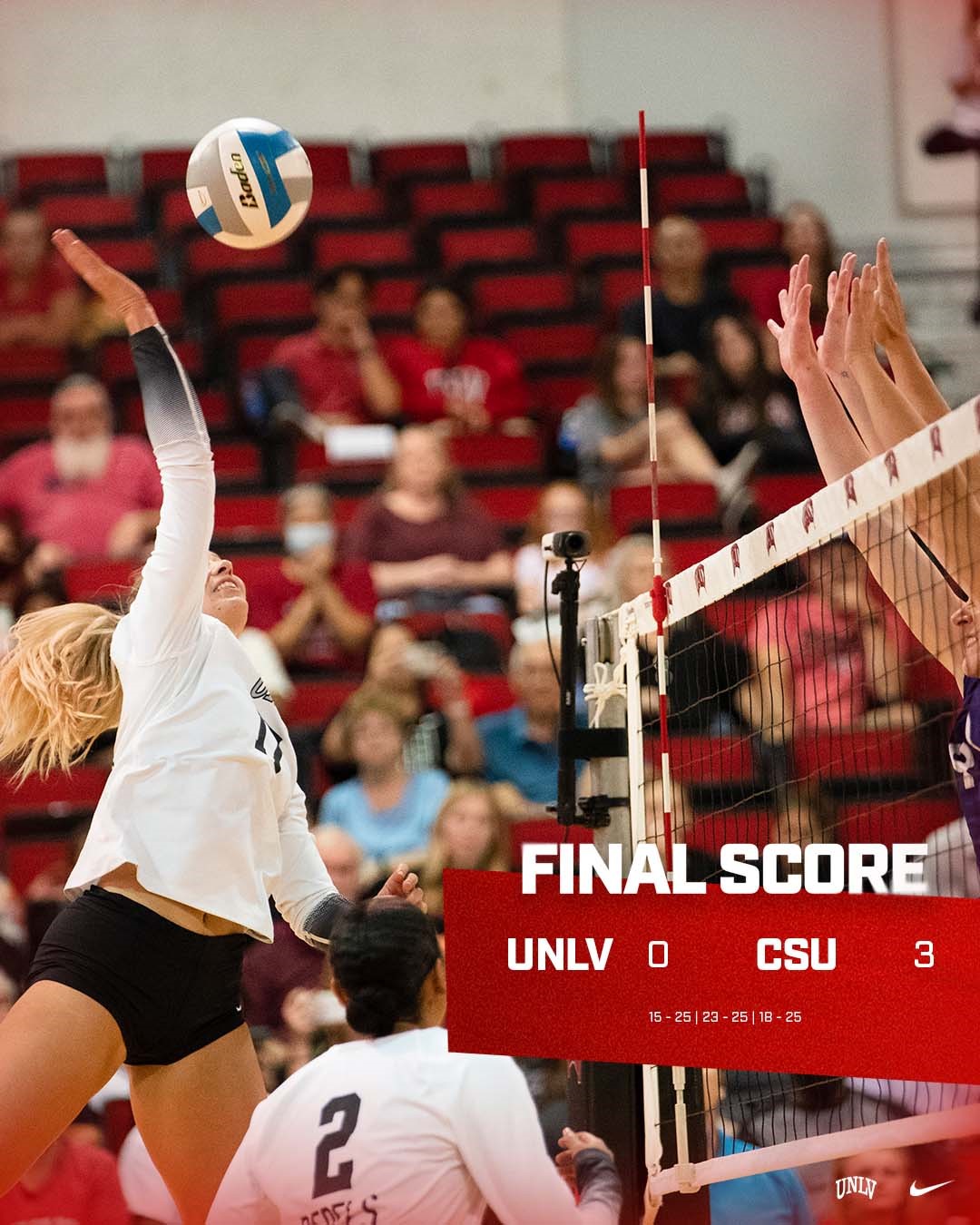 @UNLVvball | Final Box | Schedule | Tickets
The UNLV volleyball team (9-3, 0-1) fell to the defending MW Regular-Season Champions Colorado State (9-4, 2-0) in three sets, Thursday night in the Moby Arena.
The Scarlet & Gray came up short in set one, falling to the Rams by a score of 25-15, before taking on an incredible battle through the second and third frames but falling by scores of 25-23 and 25-18, respectively.
REBEL OF THE MATCH: Redshirt-junior Isabel Martin paced the match with a match-high 16 kills, 12 digs and 17 points.
The Rebels were led by Jhenna Gabriel's match-high 32 assists, five digs and 1.5 points, freshman Maya Sands tacked on a team-high 18 digs and two assists.
The hitting contest went to CSU as it outhit UNLV .255 to .086, although the Rebels tacked on one more team kill to out-kill the Rams 37-36.
UP NEXT: The Rebels will head over to Laramie, Wyoming for a conference matchup against Wyoming Saturday at 12 p.m. (PT).
OTHER NEWS & NOTES
– Dating back to 2019, UNLV has gone 66-15 in its last 81 matches. The Rebels have won nine of 12 matches this season and 35 of its last 44.
– UNLV returned eight letterwinners this season. Also returning to the squad from last season were Gabrielle Arretche-Ramos, Arien Fafard, Jordyn Freeman, Chloe Thomas, Isha Knight, Keyana Cruse, Dakota Quinlan, Livvy Setla, Isabel Martin and Thea Sweder. There are eight newcomers, which include three freshmen, a trio of transfers and a pair of graduate transfers.
– UNLV is led by fifth-year head coach Dawn Sullivan, who looks to guide her squad to the postseason for the fifth straight season.
– Junior Arien Fafard had her 1,000th career assist during the opening weekend of the Rebels' 2022 campaign at UNT.
– The Rebels defeated No. 19 Kansas on September 10, 2022, making that the second win over a ranked team since 2016. The first being then No. 25 Washington State during the fall 2021 season at the Rebel Challenge (Sept. 4, 2021).
Summary
Article Name
Rebels Drop Conference Opener To CSU
Description
Rebels Drop Conference Opener To CSU