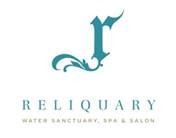 Reliquary Water Sanctuary & Spa Falls into the Autumn Season with Pumpkin Treatments
Reliquary Water Sanctuary & Spa welcomes guests to dive head over feet into fall with its specially-priced pumpkin treatments – the Pumpkin Paradise Wrap and Pumpkin Paradise Facial – each for only $89, beginning Monday, Oct. 17 through Wednesday, Nov. 30.
After the treacherous summer months, guests are encouraged to embrace seasonal changes by relieving muscles, soothing tension and promoting overall wellness with a relaxing visit to Hard Rock's luxurious spa destination.  Normally priced at approximately $130 a treatment, Reliquary offers two unique services for only $89 each.
Pumpkin Paradise Wrap
Experience the incredible feeling of this anti-aging and stimulating body wrap. The combination of a pear and green apple sugar scrub work with a pumpkin cream body wrap to stimulate blood flow and reduce fine lines, leaving skin with a natural and healthy glow. It concludes with a pear and green apple massage.
Pumpkin Paradise Facial
Pumpkin and yam enzymes work together to reduce fine lines, leaving your skin with a natural and healthy glow. A great source of vitamins, this anti-aging service is great for all skin types.
Appointments are recommended and can be made by calling Hard Rock Hotel & Casino at 702.693.5520.  Reliquary Spa is open from 8 a.m. to 8 p.m., seven days a week.  Nevada residents with valid ID receive 25% off regularly priced services Sunday through Friday. 
Located inside the luxurious HRH Tower, Reliquary is a destination spa experience.  The over-indulgent deluxe space includes an over-sized reception/lounge area, 21 treatment rooms, fitness center, men's and women's locker facilities complete with lounge and fire place,  jacuzzis, saunas and dry saunas.  At the epicenter of the new 25,000 sq. ft. spa is the stunning co-ed Roman Bath.  Known for its ancient history of healing waters, Hard Rock's version of a century's old bathhouse features private cabana areas, lounge space and great spa amenities.  For more information, visit hardrockhotel.com.  Be a fan on Facebook and follow Hard Rock on Twitter for the latest news and special offers.