RUNNIN' REBELS AT UNR SATURDAY AFTERNOON IN REGULAR-SEASON FINALE
2 p.m. game, which is part of the Silver State Series, presented by America First Credit Union, will be broadcast on Nevada Sports Net and the Mountain West Network, also available in Southern Nevada on the CW as well as Bally Sports So Cal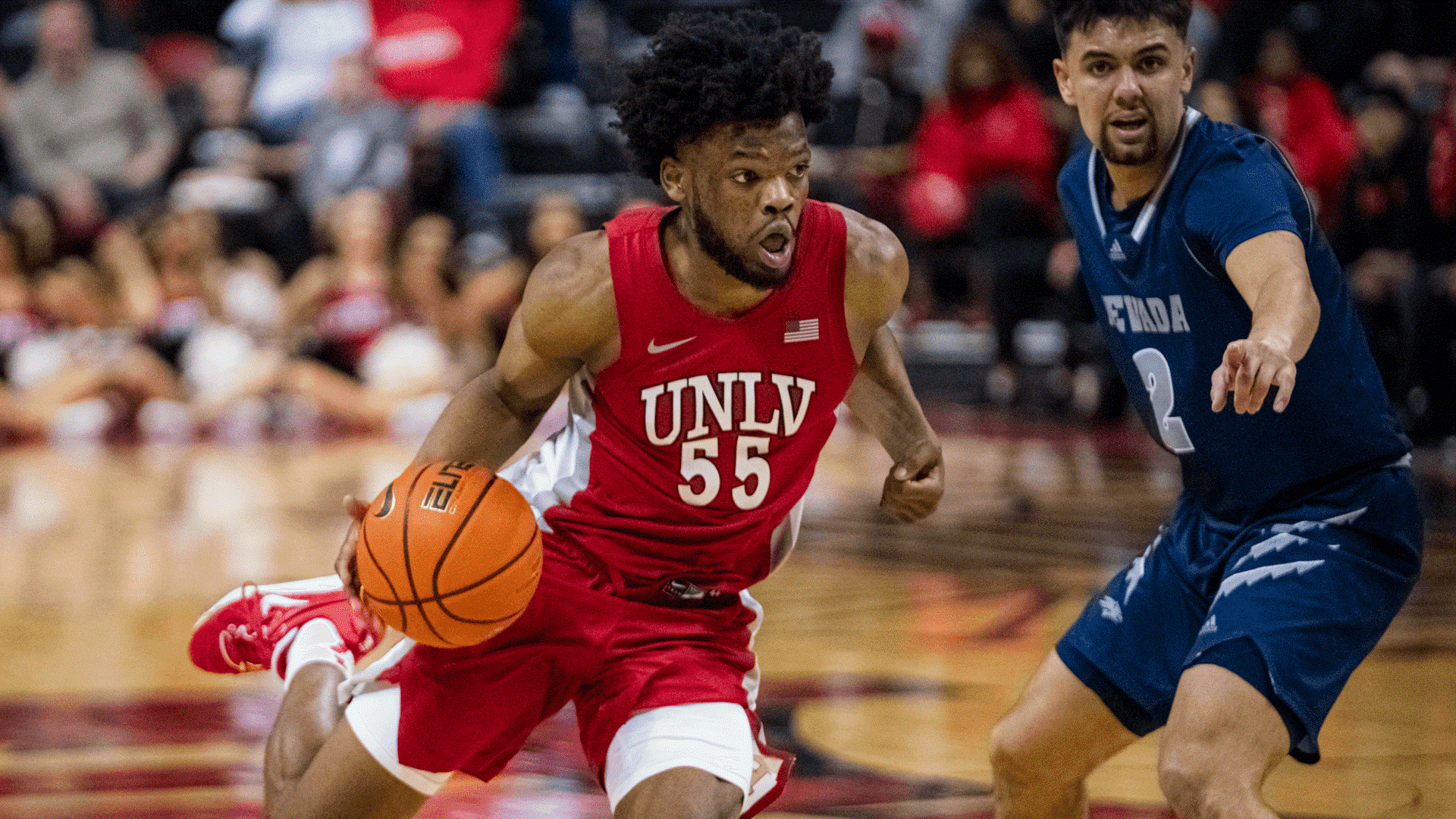 The UNLV men's basketball team will travel to Reno for its regular-season finale vs. UNR on Saturday, March 4 at 2 p.m. The game is part of the Silver State Series, presented by America First Credit Union.
LAST TIME OUT: In UNLV's regular-season home finale on Wednesday night, which was also Senior Night, the Runnin' Rebels (17-12 overall, 6-11 Mountain West) lost to Utah State, 91-66. The four seniors whose eligibility will expire at the end of the season were honored: Cameron Burist, EJ Harkless, Jordan McCabe and Elijah Parquet. Harkless led UNLV in scoring with 20 points, while Shane Nowell added 10 points and a career-high nine rebounds.
THIS SEASON: Harkless leads the team in scoring with 18.4 ppg (2nd in MW) and is contributing 4.9 rebounds, 3.2 assists and 1.5 steals per game (8th in MW). Gilbert is second in scoring at 11.9 ppg with a team-leading 3.3 apg and 1.8 spg (3rd in MW). Luis Rodriguez is third in scoring with 10.8 ppg, while leading the team in rebounding (5.3 rpg). He is tied for second on the squad in steals (1.8 spg, 2nd in MW). David Muoka is third on the team in rebounding (4.4 rpg) and leads the squad in blocks with 1.5 bpg (3rd in MW).
This season's Runnin' Rebel squad features six returners and nine newcomers, including six transfers from the Division I level. The 15-man roster is made up of 10 upperclassmen.
ABOUT THE OPPONENT: Since losing at UNLV on Jan. 28, UNR (22-8, 12-5) has won six of its last eight games. Its only losses over that span are at Utah State (75-66) on Feb. 18 and at Wyoming in its last contest (80-71) on Monday. The Wolf Pack own a 14-0 record at home this season and are led in scoring by Jarod Lucas with 16.7 ppg (6th in MW), Kenan Blackshear with 14.2 ppg and Will Baker with 14.1 ppg. Darrion Williams leads the team in rebounding with 7.2 rpg (4th in MW), while Blackshear is the team's assist leader at 4.8 apg (2nd in MW) and steals with 1.6 spg (6th in MW). Last season, the Wolf Pack were 13-18 overall and finished eighth in the MW with a 6-12 league mark. This season's team was picked to finish ninth out of 11 in the MW's preseason poll. UNR's 14-man roster includes seven upperclassmen. The Wolf Pack are coached by Steve Alford, who is in his fourth season at the school with a record of 68-46 (.596) and his 32nd season overall as a collegiate head coach with a career mark of 665-345 (.658).
LAST MEETING: In the last meeting between UNLV and UNR, which was played in Las Vegas on Jan. 28, the Runnin' Rebels won 68-62. Harkless scored a game-high 18 points and Justin Webster added a season-high 17 points. Webster made five 3-pointers, while Harkless filled the stat sheet with a season-high-tying and team-high nine rebounds, five assists and two steals. UNR was led by Lucas' 15 points, Blackshear's 13 and Williams' 13, while Baker had a game-high 10 rebounds.
BROADCAST INFO: Saturday's game will be broadcast on Nevada Sports Net and the Mountain West Network. It will also be shown in Southern Nevada on the CW and Bally Sports So Cal. Alex Margulies, Keith Fuetsch and Shannon Kelly (sidelines) will be calling the action. Jon Sandler, former Runnin' Rebel Curtis Terry and Steve Cofield (sidelines) will handle the UNLV radio call, which may be heard live on ESPN Radio 1100 in Las Vegas. All streaming links and live stats will be available at UNLVRebels.com and through the UNLV Rebels App.
Summary
Article Name
Runnin' Rebels At UNR Saturday Afternoon In Regular-Season Finale
Description
Runnin' Rebels At UNR Saturday Afternoon In Regular-Season Finale