RUNNIN' REBELS TO FACE WYOMING THURSDAY AT 2:30 PM IN MOUNTAIN WEST TOURNAMENT QUARTERFINALS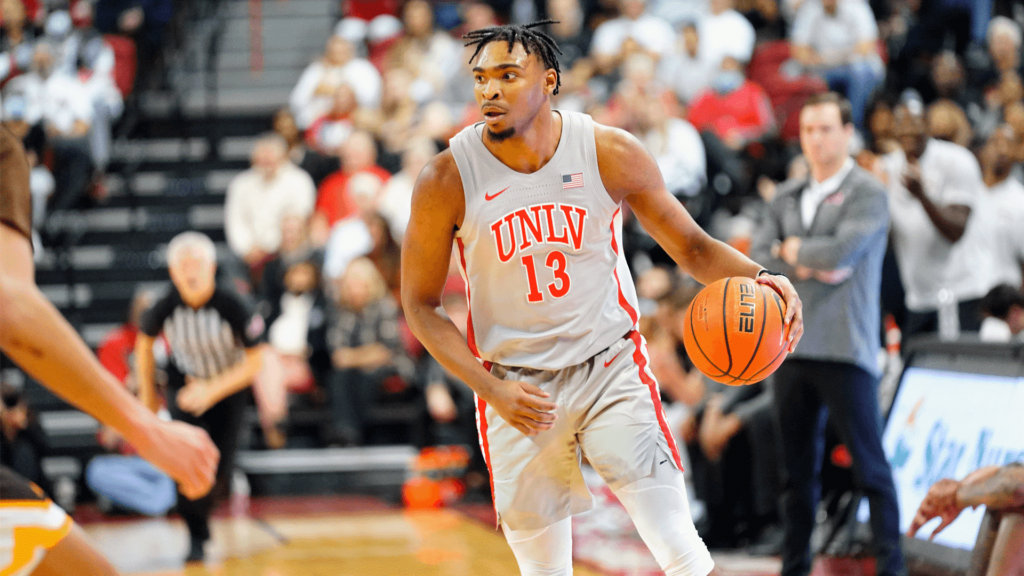 The UNLV men's basketball team, which had won seven of its last 10 games before falling in the regular-season finale Saturday at New Mexico, will open play in the Air Force Reserve Mountain West Men's Basketball Championships against Wyoming on Thursday, March 10 at 2:30 p.m. at the Thomas & Mack Center.
The Runnin' Rebels are the No. 5 seed, while the Cowboys are No. 4. The winner of that contest will move on to the semifinals to face the winner of No. 1 seed Boise State vs. No. 8 UNR/No. 9 New Mexico on Friday, March 11 at 6:30 p.m. Thursday's game will be televised nationally on CBS Sports Network.
TICKETS: Tickets for the Mountain West Tournament may be purchased online at UNLVtickets.com, on the phone by calling 702-739-FANS (3267) or in person at the TMC Box Office.
LAST TIME OUT: The Runnin' Rebels dropped their regular-season finale at New Mexico on Saturday, 76-67. Senior guard Bryce Hamilton led all scorers with 28 points and senior forward Royce Hamm Jr. collected a game-high 10 rebounds with nine points for UNLV. Junior guard Justin Webster also scored in double figures with 13 points, while senior guard Jordan McCabe dished out a game-high seven assists, also recording four steals. New Mexico took control of the game early and led by as many as 21 points in the first half. UNLV used a 9-0 run to cut its deficit to eight points with 10:30 to play, and kept fighting to pull within three with 1:12 to go, but that was as close as it would get.
LAST WEEK AGAINST WYOMING: The Runnin' Rebels defeated Wyoming 64-57 on March 2 on Senior Night at the Thomas & Mack Center. Hamm Jr. recorded his seventh double-double of the season with 17 points and 10 rebounds as UNLV won its 19th in a row over the Cowboys at home. Hamilton added 15 points, six rebounds and four assists, while Webster contributed 11 points and junior forward Donovan Williams pulled down a career-high eight rebounds for UNLV. It was the only regular-season meeting this season between the Runnin' Rebels and Wyoming.
THIS SEASON: Hamilton leads the Runnin' Rebels (18-13, 10-8) in scoring this season at 21.8 points per game, which ranks first in the Mountain West and seventh in the nation. Williams is second on the team at 12.4 ppg and tops in field-goal percentage at 48.5. Hamm Jr. leads the team and is third in the MW in rebounding with 9.3 per contest (27th in the country) and is also averaging 8.7 ppg. McCabe leads the team in assists at 4.9 apg (fourth in the MW) and leads the conference and is sixth in the country in assist/turnover ratio (3.3).
UNLV has had an entirely new look this year with nine transfers – eight coming from the Division I level, including four from Big 12 programs. Ten of the Runnin' Rebels' 13 scholarship players had yet to play in a game in a UNLV uniform before this season began.
UNLV's 15-man roster includes 13 upperclassmen. Hamilton was selected to the 2021-22 Preseason All-Mountain West Team in October. Initially declaring for the 2021 NBA Draft, the second-team All-MW honoree last season who led the Runnin' Rebels in scoring with 17.9 points per game decided to return to the program.
ALL-MOUNTAIN WEST HONORS: Hamilton, Hamm Jr. and Williams each earned All-Mountain West recognition this week. Hamilton was selected First Team All-Mountain West by both the coaches and media, while Hamm Jr. was named honorable mention by the coaches, and Williams earned Sixth Man of the Year by the media. Hamilton was also named First Team All-Mountain West following the 2019-20 season, so he is UNLV's first two-time first-team selection since Odartey Blankson was honored in 2004 and 2005.
ABOUT THE OPPONENT: Wyoming (24-7, 13-5) enters Thursday's game having lost four of its last seven. The Cowboys are coming off of a 68-64 overtime win at home over Fresno State in its regular-season finale on Saturday. Wyoming has three players who rank in the top 20 in the MW in scoring: Graham Ike (19.9 ppg, 2nd in MW), Hunter Maldonado (18.7 ppg, 5th in MW) and Drake Jeffries (10.4 ppg, 20th in MW). Ike leads the team in rebounding (9.6 rpg, 2nd in MW) and Maldonado leads in assists (6.4 apg, 2nd in MW). The Cowboys are 8-5 on the road this year.
BROADCAST INFO: Thursday's television announcers will be Andrew Catalon, Steve Lappas and Evan Washburn (sidelines). Jon Sandler, former Runnin' Rebel Curtis Terry and Steve Cofield (sidelines) will handle the UNLV radio call, which may be heard live on ESPN Radio 1100 in Las Vegas. All streaming links and live stats are available at UNLVRebels.com and through the UNLV Rebels App.
Summary
Article Name
Runnin' Rebels To Face Wyoming Thursday At 2:30 PM In MW Quarterfinals
Description
Runnin' Rebels To Face Wyoming Thursday At 2:30 PM In MW Quarterfinals