RUNNIN' REBELS TO HOST NEW MEXICO TUESDAY AT 8 PM
Tickets are just $5 in the balcony and $22 in the lower bowl for Pack The Mack Night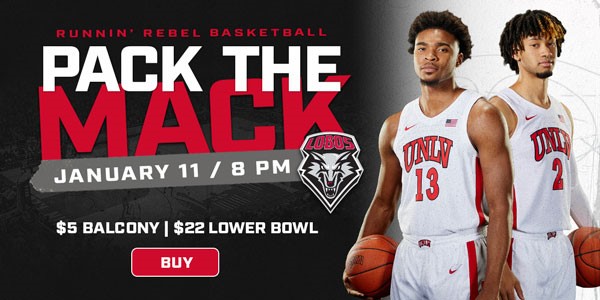 The UNLV men's basketball team, which has had its last two scheduled games postponed because of COVID-19-related issues, will be back on the floor for a game for the first time in 10 days as its hosts New Mexico at the Thomas & Mack Center on Tuesday, Jan. 11 at 8 p.m.
It will be Pack The Mack Night with tickets for just $5 each in the upper bowl and $22 each in the lower bowl. Tickets may be purchased at UNLVtickets.com, by calling 702-739-FANS (3267) or by visiting the TMC Box Office.
In the Runnin' Rebels' last outing, which was on New Year's Day, they dropped their conference opener at home to San Diego State, 62-55, snapping their season-high four-game win streak. It was only the second loss of the season for UNLV at home.
Senior guard Bryce Hamilton leads the Runnin' Rebels (8-6, 0-1) in scoring this season at 18.4 points per game, which ranks seventh in the Mountain West, with junior forward Donovan Williams second at 12.8 ppg. Senior forward Royce Hamm Jr. is second in the MW in rebounding with 10.2 per contest (13th in the country) and is also averaging 8.9 ppg and 1.0 bpg. Senior guard Jordan McCabe leads the team in assists at 5.0 apg (fifth in the MW) and is second in the conference and sixth in the country in assist/turnover ratio (3.6).
UNLV has an entirely new look this year with nine transfers – eight coming from the Division I level, including four from Big 12 programs. Ten of the Runnin' Rebels' 13 scholarship players had yet to play in a game in a UNLV uniform before this season began.
The returners include Hamilton and senior guard Marvin Coleman and the 15-man roster includes 13 upperclassmen. Hamilton was selected to the 2021-22 Preseason All-Mountain West Team in October. Initially declaring for the 2021 NBA Draft, the second-team All-MW honoree last season who led the Runnin' Rebels in scoring with 17.9 points per game decided to return to the program.
After having its MW opener vs. Colorado State postponed, New Mexico (7-8, 0-2) has lost each of its last two games: at UNR (79-70) on Jan. 1 and at home against Utah State (90-87 in overtime) on Saturday. Jamal Mashburn Jr. leads the team in scoring at 19.0 ppg, with Jaelen House also in double figures at 16.1 ppg. Javonte Johnson is the team's leading rebounder (5.5 rpg), while House is the assist leader (4.6 apg). The Lobos are fifth in the country in free throws made and 10th in attempts. Head coach Richard Pitino missed Saturday's game after testing positive for COVID-19 and is likely to miss Tuesday's as well.
Tuesday's game will be televised nationally on CBS Sports Network with Jason Horowitz and Avery Johnson calling the action. Jon Sandler, former Runnin' Rebel Curtis Terry and Steve Cofield (sidelines) will handle the UNLV radio call, which may be heard live on ESPN Radio 1100 in Las Vegas. All streaming links and live stats are available at UNLVRebels.com.
Summary
Article Name
Runnin' Rebels To Host New Mexico Tuesday At 8 PM; $5 Tickets Available
Description
Runnin' Rebels To Host New Mexico Tuesday At 8 PM; $5 Tickets Available