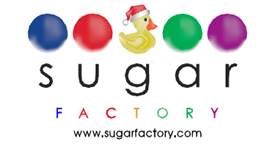 SANTA CLAUS HAS DELIVERED HOLIDAY SWEET TREATS TO SUGAR FACTORY STORES
Sugar Factory Stores Stock Up on Gift Baskets for a Holly, Jolly Giving Season
Christmas cheer has arrived at Sugar Factory stores, with a little help from old St. Nick. Any one of the brand-new candy gift baskets, filled with holiday favorites and other sweet surprises, will make children of any age squeal with happiness this season.
The best-selling holiday item continues to be Santa's Secret Stash gift basket – and for good reason! This bigger than life holiday treat is filled with peppermint ribbons, a Santa PEZ Christmas Cane, a marshmallow Santa, Christmas Dots and mini milk chocolate Santas, all stuffed snuggly in an adorably hilarious Santa pants tote, priced at $48.
Santa isn't the only one with a secret – Mrs. Claus has her own sweet treats as well! Mrs. Claus' Secret Stash is a cozy Santa's coat tote bag filled with a milk chocolate jingle bell ornament, gingerbread cookies, chocolate-peppermint crunch, white chocolate Christmas tree pretzels and a three-piece lollipop tree ornament gift box, priced at $86.
Santa's Bootie gift basket is a special addition to any holiday stocking stuffer. This festive favor includes a Santa PEZ dispenser, a white chocolate dipped Santa cookie pop, a Santa mint tin and a polka dot bag filled with delicious mini milk chocolate Santas, all packaged a keepsake sequined boot, priced at $30.
How about a little sweetness to warm your soul this winter? Candy lovers can't go wrong with the Winter Warmer Basket, priced at $50. This cold-weather classic includes Santa's favorite hot cocoa, a Sugar Factory mug, Christmas taffy, white chocolate dipped Oreos sprinkled with peppermint crumbles and more, all snug in a wicker pine cone basket.
The ultimate Sugar Factory holiday gift is Santa's VIP Tub. After all, who knows the holidays better than the big guy himself? This sweet splurge includes a Peppermint Dream swirl lollipop, white chocolate dipped Oreos, white chocolate birch tree pretzel rods, a cookies and cream chocolate crunch bag, almond white chocolate and dark chocolate peppermint bark, assorted ribbon candy, vanilla clodhoppers, Christmas mix of Jelly Bellys and much more. This gigantic joy of a gift also includes two of Sugar Factory's world famous Couture Pops. All of the holiday goodies are piled high in a jumbo Sugar Factory keepsake tub, priced at $200.
All of these baskets and many more are available for sale in all three Sugar Factory stores, located inside The Mirage, Paris Las Vegas and Miracle Mile Shops at Planet Hollywood Resort & Casino. Online purchase is also available on www.SugarFactory.com, with worldwide shipping.  
Sugar Factory isn't your average sweet spot. The brand has made confections part of popular culture and has turned sweets into the latest designer accessory. Sugar Factory's signature Couture Pop collections have already hit the red carpets in the hands of celebrities at major events in Miami, Los Angeles, New York City and Las Vegas. Kim Kardashian, the Pussycat Dolls and Britney Spears are now endorsing their very own Couture Pops, and are just part of the buzz that has made Sugar Factory a staple in such national media as People, OK!, Us Weekly, In Touch Weekly, NBC's "Today Show" and more.
The Sugar Factory brand has become an instant hit across the country – offering everyone a sweet escape. Sugar Factory currently has stores located at The Mirage Resort and Casino, and Miracle Mile Shops inside Planet Hollywood Resort & Casino. Sugar Factory's flagship location and biggest store can be found at Paris Las Vegas. For more information please visit www.SugarFactory.com, follow on Twitter at www.twitter.com/SugarFactory and friend on Facebook at facebook.sugarfactory.com.