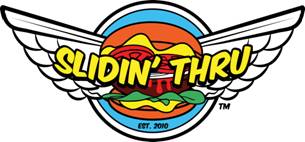 Slidin' Thru makes delicious sliders more accessible with first official restaurant
The Future of Fast Food™ takes over the Northwest this December
Slidin' Thru has made a name for itself as the fun and fast way to get unique sliders right from a mobile truck, igniting a trend of food trucks across the valley. Now, Slidin' Thru expands with its first official restaurant location at 6440 N. Durango Dr., Las Vegas, Nev. 89149, just off the 215 near Centennial Parkway. The new location will open on Friday, Dec. 9, 2011.
The restaurant, referred to as the "Drive-Thru" location, since it not only offers an indoor dining area (capacity 30 diners), but Slidin' Thru fans can continue to receive "window love" via the drive-thru window. Offering both in restaurant dining as well as drive-thru service allows customers to experience the streamlined and modern atmosphere that is Slidin' Thru whether eating in or on the go.
Slidin' Thru restaurant will feature the same slider favorites that have made locals fall in love with mini burgs, including the delicious Barby with bacon and caramelized jalapenos, the Pep Pep with crisp bacon and super sauce, the Yaya with feta cheese and red wine vinaigrette, Captain's Order with arugula and balsamic reduction or the classic Plain Jane with cheese and ketchup.
Specialty sliders including the Pulled Porky with tender, slow-cooked pork, caramelized jalapenos and BBQ sauce and the Caprese, a meatless option of grilled eggplant, roma tomato, basil, fresh mozzarella and balsamic reduction will also be offered. Sides such as perfectly seasoned fries or sweet potato fries add to the deliciousness of the menu and diners can enjoy the Super Fry menu with creations such as Barby Fries with melted cheddar, bacon, caramelized jalapenos and BBQ sauce and Sweet Potato Smores with toasted marshmallow cream, warm chocolate sauce and graham cracker crumble.
After starting the food truck revolution in Las Vegas, Slidin' Thru became a staple for local foodies and families. The concept arose when owner Ricardo Guerrero wanted to see people enjoy his culinary creations so he bought a truck, filled it with dreams and mini burgs and now celebrates success with the launch of the first Slidin' Thru restaurant.
"Join us in our Grand Opening as we embark on the newest chapter of Slidin' Thru's epic saga! The story of me and my food truck, to the journey of an amazing team reaching their dreams of defeating the evil Dr. Stalebuns!" exclaimed owner Ricardo Guerrero.
The Slidin' Thru restaurant will be open 10 a.m. until 11 p.m. Sunday through Thursday and 10 a.m. until 2 a.m. Friday and Saturday.
About Slidin' Thru – (To be read in an awesomely dramatic movie narrator voice)
Slidin' Thru was created by one man with an idea, a dream and an appetite for something different in the Las Vegas community – The Future of Fast Food™. Slidin' Thru was officially founded on March 13, 2010 by Ricardo Guerrero (Ric) to show hungry citizens of Las Vegas that mini burgs can have a fun and powerful taste. After attending culinary school, Guerrero quickly realized he would rather find a way to not only cook, but watch as people savored the food he was preparing and thus the Slidin' Thru slider truck was born. As the brand expanded, Slidin' Thru began releasing swag that fans can't get enough of, including limited edition shirt designs and more. This winter, Slidin' Thru opens its first official restaurant location on Durango and Centennial Parkway with a second restaurant set to open in early 2012. The Slidin' Thru team also runs the popular Vegas StrEATs event in Downtown Las Vegas, as well as Movies in the Park. For more information, visit www.slidinthru.com.