StarBase Announces June Programming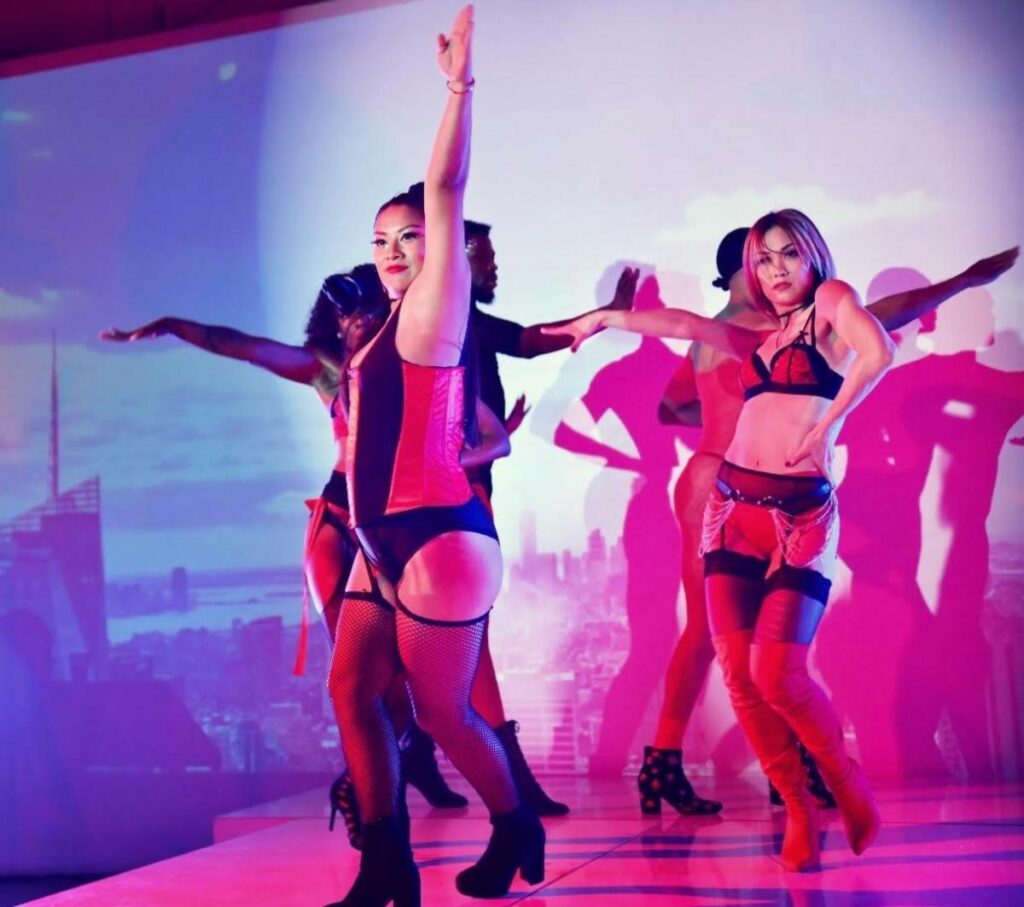 Starfire dancers at Starfire (Photo Courtesy of StarBase)
StarBase announces June programming, with an array of unique and lively entertainment events, including One Helluva Friday, Belmont Hybrid Horse Race, Starfire, Comet Comedy Club, Flight School, and more.
StarBase will also celebrate its one year anniversary by featuring an open bar on select beers at all public events.
June 10 – One Helluva Friday
Hosted by Asia Jade on the second Friday of each month, One Helluva Friday is a series of colorful programming aimed to create meaningful conversation, encourage personal expression and provide a platform for the local artistic community to showcase their talent. The evening kicks off with a speaker series called "What the Hell Happened," featuring notable local executives, politicians, and community leaders taking the stage to talk about their professional failures and how it ultimately helped them succeed in their careers. This month's speaker is Todd "TK" Schmick, who runs Priority Management. At 9 p.m., StarBase transitions to "Hella Expressions," a curated open mic that gives local artists a safe space to share their music, comedy, poetry or other talents to a live audience. One Helluva Friday also includes Comet Comedy Club, an open mic opportunity for local comedians to try out some of their new jokes or share their best ones with the audience. Entry is free with RSVP before 11 p.m; two-drink minimum at the door without RSVP or after 11 p.m.
June 10 – Social Register Mixer
Connect over cocktails with Las Vegas' industry leaders, business owners, and entrepreneurs who value meaningful relationships and building a quality network at the Social Register Mixer on Friday, June 10 from 6-8 p.m. Tickets are complimentary for Social Register members and $30 for guests.
June 11 – Belmont Hybrid Horse Race
Guests can don their biggest hat or finest bowtie to watch the last race of the Triple Crown and participate in their own virtual horse race for the Belmont Stakes on Saturday, June 11 at 12:30 p.m. This event is free and open to anyone over the age of 21 with a two-drink minimum. Guests must set up their MetaMask wallet to participate in the virtual horse race and be eligible for horse giveaways from local stable owners.
June 18 – Starfire
Experience Starfire, a monthly space-age nightclub featuring exotic performers, dancers, digital artwork, and immersive videos in support of the LGBTQ+ community and underground culture.  The dance party aims to celebrate local queer artists and design the future of how we consume art, technology, and community simultaneously. Newly announced, the event will  welcome guests 18+ to party in Valley View and 21+ to party in Space Age. Starfire takes place every  third Saturday of each month starting at 9 p.m. Admission is $5 with advance RSVP; two-drink minimum without RSVP.
June 24 – Flight School & Red Eye After Party
Your wine flight is waiting. On Friday, June 24 from 7-10 p.m., join StarBase in attending Flight School, an immersive tasting experience with sommelier Matthew-Loren Lindsey piloting guests through savoring recommended summer wines while also answering any questions of participating guests. Tickets include four tastings, cheese pairings, and a lapel pin + custom flight board keepsake. Guests are invited to linger and catch a free red eye afterparty with an electric live performance set from the French DJ duo, Gold Lemonade, at 10 p.m. Tickets are $40.
June 24 – Comet Comedy Club
On June 24 at 7 p.m. before Flight School takes off, laugh out loud with StarBase during Comet Comedy Club, an open mic opportunity for local comedians to try out some of their new jokes or share their best ones with a live audience. For those who are interested in signing up as a comedian, sign up at [email protected]
WHERE: 
StarBase event space at 3905 W Diablo Dr. Las Vegas, NV 89118
TICKETS: 
All tickets can be purchased at starbaselv.com. Events are all ages, except where indicated.
About StarBase
Brought to you by the visionaries behind experiential event company Fresh Wata, StarBase is the world's first private and public hybrid entertainment and event space located in Las Vegas that combines live and virtual event experiences for corporate events, tailgating parties, live performances, entertainment experiences, and festivals. As pioneers in the tech space with a goal of transforming Las Vegas into a digital universe, StarBase boasts 8,000 square feet of future-forward, event space located within walking distance to Allegiant Stadium and equipped with 17 TVs, five projectors, two stages, 10 themed spacious rooms, three outdoor event lots, live streaming equipment, and fiber optic internet with fast upload and download speeds to seamlessly blend any event from live to hybrid to virtual. StarBase has the ability to stream content to Facebook, Twitch, or directly into the building, allowing guests to meet at StarBase physically or virtually for an unlimited online audience to take part in every experience regardless of location. When not booked for private events, StarBase will be open to the public for live entertainment, crafting events, and other family-friendly events. For more information, visit starbaselv.com.
Summary
Article Name
StarBase Announces June Programming
Description
StarBase Announces June Programming