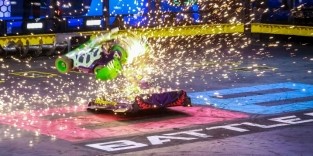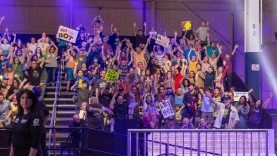 L: Robots fighting to the death in the BattleBox Arena in Las Vegas; R: crowds cheer their
favorite robots and robot teams at the BattleBox Arena.
(Photos courtesy of BattleBots, Inc.) 
TICKETS ON SALE NOW FOR "BATTLEBOTS: DESTRUCT-A-THON," NEW LIVE
SHOW ON LAS VEGAS STRIP LAUNCHING FEB. 3, 2023 
General Admission, Ultra-VIP Packages Available at BattleBots.com
BattleBots, the hit television show featuring fighting robots, announces tickets are now on sale for its soon-to-launch live Las Vegas show: "BATTLEBOTS: DESTRUCT-A-THON" at battlebots.com/tickets. The exclusive, brand-new show will open on Feb. 3, 2023, at BattleBots' own BattleBox Arena at Caesars Entertainment Studios, 4165 Koval Lane. The live show follows the enormous success of the BattleBots World Championship filming season, which finished taping at the venue in front of sold-out audiences in October.
BATTLEBOTS: DESTRUCT-A-THON will be the world's first daily robotic combat show and will be exclusive to Las Vegas. Shows initially take place on Thursdays and Fridays at 6 p.m., Saturdays at 3 and 6 p.m. and Sundays at 12 p.m.
BATTLEBOTS: DESTRUCT-A-THON will contain all the drama, action and destruction of the TV series, condensed into an intense, fast-moving, 80-minute theater show. All the fights that take place during BATTLEBOTS: DESTRUCT-A-THON will be real, and no one—not even the drivers—will know which robot will be victorious each night. Each show will be full of shocks, surprises and the kind of robot-on-robot carnage for which BattleBots is famous.
Featuring many of the most famous robots that have delighted millions of fans all over the world – with names such as Witch Doctor, Kraken, Mammoth, Lock-Jaw, Hypershock and Whiplash, BATTLEBOTS: DESTRUCT-A-THON will also include several new robots being specially created for the show. These robots are currently being built by existing robot combat teams, and Las Vegas audiences will get a chance to see some of them even before they are featured on TV.
In addition, some shows will feature fights from rookie teams eager to try out for the next BattleBots World Championships, which will be held at the BattleBox Arena in 2023.
"We know this live show will be an enormous hit," said BattleBots CEO Trey Roski. "It will feature the most famous fighting robots on the planet, and they'll be fighting to the death every night. It's going to be the most violent show in Las Vegas where nobody ever gets hurt. The robot apocalypse starts soon!"
Several types of tickets are available now, from general admission at $49 per person (with $150 family bundles), to premium options up to $125 and limited ultra-VIP seating right next to the iconic BattleBox Arena itself. Some VIP guests will be able to view the robots pre- and post-show and meet the teams. Additionally, the BattleBots Store will sell apparel, toys, books and other official BattleBots merchandise, and concessions selling snacks and drinks will be available for all fans.
The phenomenally popular BattleBots television show has amassed a passionate audience in 150 countries, with more than 10 million followers on social media. Soon, fans can witness sparks flying and robots dying nightly as the mechanical stars compete live during each BATTLEBOTS: DESTRUCT-A-THON live show.
For more information, visit battlebots.com.
ABOUT BATTLEBOTS
BattleBots is the world leader in the fast-growing sport of robot fighting. For more than 20 years, BattleBots has brought its unique mix of metal mayhem, flames, explosions and high drama to its passionate fans around the world. Created by Edward (Trey) Roski and Greg Munson and now seen in over 150 countries, the sport has over 10 million followers on social media, as well as tens of millions of television viewers. For more information, go to www.battlebots.com, or follow on Facebook, Instagram, Twitter and YouTube.
Summary
Article Name
Tickets Now on Sale For BATTLEBOTS: DESTRUCT-A-THON Live Show in Las Vegas
Description
Tickets Now on Sale For BATTLEBOTS: DESTRUCT-A-THON Live Show in Las Vegas