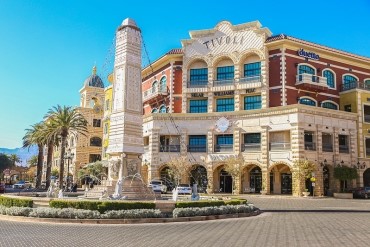 Tivoli Village's Alta Drive Entrance.
(Photo Courtesy of Tivoli Village)
TIVOLI VILLAGE INVITES GUESTS TO BRAND-NEW NIGHT MARKET AT TIVOLI
EVENT SERIES BEGINNING MARCH 26
WHAT:
Tivoli Village, Las Vegas' premier retail, dining and office Lifestyle Center, invites the community to its new outdoor event series, Night Market at Tivoli. These events will take place in partnership with LV Craft Shows, the city's longest running craft show and the Best of Las Vegas award winner for the past four years. Attendees can look forward to discovering one-of-a-kind gifts while supporting artists and shopping from local vendors. For families, complimentary art sessions for kids by City of the World Art Gallery will also be available. In addition, food trucks as well as music and live entertainment will create a fun and inviting atmosphere for visitors to enjoy.
WHEN:
Each Night Market at Tivoli will take place from 5 p.m. to 9 p.m.
Upcoming dates include:
Saturday, March 26
Saturday, April 30
Saturday, May 21
Saturday, June 18
Saturday, July 16
Saturday, Aug. 13
WHERE:
Tivoli Village
400 South Rampart Boulevard
Las Vegas, NV 89145
COST:
Free
ABOUT TIVOLI VILLAGE:
From dancing in the streets to yoga on the Piazza, old-world elegance blends seamlessly with today's active lifestyle at Tivoli Village. Anchored by Restoration Hardware's RH Las Vegas, the outdoor center is complemented by a curated collection of retailers ranging from luxury brands to one-of-a-kind boutiques. Enticing restaurants include local favorites such as Echo & Rig Butcher and Steakhouse, Leoné Café and El Dorado Cantina, while Kilo Club serves as an upscale members-only gym beyond traditional options. Located in one of the most affluent sections of Southern Nevada, Tivoli Village is 15 minutes from the Las Vegas Strip, conveniently situated off Summerlin Parkway. The center proudly boasts 370,000 square feet of retail and restaurants and 300,000 square feet of Class A office space. Covered parking and curbside pickup zones are provided. Restaurant and store hours vary. For more information on Tivoli Village visit tivolivillagelv.com or follow along on Instagram or Facebook.
Summary
Article Name
Tivoli Village Invites Guests to Night Market Event Series Beg. March. 26
Description
Tivoli Village Invites Guests to Night Market Event Series Beg. March. 26