Trumpeter and Vocalist Brian Newman Adds December 2021 Late-Night Shows at NoMad Las Vegas
Newman to Ring in 2022 at NoMad Las Vegas;
Tickets on Sale Thursday, December 2 at 10 a.m. PT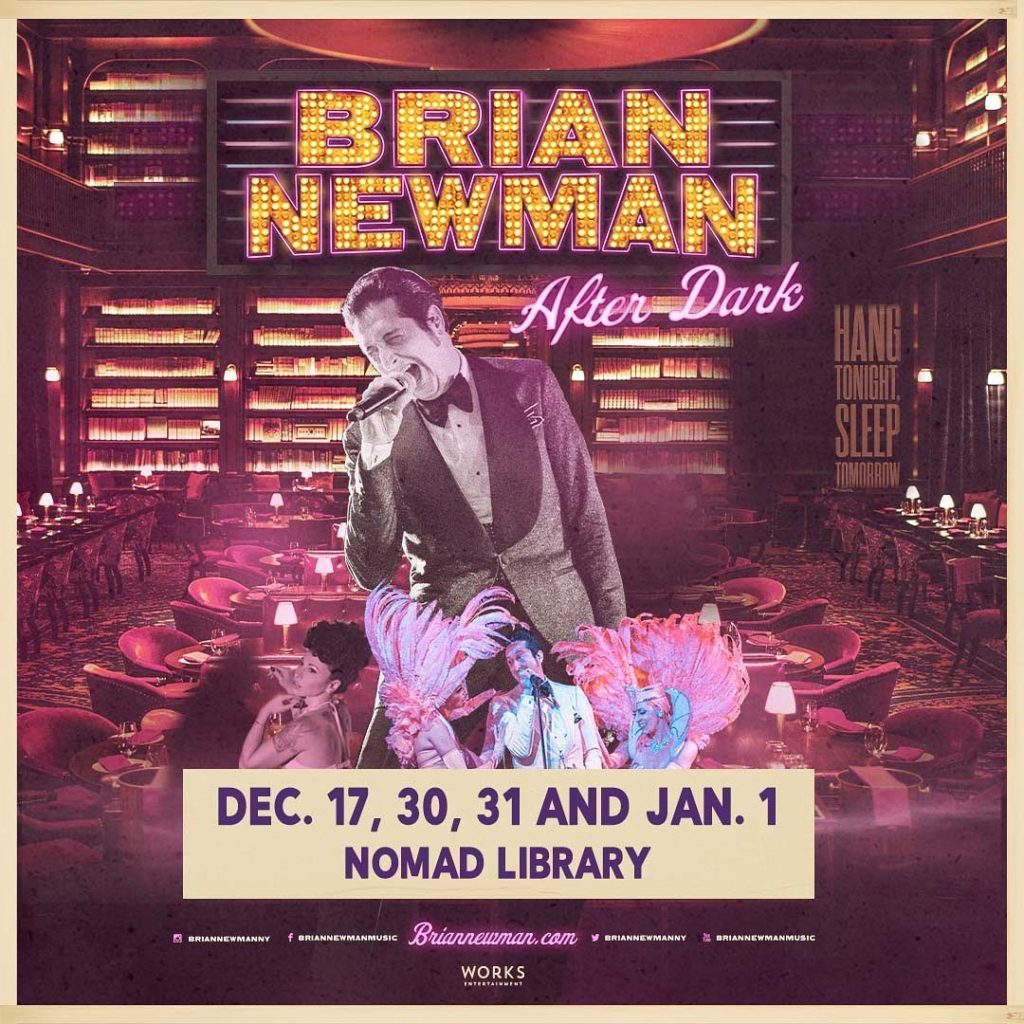 Trumpeter and singer Brian Newman today announced the addition of four new dates, including a New Year's Eve performance, of his late-night show Brian Newman: AFTER DARK at NoMad Las Vegas. Newman will perform at the NoMad Library December 17, December 30 – 31 and January 1 with all shows scheduled to begin at 11:30 p.m.
Serving as the bandleader for the LADY GAGA JAZZ & PIANO resident show at Dolby Live, Newman designed Brian Newman: AFTER DARK as an ode to vintage Las Vegas, creating a late-night rendezvous filled with great music and good friends. NoMad Library features a menu of handcrafted cocktails, wine and small bites for showgoers to enjoy during Newman's performances.
The intimate evenings will feature special guest performers from New York City, Las Vegas and beyond. During prior runs at NoMad Las Vegas special guests included multi-award-winning superstar Lady Gaga, Jaclyn McSpadden of Postmodern Jukebox, Ashanti, Robby Krieger from The Doors, Terence Blanchard, Puddles Pity Party, Morgan James of Postmodern Jukebox, Emily King, Kelsea Ballerini and burlesque great Angie Pontani, among many others.
Tickets starting at $49, plus applicable services charges, go on sale Thursday, Dec. 2 at 10 a.m. PT and can be purchased online at ticketmaster.com or at any MGM Resorts box office. Must be 21 years of age or older to attend.
NoMad Library is open for dining Thursday to Monday from 5 p.m. to 10 p.m. Guests interested in booking dinner reservations prior to Brian Newman: AFTER DARK should call 702.730.6785 for more information. On December 31, NoMad Library will offer three New Year's Eve dinner seatings with the third including tickets to Brian Newman: AFTER DARK. Third-seating reservations start at $350 per person. More information can be found at nomadlasvegas.com.
Newman has made a name for himself as a consummate entertainer on the New York City club circuit in recent years with extended engagements at The Oak Room, Birdland, The McKittrick Hotel and The Rose Bar. His debut album, SHOWBOAT, proves that Jazz isn't what it used to be. The album provided Newman the opportunity to break the art form out of its constraints, allowing the jazz influences of Miles Davis and Chet Baker to find room with his love of rock bands such as Nirvana, Beck and Thin Lizzy. His latest album, Electric Lounge, was released November 2020.
Newman co-produced the soundtrack version of "La Vie En Rose" for the film "A Star Is Born" with Lady Gaga and was her bandleader and trumpeter for the Cheek to Cheek project with Tony Bennett. Both albums debuted at No.1 on the Billboard 200 chart. They originally met in the downtown New York City club scene where Newman was a bartender and they discovered their shared love for jazz and tattoos (the two share the same tattoo on their right arms of Miles Davis' trumpet taken from a sketch done by Tony Bennett). Newman also was the bandleader and trumpeter on Lady Gaga's latest album with Tony Bennett, Love For Sale, which debuted in the Top 10 on Billboard and received six GRAMMY Award nominations.
Hailing from Cleveland, Newman played trumpet for his local high school jazz band, but also honed his skills listening to his musical influences. He attended the Cincinnati College-Conservatory of Music but decided to end his formal training and move to New York City in 2003. During that time, he hustled for club gigs, recorded on hip-hop sessions and tended bar. His exposure to the music scene expanded and he landed a regular gig at Plaza Hotel's famed Oak Room where Stefani Germanotta first heard him perform. Their friendship led to Brian's involvement in the Cheek to Cheek project and the global world tour. His engaging stage persona, musical chops, suave suits and jazz/rock union combine for a unique sound and sensibility.
About Park MGM and NoMad Las Vegas
Park MGM is the Las Vegas Strip's first smoke-free resort, offering an intimate hotel experience on a grand scale. Park MGM features 2,700 guest rooms and suites in addition to NoMad Las Vegas' 293 well-appointed guest rooms and suites on the resort's top four floors. The resort's robust culinary program features NoMad Library; L.A. legend Roy Choi's Korean BBQ concept, Best Friend; Hogsalt Hospitality's renowned Bavette's Steakhouse; and the 40,000-square-foot vibrant Italian marketplace, Eataly, among other dining and cocktail experiences. Dolby Live, the resort's 5,200-seat entertainment destination, is home to special engagements by Lady Gaga, Bruno Mars, and Aerosmith, among other top artists. Park MGM also is home to On The Record, a unique nightlife concept from LA-based Houston Hospitality. Park MGM and NoMad Las Vegas are located in the heart of The Strip, next to the entertainment and dining neighborhood created by The Park and the 20,000-seat T-Mobile Arena. Park MGM and NoMad Las Vegas are operated by MGM Resorts International (NYSE: MGM). For more information and reservations, visit ParkMGM.com, call toll-free at 888-529-4828, or find us on Instagram, Facebook, and Twitter.
Summary
Article Name
Trumpeter and Vocalist Brian Newman Adds December 2021 Late-Night Shows at NoMad Las Vegas
Description
Trumpeter and Vocalist Brian Newman Adds December 2021 Late-Night Shows at NoMad Las Vegas