JOEY WALLS NAMED TO BOBBY BRAGAN AWARD WATCH LIST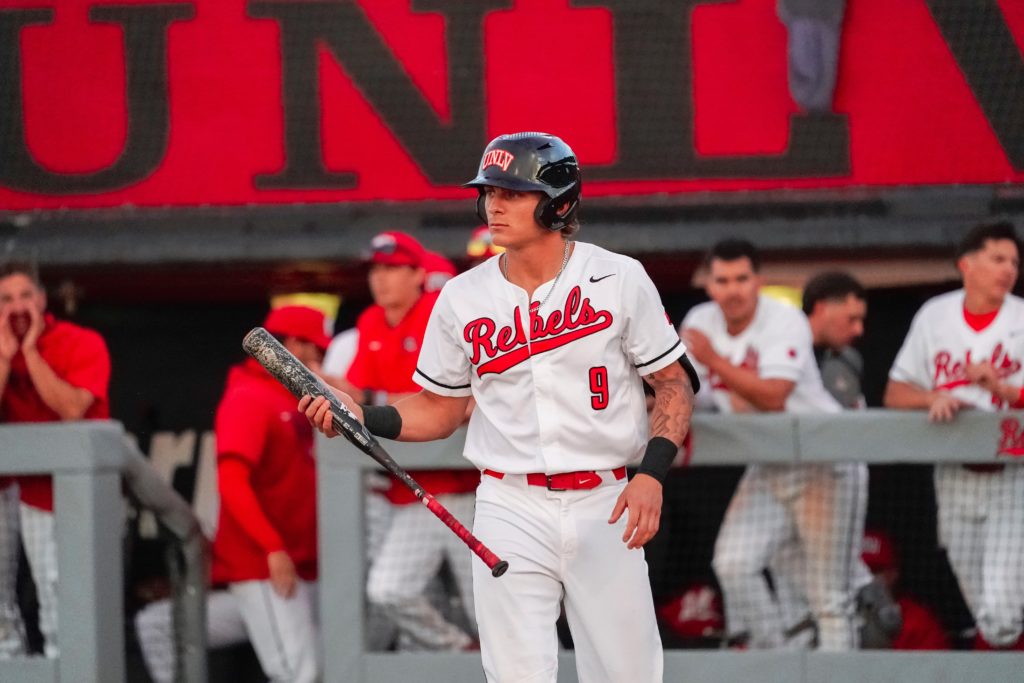 @UNLVBaseball | Schedule | BBCSA Watch List
UNLV baseball junior Joey Walls has been named to the 2022 Bobby Bragan Collegiate Slugger Award watch list presented by SR Bats.
Walls has started in 34 games this season with 32 at right field and two as designated hitter. Going into this weekend, Joey leads the nation in doubles with 21, sits 30th in the nation for batting average (.394), ranks 31st in the nation for slugging percentage (.727), tied for fourth in the MW for RBI (40) and runs scored (45) and ranks second in the conference for OPS (1.202).
The Las Vegas native is currently batting .394 on the year with 52 hits, 29 of which have gone for extra bases with 21 doubles, one triple and seven home runs, and helped produce a .727 slugging percentage. He has also walked 19 times and knocked in 40 RBI and scored 45 total runs.
In early April, Walls was selected the Mountain West's Player of the Week and the NCBWA Dick Howser Trophy National Player of the Week after leading the Rebels to a 4-0 record, including a series sweep at New Mexico (April 1-3). During the single-game contest against ASU, he recorded two hits in three at bats, walked two and scored two runs. In the three-game series he batted .714 (10-for-14) with 10 hits, one walk and only two strikeouts. Nine of his hits went for extra bases, with three home runs and six doubles. He ended the week with a 1.588 slugging percentage and a .750 on-base percentage and recorded a multi-hit effort in all four games.
The Bobby Bragan Collegiate Slugger Award has been presented to the top D1 hitter in the nation since 2020. It was originally launched in 2017 to recognize the best D1 hitter in the state of Texas based on performance at the plate, academics and personal integrity/community service. The winner of the award will be announced in June and honored at a gala in the fall.
Walls is the first Rebel to earn a spot on the Bobby Bragan Award watch list.
UP NEXT
UNLV will close out their 13-game homestand with a three-game series against New Mexico beginning Friday at 6:05 p.m.
PURCHASE TICKETS
Single-game ticket prices this season are $10 for adults, $8 for seniors, faculty and staff, and $5 to groups of 15 or more. Fans that purchase tickets online before game day can get them for an advanced single-game price of $6.
All high school, middle school and elementary students are free under UNLV's new admission policy. To receive free admission, high school students must present valid Nevada are school I.D. at the box office on gameday for one (1) complimentary ticket. Current UNLV students will receive free admission with a valid school I.D. All other students will receive a complimentary ticket at the box office (no I.D. required). Kids not yet elementary school age will continue to receive free admission for all UNLV Olympic sports.