HAMILTON EARNS FIRST TEAM ALL-MOUNTAIN WEST HONORS FOR SECOND TIME

Senior Bryce Hamilton selected to top squad by coaches and media, becoming UNLV's first two-time first-teamer in 17 years; Senior Royce Hamm Jr. earned honorable mention recognition by coaches and junior Donovan Williams named Sixth Man of the Year by media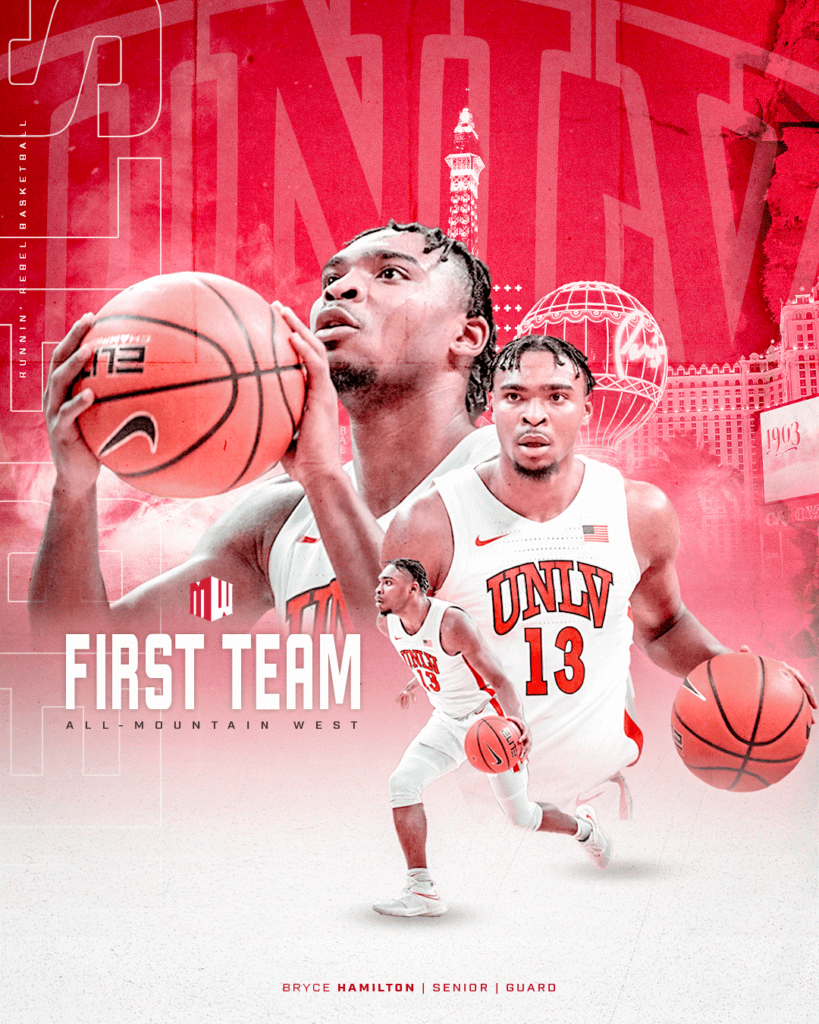 UNLV men's basketball senior Bryce Hamilton, senior Royce Hamm Jr. and junior Donovan Williams have each earned All-Mountain West recognition as the league and its media announced their all-conference awards this week.
The MW's 11 head coaches voted on the league's awards, while the media's were conducted independent of conference oversight.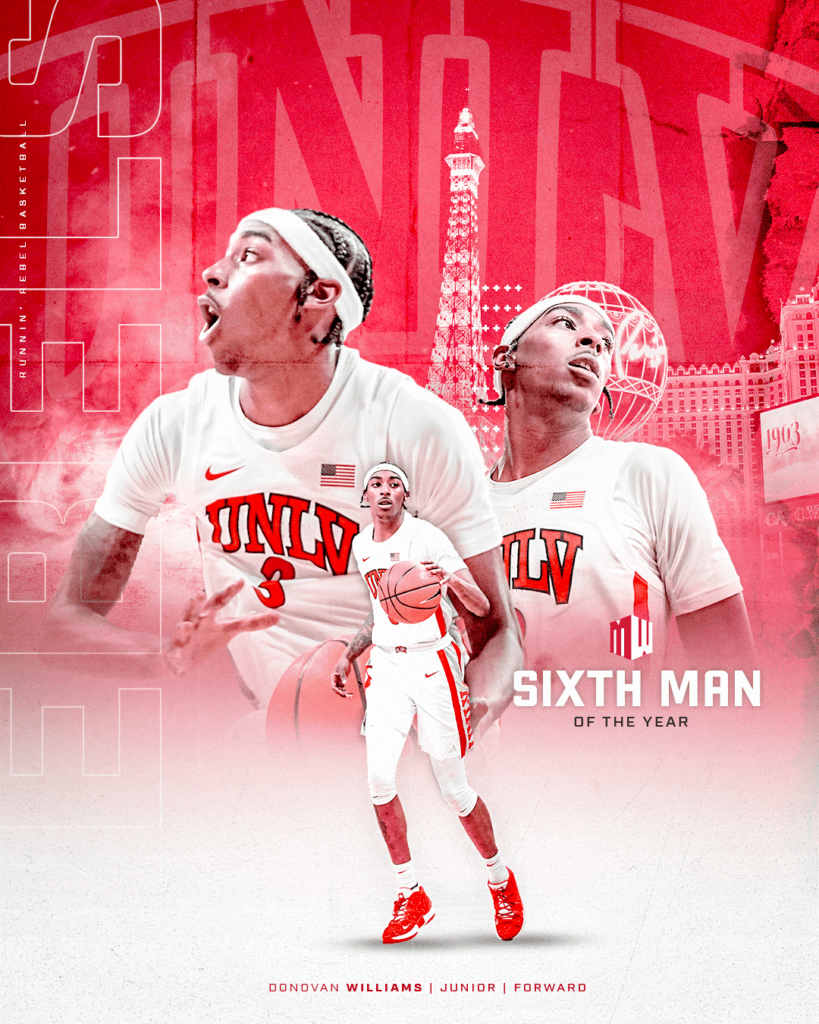 Hamilton was selected First Team All-Mountain West by both the coaches and media, while Hamm Jr. was named honorable mention by the coaches, and Williams earned Sixth Man of the Year by the media.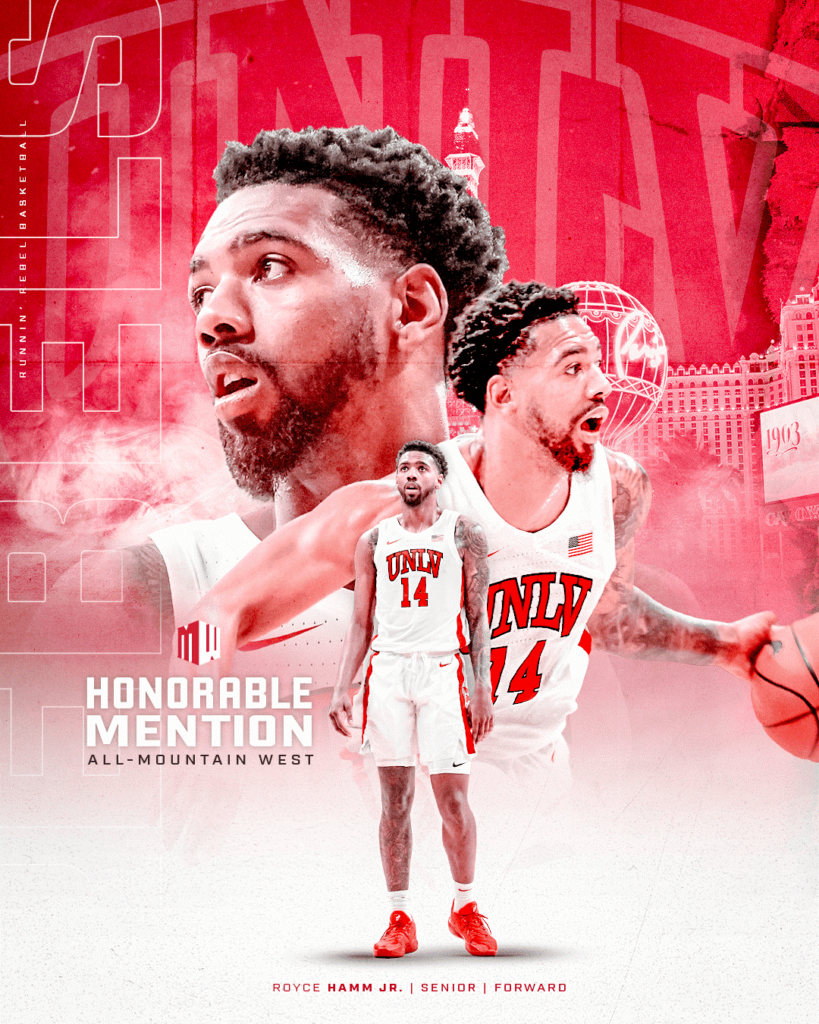 Hamilton was also named First Team All-Mountain West following the 2019-20 season, so he has become UNLV's first two-time first-team selection since Odartey Blankson was honored in 2004 and 2005.
Hamilton, a 6-foot-4-inch guard from Pasadena, California, led the Mountain West in scoring this season, averaging 24.1 points per game during conference play. He also averaged 5.9 rebounds per contest (10th in the MW), while recording 2.4 assists per game. He ranked first in the MW in 3-pointers made per game (3.06), shot 36.9% from long range, which was second in the league, made 42.3% of his shots from the field (11th in MW) and was sixth in free-throw percentage (77.3).
Hamilton scored in double figures in all 18 league contests, eclipsing the 30-point mark five times in MW play and 20 or more in 12 games. He scored a career-high 42 points at Colorado State, which is the ninth-highest point total by an individual in a single game in Runnin' Rebel history. In addition to being a first-team honoree two seasons ago, Hamilton was named to the second team in 2020-21.
Hamm Jr., a 6-foot-9-inch forward from Houston, who transferred to UNLV from Texas, averaged 8.4 ppg and 8.9 rpg, while shooting 50% from the field and 86.7% on free throws during league games this season. He was third in the MW in rebounding average, recording double figures in scoring six times in MW action and in rebounding on eight occasions.
Williams, a 6-foot-6-inch forward also from Houston and a Texas transfer, averaged 12.3 ppg, shooting 49.6% from the field and 45.2% on 3-pointers. He started six of 13 MW games played, tallying double figures in scoring seven times, including 20 or more points twice.
NEXT FOR THE RUNNIN' REBELS: UNLV is the No. 5 seed in this week's Air Force Reserve Mountain West Men's Basketball Championship. The Runnin' Rebels will face No. 4 seed Wyoming in the quarterfinals on Thursday, March 10 at 2:30 p.m. at the Thomas & Mack Center. Tickets may be purchased online at UNLVtickets.com, by calling 702-739-FANS (3267) or in person at the TMC Box Office.
Summary
Article Name
UNLV MEN'S BASKETBALL NEWS: Hamilton Earns First Team All-Mountain West Honors For Second Time
Description
UNLV MEN'S BASKETBALL NEWS: Hamilton Earns First Team All-Mountain West Honors For Second Time