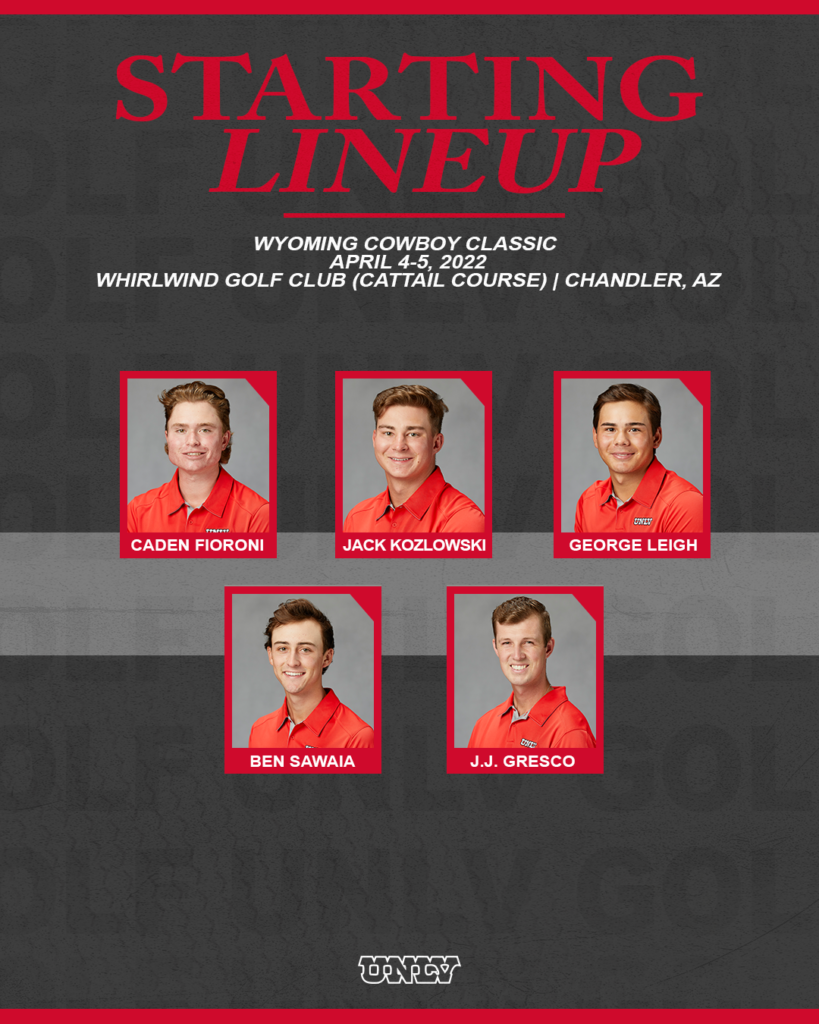 UNLV MEN'S GOLF HEADS TO ARIZONA FOR THE WYOMING COWBOY CLASSIC

The two-day tournament will be played at Whirlwind Golf Club Monday and Tuesday in Chandler, Arizona
Live Scoring/Results  |  @UNLVGolf
The UNLV men's golf team will be back in action to start the week in Arizona, competing in Wyoming's Cowboy Classic, April 4-5 in Chandler, Arizona. The two-day 54-hole event takes place on the Cattail Course (Par 72 7,334 yards) at Whirlwind Golf Club.
After the Cowboy Classic, the Rebels will have one final regular season event, Arizona State's Thunderbird tournament April 15-16, before the Mountain West Championships, which are set for April 29-May 1 at Gold Mountain Golf Club in Bremerton, Washington.
THE FIELD: This year's tournament field will feature 25 teams: Cal State Fullerton, Colorado, Colorado State, Fresno State, Gonzaga, Iowa State, Kansas, Long Beach State, Loyola Marymount, Nevada, New Mexico State, San Diego, San Diego State, Southern Utah, TCU, UC Davis, UC Irvine, UC Santa Barbara, UNC Wilmington, UNLV, Utah State, Utah Valley, UTSA, Weber State and Wyoming. There will be seven teams ranked among the Top 75 teams in the nation playing in this year's Wyoming Cowboy Classic according to the most recent Golfstat rankings (as of March 29).  Those seven schools include: Kansas (No. 19), Nevada (38), UC Davis (53), San Diego (59), TCU (68), Loyola Marymount (71) and San Diego State (72).
UNLV LINEUP: Competing for the Rebels will be sophomore Caden Fioroni, senior Jack Kozlowski, junior George Leigh, sophomore Ben Sawaia and senior JJ Gresco.
SCHEDULE: The tournament will be held Monday-Tuesday, April 4-5. Following Sunday's practice round, 36 holes will be played Friday and the final 18 on Saturday.
LIVE SCORING: Live scoring will be available at Golfstat.com, or by clicking here.
MOUNTAIN WEST AWARDS: Rebel sophomore Caden Fioroni was named Mountain West Golfer of the Week on March 4 after he finished tied for 10th at the Southern Highlands Collegiate, which included a second-round 66.
ON SOCIAL MEDIA: Follow Rebel golf on social media at @UNLVGolf on Twitter and @UNLVRebelGolf on Instagram.
Summary
Article Name
UNLV MEN'S GOLF NEWS: Rebels Head To Arizona For The Wyoming Cowboy Classic
Description
UNLV MEN'S GOLF NEWS: Rebels Head To Arizona For The Wyoming Cowboy Classic