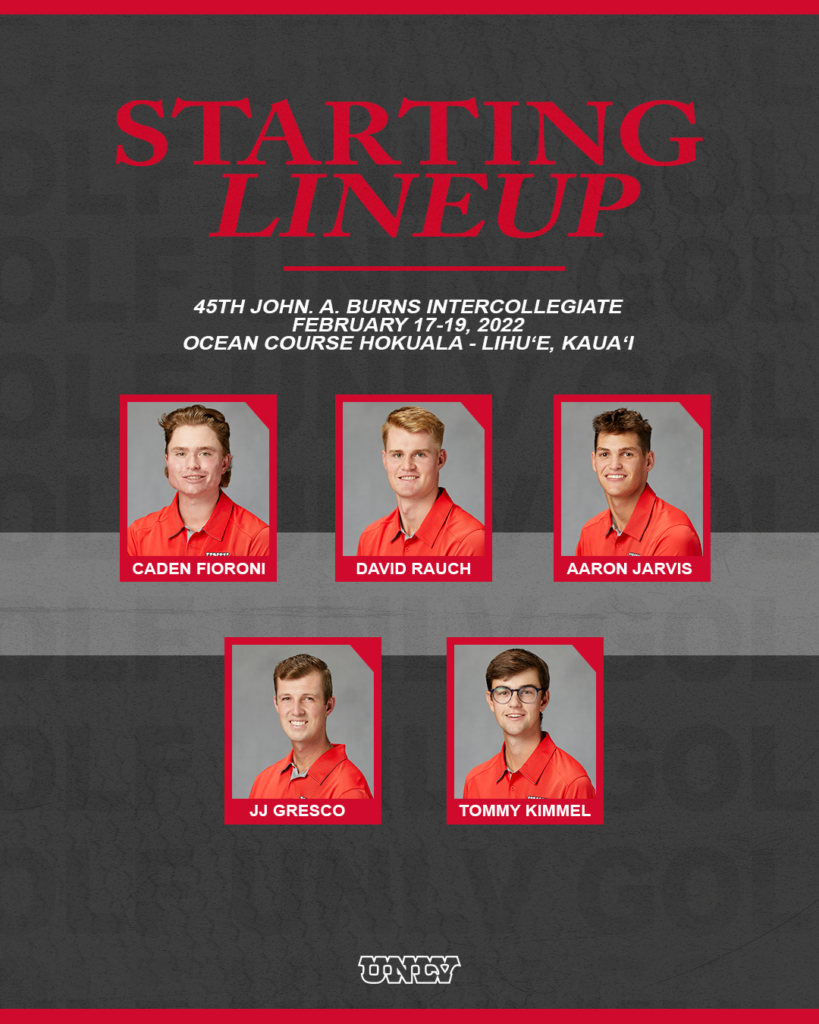 UNLV MEN'S GOLF IN HAWAI'I FOR JOHN A. BURNS INTERCOLLEGIATE 

The tournament, hosted by Hawai'i, is set for Feb. 17-19 in Lihu'e, Kaua'i
Live Scoring/Results  |  @UNLVGolf
The UNLV men's golf team heads to the Hawaiian Islands this week for the 45th John A. Burns Intercollegiate, which is set for Feb. 17-19 in Lihu'e, Kaua'i. The three-day 54-hole event will take place at the Ocean Course Hokuala (par 72, 7,156 yards) with a shotgun start each morning at 8:30 a.m. HT.
The Rebels have won this event three times – in 1991, 1998 and 1999 – tying for third-most titles in the tournament's history.
THE FIELD: The field features 18 teams. In addition to UNLV, competing teams include Arizona, BYU, California, Fresno State, Grand Canyon, Long Beach State, New Mexico, Northern Colorado, Saint Mary's, Santa Clara, Texas A&M, UC Irvine, UNLV, USC, Utah, UTEP and Washington State.
UNLV LINEUP: Competing for the Rebels will be sophomore Caden Fioroni, senior David Rauch, freshman Aaron Jarvis, senior JJ Gresco and freshman Tommy Kimmel.
SCHEDULE: The tournament will be held Thursday-Saturday, Feb. 17-19. Following Wednesday's practice round, 18 holes will be played each day.
LIVE SCORING: Live scoring will be available at Golfstat.com, or by clicking here.
ON SOCIAL MEDIA: Follow Rebel golf on social media at @UNLVGolf on Twitter and @UNLVRebelGolf on Instagram.
Summary
Article Name
UNLV MEN'S GOLF NEWS: Rebels In Hawai'i For John. A. Burns Intercollegiate
Description
UNLV MEN'S GOLF NEWS: Rebels In Hawai'i For John. A. Burns Intercollegiate