BOKROS, MYKKANEN SWEEP WEEKLY HONORS
The Rebel duo's recognition comes after their individual event sweeps in UNLV 's women's and men's victories over UC Santa Barbara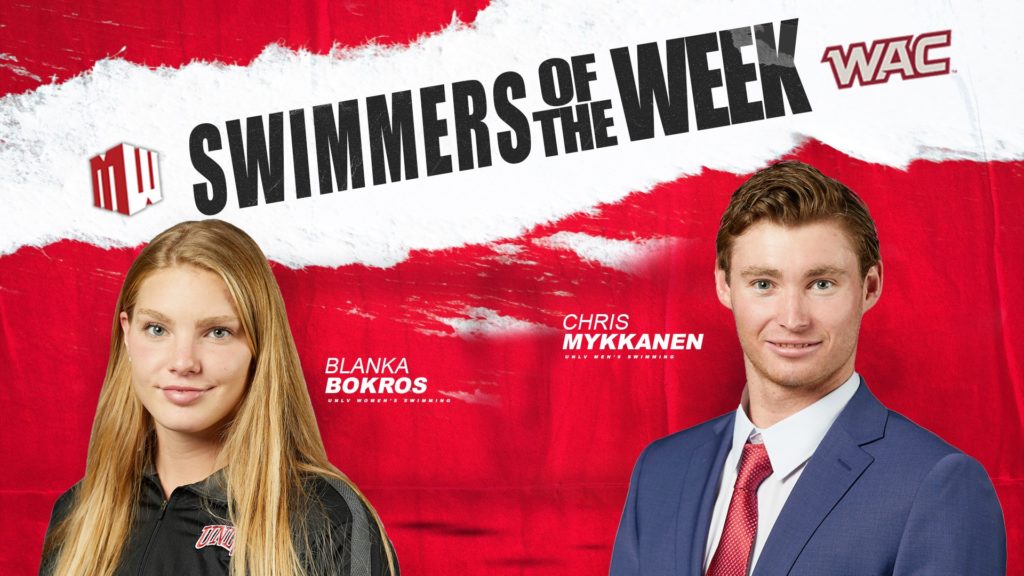 UNLV swimming's sophomore Blanka Bokros and junior Chris Mykkanen have been named the Mountain West and Western Athletic Conference Swimmers of the Week, respectively, the leagues announced Tuesday. This is Bokros' first and Mykkanen's second time receiving the weekly recognition, while it marks the Rebels' third sweep of the honors this season.
A sophomore from Budapest, Hungary, Bokros registered a sweep of her two individual events in the Rebel women's victory over UC Santa Barbara. She recorded a decisive first-place finish in the 200 fly with a time of 2:00.90, which was 4.17 seconds ahead of the next finisher from UCSB. Additionally, Bokros tallied a 100 fly win (55.79) and second-place finish in the 200 medley relay with UNLV's 'B' team (1:46.82)
Mykkanen, a junior from Newport Beach, California, also went two for two himself in the UNLV men's win over the Gauchos. He posted a win in the 200 free with a time of 1:38.85 and another in the 500 free with a time of 4:33.57. Those finishes gave him four 500 free wins and two 200 free wins on the season.
NEXT UP: The Rebels' men's and women's divers will make their first splash of 2022 next weekend as they travel to Los Angeles for the UCLA Bruin Invitational being held Friday (Jan. 14) through Sunday (Jan. 16).
Summary
Article Name
UNLV SWIMMING NEWS: Bokros, Mykkanen Sweep Weekly Honors
Description
UNLV SWIMMING NEWS: Bokros, Mykkanen Sweep Weekly Honors