UNLV VOLLEYBALL CALLING ALL KIDS TO JOIN THE "RISING REBELS"
The Rebels are looking for children between second and eighth grade to assist with warmups and in-match duties during the 2022 season.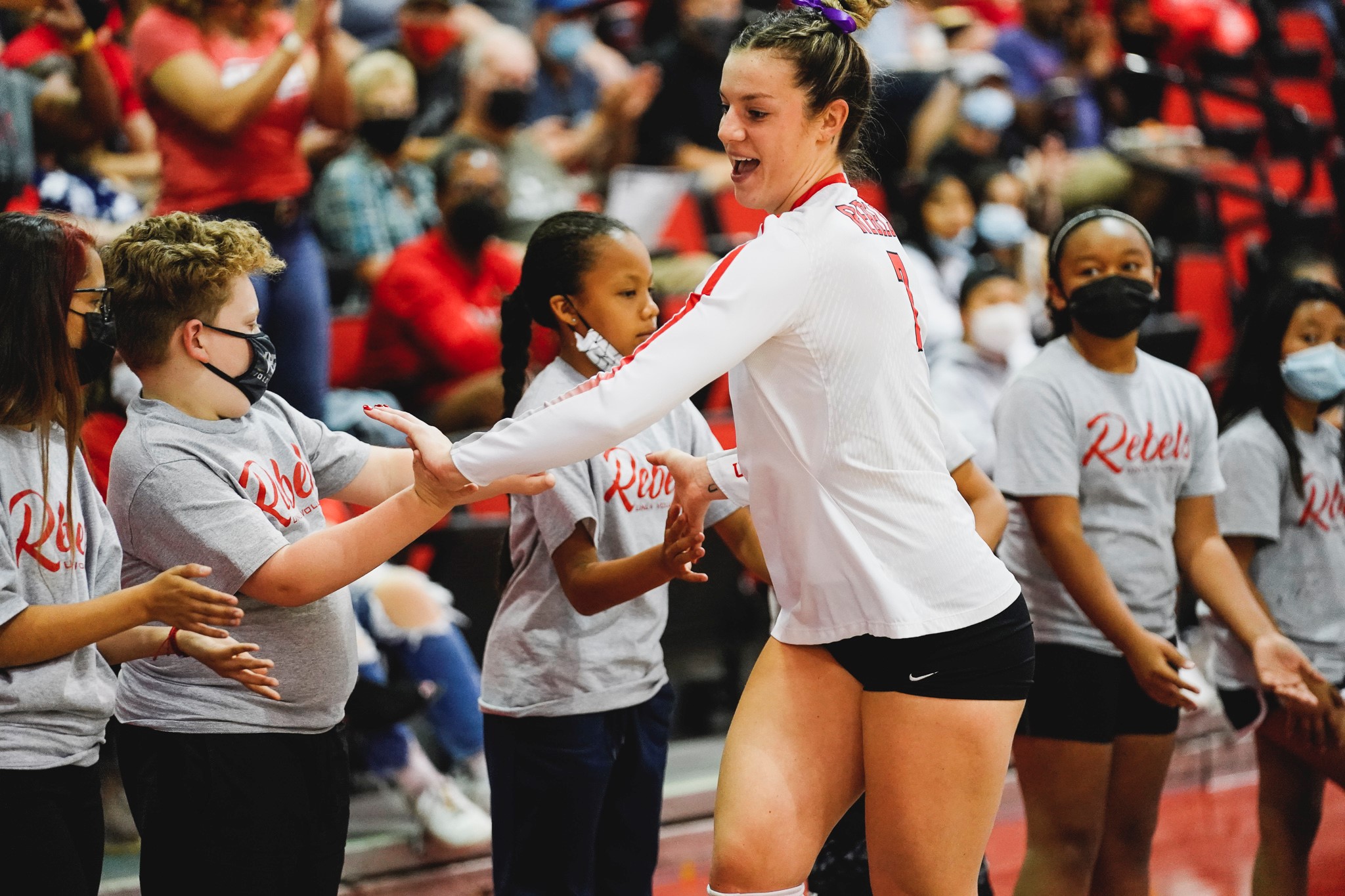 LAS VEGAS (UNLVRebels.com) – The UNLV volleyball program is looking for children between the second and eighth grades to become "Rising Rebels" – a group that will assist the team beginning August 13 during the first scrimmage of the season, as well as nine home matches. These individuals will help with ball shagging during warmups and have in-match duties, such as ball rotation and wiping the floor.
Members of the "Rising Rebels" will have to arrive at the Cox Pavilion 45 minutes prior to each contest and stay throughout the match. In return, each individual will receive a UNLV T-shirt, a free ticket for a parent/guardian, a picture with the team and the opportunity to be on the court when the 2022 Rebels take the court.
Training will take place Saturday, August 13, starting at 3:30 p.m. in the downstairs Cox Practice Gym. The Rising Rebels will then head over to the UNLV Student Recreation and Wellness Center to assist the volleyball team during its first scrimmage beginning at 5 p.m.
2022 SEASON: The reigning National Invitational Volleyball champions will play a total of 29 regular-season matches over a four-month span that begins at the end of August and stretches into late November.
The Rebels will participate in four tournaments – three of which will be away from the friendly confines of the Cox Pavilion – during the first four weeks of competition. The Scarlet & Gray will face 11-straight nonconference opponents before playing 18 consecutive matches against Mountain West foes over a nine-week period. MW action will run Sept. 22 through Nov. 19, with the Scarlet & Gray playing home-and-home series against nine conference foes and a single affair against San Jose State (home on Oct. 20).
PRESEASON TUNEUP: Prior to the start of the 2022 season, UNLV will host the annual Scarlet & Gray Scrimmage at the Student Recreation and Wellness Center on campus (Aug. 13), before playing Northern Arizona at the Rolle Activity Center in Flagstaff, Ariz. (Aug. 19).
UNLV SEASON TICKETS: Season tickets for the fall campaign are now on sale and can be purchased through UNLVtickets.com or by calling 702-739-FANS (3267). The Scarlet & Gray will play three home matches in the Rebel Challenge, as well as nine more in Mountain West play.
Season tickets are $50 for adults (13 and older), and $40 for active alumni, seniors, faculty and staff.
Summary
Article Name
UNLV Volleyball Calling All Kids To Join The "Rising Rebels"
Description
UNLV Volleyball Calling All Kids To Join The "Rising Rebels"