UNLV VOLLEYBALL HEAD COACH DAWN SULLIVAN SIGNS NEW FIVE-YEAR CONTRACT
2021 Mountain West Coach of the Year's extension secures her through 2026 season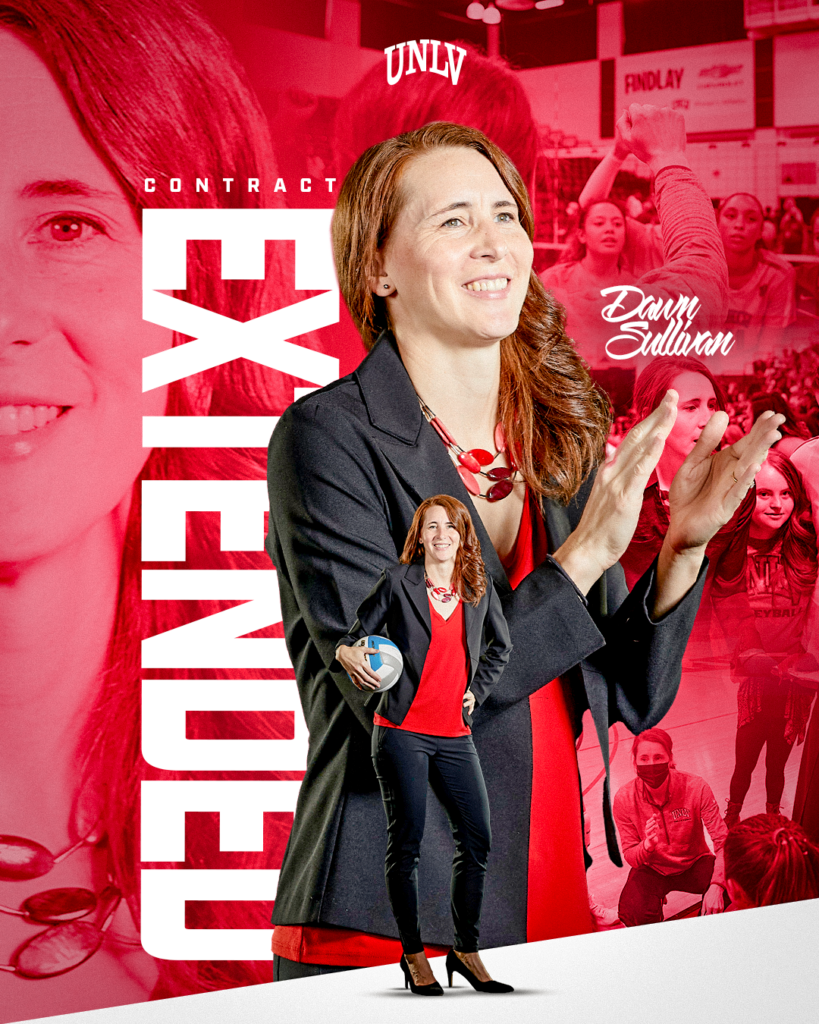 UNLV Volleyball Head Coach Dawn Sullivan has signed a new five-year contract, President Keith E. Whitfield and Director of Athletics Erick Harper announced Friday.
Sullivan, who took over the program in 2018, is now secured at UNLV through at least the 2026 season.
"We are very excited about the future of our program with Coach Sullivan at the helm," Harper said. "She has done a tremendous job since arriving at UNLV, building a championship team that has excelled both academically and athletically. We look forward to her guiding our volleyball student-athletes for years to come."
During her four years leading the program, UNLV has accumulated a total of 83 wins against just 24 losses and has made four straight trips to the postseason, including the NCAA Tournament in 2020 and winning the National Invitational Volleyball Championship (NIVC) title last season.
"We have been able to build on our success year after year and are looking forward to continuing that progress," Sullivan said. "I would like to thank President Whitfield and Erick Harper for their continued support of our program and their faith in me, but we couldn't have the success that we all want without our amazing student-athletes and all of the support we receive from inside the athletics department here at UNLV."
Following UNLV's historic, undefeated run to the conference regular-season title during the Spring 2021 season, Sullivan was named the Mountain West Coach of the Year. She also produced the program's first Conference Player of the Year honoree, Mariena Hayden, who ended up earning the honor in back-to-back seasons.
Sullivan is the first volleyball coach in UNLV history to guide her squad to the postseason in four straight seasons and has also set records for the school's best start to a season ever (13-0), its longest win streak ever (13) and its best single-season record ever (28-9). She also became the fastest coach to 50 wins in program history, achieving the mark in her first 73 matches at UNLV.
2022 SEASON TICKETS: Tickets for the 2022 UNLV Volleyball season, which are just $50 for the general public and $40 for seniors, faculty & staff or alumni, are on sale now and may be purchased at UNLVtickets.com, by calling 702-739-FANS (3267) or by visiting the Thomas & Mack Center Box Office.
Summary
Article Name
UNLV VOLLEYBALL NEWS: UNLV Volleyball Head Coach Dawn Sullivan Signs New Five-Year Contract
Description
UNLV VOLLEYBALL NEWS: UNLV Volleyball Head Coach Dawn Sullivan Signs New Five-Year Contract