Winder Farms and Comedy-Magician Mac King "Deliver Magic"
To Dr. C. Owen Roundy Elementary School

Winder Farms Presented a Check and Mac King Performed
 During Special School Assembly on Nov. 3
The students at Dr. C. Owen Roundy Elementary School received a special surprise visit from Winder Farms, Comedy-Magician Mac King and The Public Education Foundation on Thursday, Nov. 3.
 
During a special assembly, Winder Farms and the winner of the "Delivering Magic" Book Drive & Contest, Crystal Oliver, presented the school's principal Rod Knowles with a $2,000 check to help support the school's various programs. Then the students enjoyed a special performance by Harrah's Headliner and Comedy-Magician Mac King. King performed some magic tricks and talked with the students about the importance of reading and the impact it had on his life. King attributes his career in magic to his love for reading magic books as a kid. After the assembly, Winder Farms representatives were on site to hand out fresh fruit and milk to the students for a special treat.
 
Winder Farms partnered with Mac King's Magical Literacy Tour and Clark County READS to provide local public elementary schools with much needed funds and books.  The three-week initiative collected an astounding 1,500 new and gently used books for local elementary school children.  Book donors were rewarded for their generosity with free tickets to The Mac King Comedy Magic Show, and a chance to win free groceries and the opportunity to direct money to the public elementary school of their choice.  
 
Immediately following the assembly, Mac King & Winder Farms made a second stop at The Public Education Foundation's Book Depot to deliver the more than 1,500 books collected during the book drive. Through the foundation's Book Re-Use Program, first and second year teachers can get free books from the Book Depot to fill their classroom libraries and hand out to students as prizes.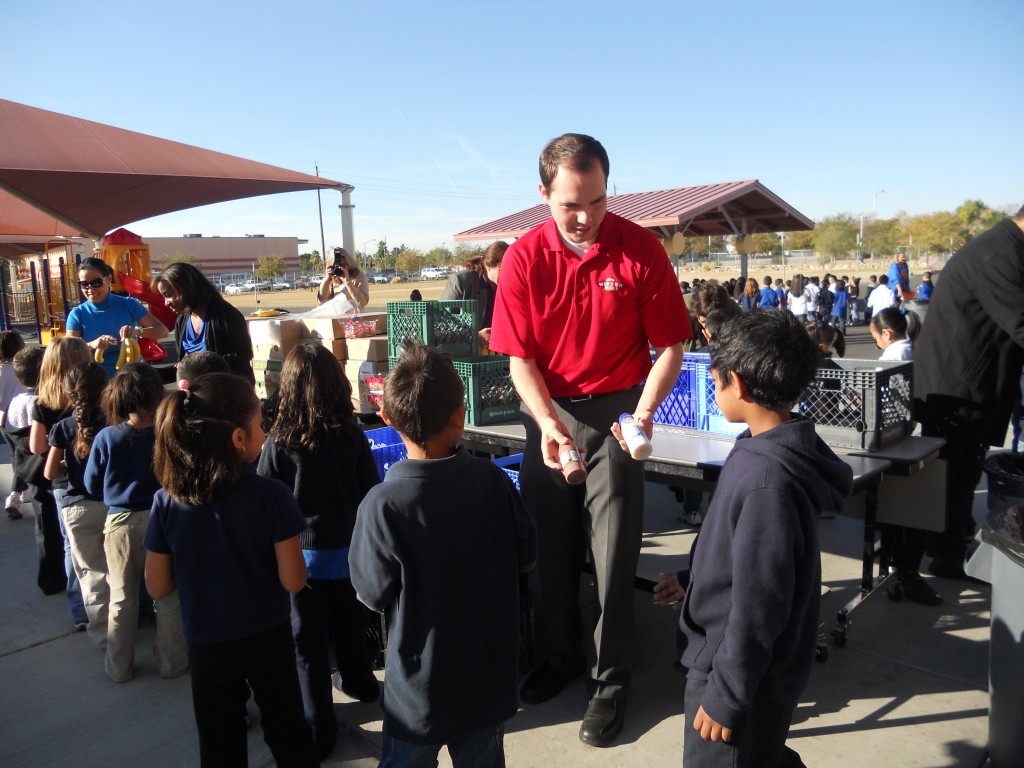 **Photos Courtesy of Preferred Public Relations**
About Winder Farms
Winder Farms delivers more than 175,000 farm-fresh products to its homes in Utah and Las Vegas every week.  As a "farmers market on wheels" product choices includes all natural dairy items, fruits and vegetables, salads, meats, freshly made pasta, dinner entrees and much more.  It is easy to get started — customers simply place a standard order for delivery each week, and can make changes online by 8 p.m. the night before the scheduled delivery date.  The items are then delivered in a cooler outside the customers' home before 8 a.m. Learn more by visiting winderfarms.com  Customers can order by calling 1-800 winder1 (946-3371) or log on to winderfarms.com.  

About Mac King
Now in his 12th year of headlining afternoons at Harrah's Las Vegas, Mac King has been consistently lauded throughout his impressive run, including recently being named "Best Strip headliner" in the Las Vegas Weekly's 2011 annual Vegas' best awards. Las Vegas Review-Journal's "Best of Las Vegas" readers' poll named his show the "Best Bargain Show" for eight straight years (2003-2011) and deemed him "Favorite Male Las Vegan" in 2008. King has also been honored as Magic Magazine's "Funniest Act in Magic," the World Magic Awards' "Best Comedy Magician" and the Magic Castle's "Magician of the Year."
 
Sought after worldwide, King has made television appearances on "The Late Show with David Letterman," and all five of NBC's "The World's Greatest Magic" TV specials. King has also made several appearances at the "Just For Laughs" comedy festival in Montreal, and was a featured performer in the "Masters of Magic" series at the Luminato Festival in Toronto, Canada.
 
King, one of today's brightest and most talented magicians, takes the stage twice daily, Tuesday through Saturday, at Harrah's Las Vegas at 1 and 3 p.m. in the Showroom Theatre.  Tickets are $29.95 plus tax. Additional information on The Mac King Comedy Magic Show can be found by visiting www.mackingshow.com.
 
Friend Mac King on Facebook: http://www.facebook.com/mackingshow
Follow Mac King Show on Twitter: http://twitter.com/mackingshow (@mackingshow)
 
About Clark County READS
Clark County READS is the literacy initiative of The Public Education Foundation, in partnership with Clark County and the Clark County School District.  Clark County READS was launched in 2001 to improve student achievement by recruiting volunteer reading partners and providing books to schools and their students.  Clark County READS' programs include Reading Is Fundamental, Reach Out and Read, Reading Partner Program, Library Enhancement, Book Re-Use and Reading Buddy Book Club. For more information about Clark County READS, call 799-KIDS (5437).

About The Public Education Foundation
The Public Education Foundation is a nonprofit organization dedicated to mobilizing community and global resources to meet the challenges of educating a growing and diverse Southern Nevada population.  The Foundation's programs and initiatives are designed to improve student performance and advance quality educational opportunities for all children. Since 1991, the Foundation has raised more than $75 million to improve teaching and learning in Southern Nevada's public schools. For more information about the Foundation, go to www.thepef.org.