12 teens of active-duty LVMPD police and corrections officers awarded
Alyn Beck and Igor Soldo Memorial Scholarships
from the Las Vegas Metropolitan Police Department Foundation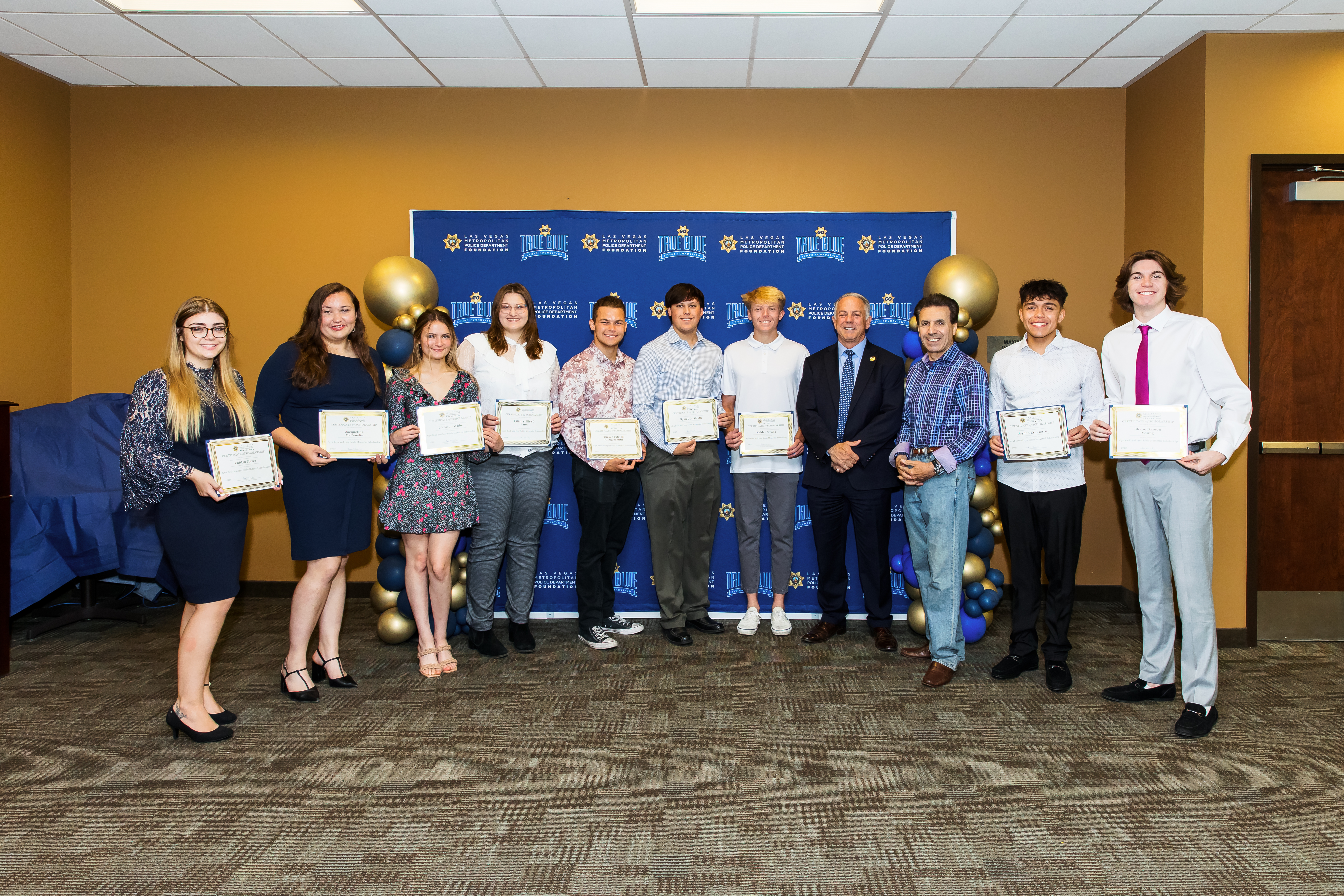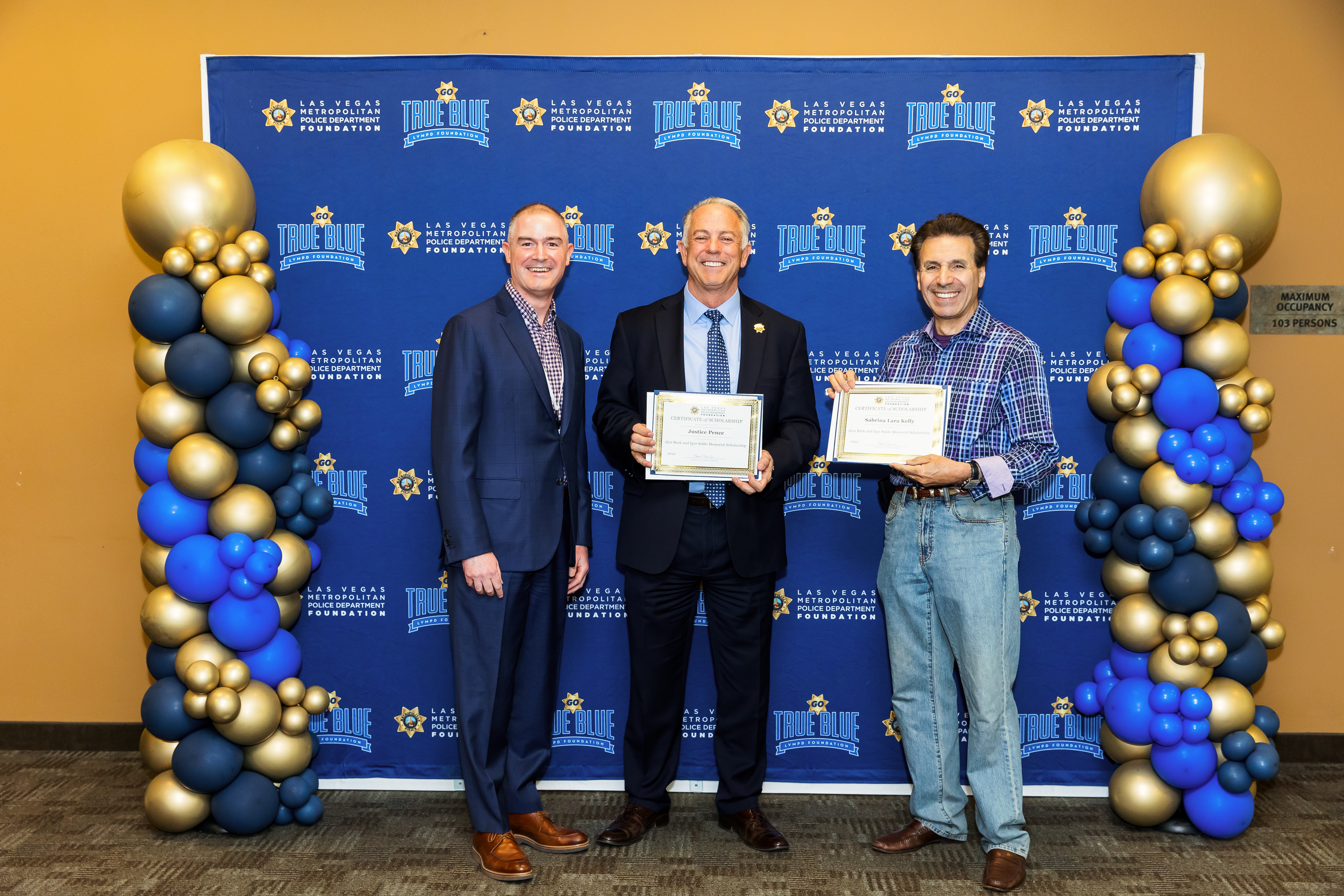 Today, 12 teens of active-duty LVMPD police and correction officers were each awarded the Alyn Beck and Igor Soldo Memorial Scholarship from the Las Vegas Metropolitan Police Department (LVMPD) Foundation.  Presented by Sheriff Joseph Lombardo of the Las Vegas Metropolitan Police Department, and Tom Kovach, Executive Director of the LVMPD Foundation, the $5,000 scholarship is intended to offset the costs of tuition, books and fees for the college or vocational school of each recipient's choice.
The scholarship program, named in the memory of LVMPD officers, Alyn Beck and Igor Soldo, who were tragically killed in an ambush in 2014, is now in its eighth year.  Scholarship funds are raised by the LVMPD Foundation through the generosity of individual and corporate donors.  To date, the Foundation has granted scholarships totaling more than $430,000 to 86 students through this program.
The Scholarship Program was created by Ron Coury, a LVMPD Foundation board member, and Don Tamburro, Coury's business partner, who, to date, have generously contributed $300,000 to the scholarship fund.  This year, the scholarships are funded in part by a grant from County Commission Recovery Outside Agency Grant (OAG) Program.
The LVMPD Foundation's Board of Directors selected the twelve scholarship recipients based on the student's GPA, overall merit, and community engagement.
This year's recipients include Kyle Dunn, Sabrina Kelly, Tucker Klingonsmith, Jacqueline McCauslin, Ryan McGrath, Caitlyn Meyer, Lilly Pates, Justin Pence, Jayden Razo, Kaiden Smaka, Madison White, and Shane Young.
"It is a privilege to award well-deserving students from the law enforcement community with scholarships to help advance their education, helping to better prepare them for their next chapter," said Kovach.  "This scholarship program is also an especially meaningful way to honor the lives of Officers Beck and Soldo, keeping alive their memory through the accomplishments of the next generation.  We are grateful to the program's donors, and we congratulate this year's recipients.
About the LVMPD Foundation:
Las Vegas Metropolitan Police Department (LVMPD) Foundation is a 501(c)3 nonprofit organization that raises funds to support and supplement Las Vegas Metropolitan Police Department programs and initiatives. The LVMPD Foundation was established in 1999 and is dedicated to supporting LVMPD area commands, special units, equipment, training, and hundreds of community engagement programs and initiatives that build relationships between law enforcement and the communities they serve. Las Vegas Metropolitan Police Department Officers are here to Protect and Serve our community, and together with law enforcement, we can help make our neighborhoods safer for all. Please join us in our important work by contributing at www.lvmpdfoundation.org
Summary
Article Name
12 TEENS AWARDED ALYN BECK & IGOR SOLDO MEMORIAL SCHOLARSHIPS FROM LVMPD FOUNDATION
Description
12 TEENS AWARDED ALYN BECK & IGOR SOLDO MEMORIAL SCHOLARSHIPS FROM LVMPD FOUNDATION