BRYAN WHITE, DEBORAH ALLEN, HALFWAY TO HAZARD, JANIE FRICKE, JEANNIE SEELY, KEITH ANDERSON, AND TOMMY ROE PERFORM AT THE BLUE LIGHTS & COUNTRY NIGHTS CONCERT TO RAISE MONEY AND AWARENESS FOR LAW ENFORCEMENT ASSISTANCE PARTNERSHIP ON MAY 9TH AT THE NASHVILLE PALACE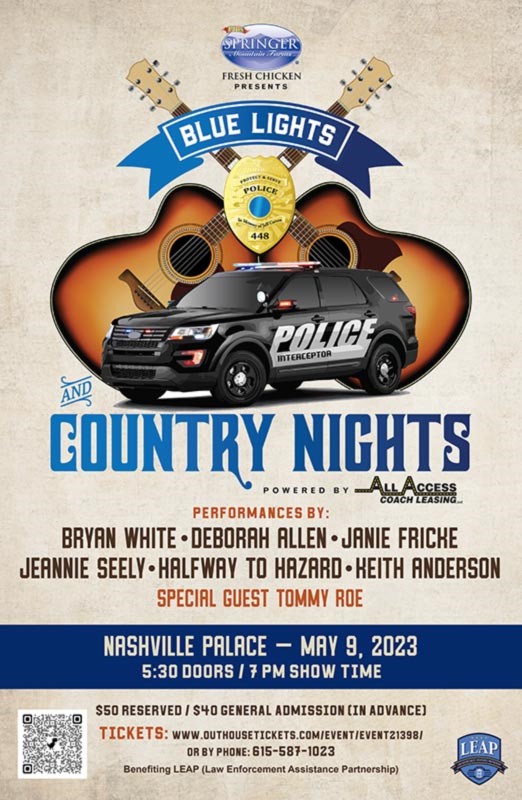 THE EVENT WILL BE PRESENTED BY GUS ARRENDALE AND SPRINGER MOUNTAIN FARM AND POWERED BY ALL ACCESS COACH LEASING
Donations to LEAP can be made at adoptacop.com with each donor of $25 or more receiving the final recordings of ACM award winner Jeff Carson
May is officially National Law Enforcement Appreciation Month, and Country music artists Bryan White, Deborah Allen, Halfway to Hazard, Janie Fricke, Jeannie Seely, Keith Anderson, and Tommy Roe are already scheduled to take the Nashville Palace stage to help raise money and awareness for Law Enforcement Assistance Partnership (LEAP). The event dubbed as Blue Lights & Country Nights will take place on May 9th with more artists to be announced.
Tickets are $40 for general admission, $50 for reserved seating, and VIP tables are available for the special event by calling 615-587-1023 or online at Blue Lights & Country Nights benefiting LEAP | Nashville Palace | Outhouse Tickets.
"We are thrilled to be benefitting from this event again, this year," says Diane Wilhoit, President of LEAP. "Last year, Country music artists really helped support all of law enforcement with their generosity in both performances and within the media. We are so looking forward to what 2023 will bring and how we can continue to show the men and women in blue how much they are appreciated."
The event last year was a memorial for Jeff Carson, a 90's country artist who retired to become a law enforcement officer and worked for the Franklin Police Department just outside of Nashville, Tennessee. Raising over $80,000 the organization was able to provide special air contraptions to help officers stay cool during the height of the Summer heat. In recognition of Carson continued support of LEAP, Blue Lights & Country Nights was born!
Summary
Article Name
BLUE LIGHTS & COUNTRY NIGHTS CONCERT ANNOUNCED FOR MAY 9TH AT THE NASHVILLE PALACE
Description
BLUE LIGHTS & COUNTRY NIGHTS CONCERT ANNOUNCED FOR MAY 9TH AT THE NASHVILLE PALACE