LORRIE MORGAN, RHONDA VINCENT, MARK COLLIE, AND HIGHWAY 101's PAULETTE CARLSON ADDED TO 5TH ANNUAL DARYLE SINGLETARY KEEPING IT COUNTRY JAM ON THURSDAY, FEBRUARY 16TH IN NASHVILLE, TENNESSEE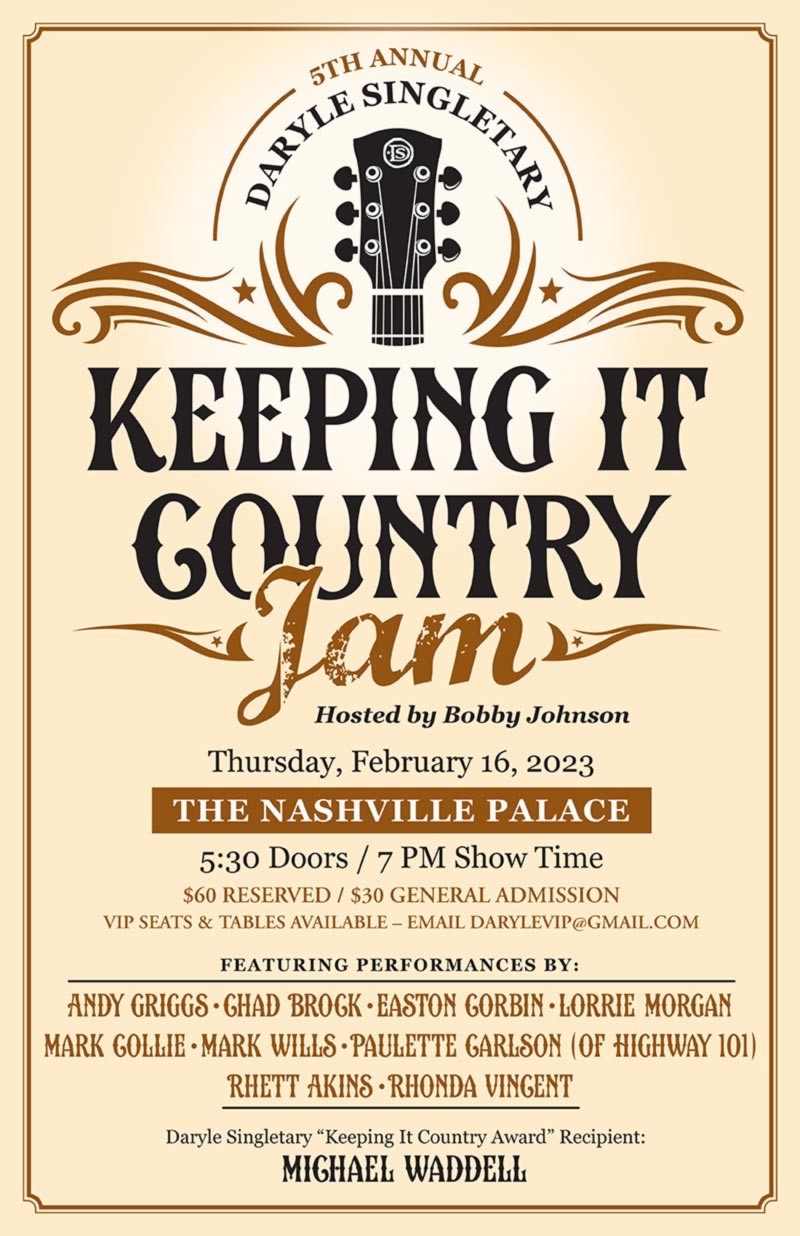 VIP Tables & Reserved Seating is SOLD OUT!
General Admission Tickets are Available for $30 at the Nashville Palace website
Celebrated Outdoorsman Michael Waddell To Receive 'Daryle Singletary Keeping It Country Award' During Event
The 5th Annual Daryle Singletary Keeping It Country Jam, which is set to take place at The Nashville Palace on Thursday, February 16, 2023, during The National Wild Turkey Federation's 50th anniversary week has added Lorrie Morgan, Rhonda Vincent, Mark Collie, and Highway 101's Paulette Carlson to the already star-studded performance lineup. Previously announced artists that will be hitting the famed stage are Easton Corbin, Mark Wills, Rhett Akins, Andy Griggs, and Chad Brock. General admission tickets are $30 and are available online at Outhouse Tickets.
"This year is building up to be something so special," says Holly Singletary. "The artist lineup includes so many of Daryle's friends and for the first time, we have sold out the reserved seats and VIP tables in advance. This is a true testament that people want to hear good traditional country music, something that Daryle was so passionate about."
In addition, famed outdoorsman Michael Waddell will be on hand to receive the Daryle Singletary Keeping It Country Award.
There will also be a silent auction where 100% of the funds raised will go to the Daryle Singletary Memorial Trust. For more information or to view the items, visit 32auctions.com/Daryle23.
About Daryle Singletary:
Daryle Singletary rose to fame in the 90s with a string of successful hardcore country albums. From rural Georgia, where his father was a postmaster, Singletary moved to Nashville in 1990 to pursue a music career full-time. After catching the eye and ear of his musical hero, Randy Travis, Singletary released his debut record, the self-titled Daryle Singletary (1995), which produced four Billboard Hot Country charting singles, including the smash hit "I Let Her Lie," which topped out at No. 2 on the charts. Additional hits included the 1996 single "Too Much Fun," and 1997's "Amen Kind of Love." Other hit albums include 1998's top-20 album, "Ain't It the Truth," and a pair of albums featuring some of Singletary's favorite country songs, "That's Why I Sing This Way" (2002) and "Straight From the Heart" (2009). His last album, "There's Still A Little Country Left," was released in 2015. In 2018, Singletary died at age 46, from a blood clot.
Summary
Article Name
LORRIE MORGAN, RHONDA VINCENT, MARK COLLIE & HIGHWAY 101's PAULETTE CARLSON JOIN 5TH ANNUAL 'DARYLE SINGLETARY KEEPING IT COUNTRY JAM' THU, FEB 16
Description
LORRIE MORGAN, RHONDA VINCENT, MARK COLLIE & HIGHWAY 101's PAULETTE CARLSON JOIN 5TH ANNUAL 'DARYLE SINGLETARY KEEPING IT COUNTRY JAM' THU, FEB 16