Alt-Country Renegade
Dale Watson's New Album
STARVATION BOX
Is Available Now!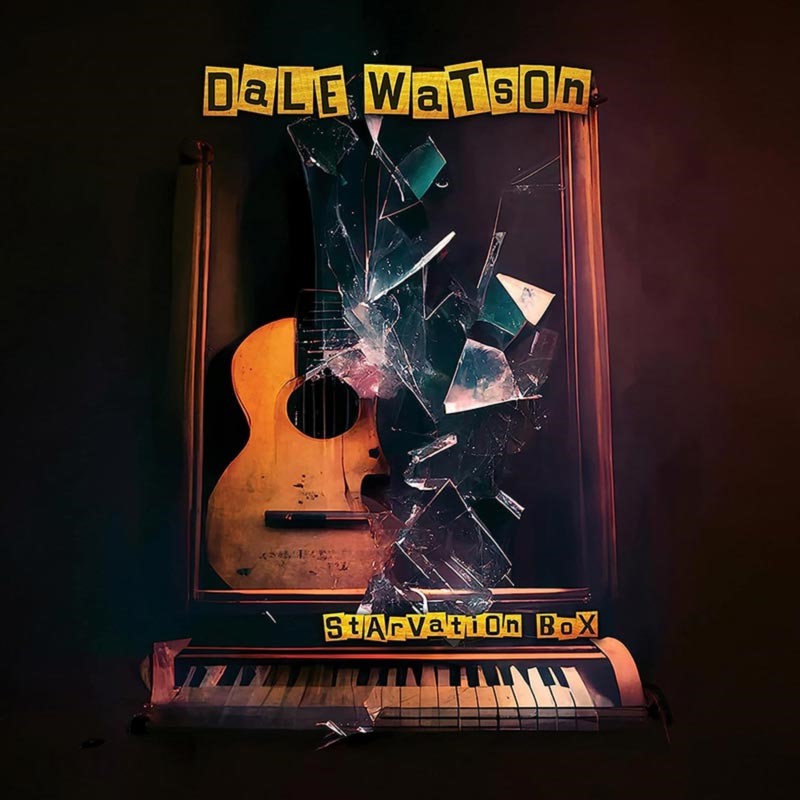 Album Tracks Premiered By SiriusXM's Outlaw Country, Cowboys & Indians, M Music & Musicians Magazine, Center Stage Magazine, Americana Highway, and Analog Planet
"A talented songwriter with a commanding baritone whose work is marinated in outlaw dust"
– No Depression
"Some songs sound like instant classics the first time you hear them. "Billy Strawn" — Dale Watson's splendidly folksy tribute to Elvis Presley's "honest, honest" personal mechanic — falls into that category. I'll bet even The King himself would agree, that's the honest truth." – Joe Leydon, Cowboys & Indians
"Dale Watson is a relevant pillar in the real country music scene and for excellent reason, and this song (Ain't Nobody Loved Everybody) is certainly classic Dale." – Americana Highways
"Dale Watson's gritty blend of gutbucket blues, folk, and rock is perfectly suited for spinning on vinyl, as the even-dozen songs on Starvation Box readily attest. His deep baritone makes tracks like "Streets of Gold," "Nothingville," and "Billy Strawn" feel as authentic as they come." – Mike Mettler, Editor, Analog Planet
Dale Watson is known for his authentic approach to country music and his unapologetic dedication to preserving traditional sounds. Paying tribute to his hero, Lead Belly, a highly influential folk and blues musician, Dale Watson is excited to release his latest album Starvation Box today on Cleopatra Records!
During the late 19th century, an aspiring musician named Huddie William Ledbetter (aka Lead Belly) departed from his hometown in Harrison County, Texas. This decision was prompted by his father's attempt to dissuade him from pursuing music. His father disparagingly referred to Huddie's guitar as a "starvation box," believing it would only bring poverty and hardship. However, this young man's impact on the world of music would far exceed anyone's imagination.
Lead Belly's journey from Texas to becoming a legendary figure in folk blues is truly remarkable, especially considering the challenges and obstacles he faced. His perseverance and talent allowed him to leave a lasting impact on the music world.
Even after a century has passed, Lead Belly's musical legacy lives on, continuing to inspire artists to this day. One such artist is Dale Watson, an opinionated, rebellious, tattooed country crooner, also from Texas.
Dale Watson's decision to title his album Starvation Box and draw inspiration from Lead Belly's story is a powerful tribute to both Lead Belly's legacy and Watson's own artistic journey. By putting his own "starvation box" (his guitar) at the forefront, Watson pays homage to Lead Belly's determination and musical prowess. This approach highlights the significance of the instrument in the context of both artists' careers and showcases Watson's own skills as a troubadour and storyteller.
Fans of both Lead Belly and Dale Watson can look forward to experiencing the depth and artistry of Starvation Box.
The title track itself marks the commencement of an enthralling musical journey. This track is a collaborative effort between Watson and Mike Henderson, a distinguished songwriter who has received a CMA award for his work on Chris Stapleton's renowned "Broken Halos." With a bluesy 12-string guitar riff taking the lead, accompanied by a minimalistic rhythm track, the composition provides ample space for Watson's weathered baritone voice to shine.
Single stream/download: orcd.co/dalewatson_starvationboxsingle
As Watson explains, "Living in Marshall, TX, the area so influential to Lead Belly, I went down the Lead Belly rabbit hole. It led me to a 1957 Stella 12-string guitar just like the one Lead Belly had, which his father called a 'starvation box.' I knew I had to write that song as an ode to Lead Belly. What I wrote was ok but with Mike Henderson's additions and of course, his slide guitar and harmonica, I think we came up with a fitting tribute that I hope people like."
There's plenty more bluesy, folk and roots rock in store on Starvation Box, the album, including an ode to Elvis Presley's mechanic, "Billy Strawn," a fantastic cover of Percy Mayfield's "Like A Stranger In My Own Hometown," and the superb closer, a gospel rave-up called "Ain't Nobody Everybody Loved."
To order Dale Watson's Starvation Box, visit HERE.
STARVATION BOX TRACK LISTING:
01. Starvation Box
02. Whatever Happened To The Cadillac – M Music & Musicians Magazine
03. That's Where The Money Goes – SiriusXM's Outlaw Country
04. Nothingville
05. Billy Strawn – Cowboys & Indians
06. I Ain't Been Livin' Right – Center Stage Magazine
07. Adios
08. Streets Of Gold – Analog Planet
09. Down Down Down Down – Center Stage Magazine
10. Two Peas In A Pod
11. Like A Stranger In My Hometown
12. Ain't Nobody Everybody Loved – Americana Highways
Dale Watson On Tour:
JUL 06 – Poppodium Twente / Metropool Enschede, Netherlands
JUL 08 -Tivoli Vredenburg / Utrecht, Netherlands
JUL 09 – Patronaat / Haarlem, Netherlands
JUL 11 – Stiftinga Norsk Country / Treff Breim, Norway
JUL 14 – Stiftinga Norsk Country / Treff Breim, Norway
JUL 21 – Texan Theater / Greenville Greenville, TX
JUL 22 – Cultural Activities / Center Temple, TX
JUL 28 – Goode Company Armadillo Palace / Houston, TX
AUG 03 – Old Quarter Acoustic Cafe / Galveston, TX
AUG 04 – The Bugle Boy / La Grange, TX
AUG 11 – The Post at River East / Fort Worth, TX
AUG 18 – Oriental Theater / Denver Denver, CO
AUG 20 – The State Room / Salt Lake City, UT
AUG 21 – Neurolux Lounge / Boise, ID
AUG 22 – Brewminatti / Prosser, WA
AUG 23 – Polaris Hall / Portland, OR
AUG 24 – Tractor Tavern / Seattle, WA
AUG 26 – The Spa at Blue Lake Casino & Hotel / Blue Lake, CA
AUG 27 – Hopmonk Tavern / Novato, CA
AUG 28 – Zebulon / Los Angeles, CA
AUG 29 – The Cordova Bar / San Diego, CA
AUG 30 – Club Congress / Tucson, AZ
AUG 31 – Rhythm Room / Phoenix, AZ
SEP 02 – Broken Spoke / Austin, TX
SEP 24 – Eddie's Attic / Decatur, GA
OCT 19 – The Southgate House Revival / Newport, KY
NOV 22 – Luckenbach Texas / Fredericksburg, TX
For more information, visit dalewatson.com and cleopatrarecords.com.
About Dale Watson:
A staunch adherent of old-style honky tonk and Bakersfield country, Dale Watson has positioned himself as a tattooed, stubbornly independent outsider only interested in recording authentic country music. As a result, he hasn't become a major star, but his music has been championed by numerous critics and has earned him a fervently loyal fan base. His 1995 debut, Cheatin' Heart Attack, wowed writers and fans with its potent songwriting and authentic honky tonk vibe, 1998's The Truckin' Sessions was the first of a series of LPs devoted to his love of big rigs, 2007's The Little Darlin' Sessions saw Watson recording alongside some of the legendary session musicians who inspired him, and 2019's Call Me Lucky found him creatively revitalized after relocating to Memphis, Tennessee. Watson continued to thrive in Memphis, delivering the instrumental record Dale Watson Presents: The Memphians in 2021 and the covers album Jukebox Fury in 2022.
Summary
Article Name
Alt-Country Renegade Dale Watson's New Album STARVATION BOX Available Now!
Description
Alt-Country Renegade Dale Watson's New Album STARVATION BOX Available Now!