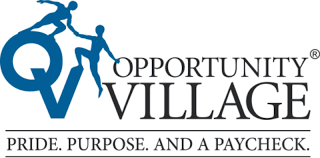 Support Opportunity Village's 19th Annual Las Vegas Great Santa Run with the Las Vegas Aviators®
To celebrate July's early-bird registration pricing for the 19th Annual Las Vegas Great Santa Run, Opportunity Village has partnered with the Las Vegas Aviators® and Las Vegas Ballpark® for a little fun in the sun this month.
As one of the primary fundraisers for Opportunity Village, participation in the Las Vegas Great Santa Run 5k run or 1-mile Kris Kringle Jingle walk directly supports people with disabilities in Southern Nevada. And when baseball fans purchase tickets to see the Las Vegas Aviators take on the Sugar Land Space Cowboys on July 29 at the Las Vegas Ballpark, $5 from each ticket purchased via this link goes to Opportunity Village.
"We are so thankful for the support of the Las Vegas Aviators. It's community partnerships like the one we have with the Aviators that have helped Opportunity Village serve adults with disabilities in the Las Vegas community since 1954," said Bob Brown, President and CEO of Opportunity Village.
Game attendees can also support Opportunity Village on July 29 by visiting the nonprofit's table at the Las Vegas Ballpark for more information on offerings, the Las Vegas Great Santa Run, and upcoming events and volunteer opportunities. If at least 100 game tickets are sold via the Opportunity Village link, the nonprofit will also throw out the game's first pitch.
This year, the Las Vegas Great Santa Run, presented by Circle K, is scheduled for Dec. 2 in Downtown Las Vegas. The festivities begin at 8 a.m., with the run starting at 10 a.m. To register, visit www.lvsantarun.com. Registration is $25 per participant during the Christmas in July early-bird pricing.
The Las Vegas Great Santa Run is an all-ages event, and children under 3 are free. For those who prefer a virtual experience, simply select the virtual option during registration and complete your run by Dec. 2. Pets are also welcome to attend the Las Vegas Great Santa Run, with a $10 pet registration that includes a pet swag bag.
Stay updated with all things Las Vegas Great Santa Run by following the event's social media accounts on Facebook, Instagram, and Twitter @lvsantarun.
About Opportunity Village
Since 1954, Opportunity Village has been dedicated to helping people with disabilities find the very best version of themselves. Through workforce development, community employment, day services, inclusive housing, arts and social recreation, they are able to find new friends, realize future career paths, seek independence and community integration, and unleash creative passions. Opportunity Village thrives with the funding from our social enterprises, signature events and the generous philanthropy of our donors and community partners. Together, we are successfully empowering, employing, and serving people with disabilities – positively impacting lives. For more information on Opportunity Village, visit www.opportunityvillage.org.
About Las Vegas Ballpark®
Las Vegas Ballpark®, located on eight acres in Downtown Summerlin® just south of City National Arena – practice facility for the Vegas Golden Knights, is the home of the Las Vegas Aviators®, the city's professional Triple-A baseball team of the Pacific Coast League (PCL) and affiliate of the Oakland Athletics. The team is wholly owned by The Howard Hughes Corporation®, developer of the award-winning master-planned community of Summerlin® and developer of Las Vegas Ballpark. With a wide range of seating options including 22 suites, club seats, berm seating, party zones and decks, picnic tables, kids' zone, bars and a pool beyond the outfield wall, Las Vegas Ballpark boasts a capacity of 8,196. Designed to host a variety of events in addition to baseball, the site is landscaped to complement the surrounding master planned community. The site is easily accessed from all regions of the valley via the 215 Beltway. For more on Las Vegas Ballpark, visit www.thelvballpark.com.
Summary
Article Name
Support Opportunity Village's 19th Annual Las Vegas Great Santa Run with the Las Vegas Aviators®
Description
Support Opportunity Village's 19th Annual Las Vegas Great Santa Run with the Las Vegas Aviators®