COUNTRY MUSIC SUPERSTAR KANE BROWN TO JOIN ALL-STAR LINEUP FOR RANDY TRAVIS TRIBUTE AT VON BRAUN CENTER'S PROPST ARENA TUESDAY, OCTOBER 24TH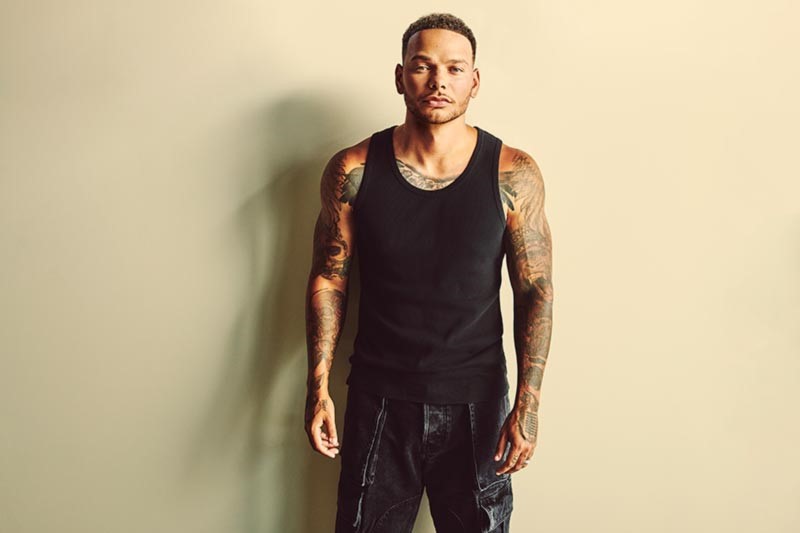 Photo Credit: Matthew Berinato
PREVIOUSLY ANNOUNCED LINEUP FOR 'A HEROES & FRIENDS TRIBUTE TO RANDY TRAVIS' INCLUDES RANDY TRAVIS, AARON LEWIS, BEN HAGGARD, CRAIG CAMPBELL, DARRYL WORLEY, DAVID NAIL, DENNIS QUAID, JACOB TOLLIVER, JAMES DUPRE, JAMIE O'NEAL, JERROD NIEMANN, JOHN BERRY, LORRIE MORGAN, SHENANDOAH, T. GRAHAM BROWN, TAYLOR HICKS, THOMPSON SQUARE, TONY JACKSON, THE ORIGINAL RANDY TRAVIS BAND & MORE SURPRISE GUESTS
Portion of Proceeds to Benefit the Randy Travis Foundation
Country music fans, get ready for an extraordinary addition to an already star-studded lineup. We are thrilled to announce that Kane Brown, the multi-platinum, 5x AMA winner, will be gracing the stage at 'A Heroes & Friends Tribute to Randy Travis – 1 Night, 1 Place, 1 Time', an eagerly anticipated event set to take place at Huntsville's renowned Von Braun Center's Propst Arena on October 24, 2023. Kane Brown's inclusion in this celebration of Randy Travis's legendary career not only elevates the event to unparalleled heights but also underscores the recognition of his own remarkable achievements in the music industry.
Kane Brown, a trailblazer in country music, is a name synonymous with chart-topping hits and a slew of accolades and awards. With multiple Platinum and Gold-certified albums, Billboard chart-toppers, and 5x AMA wins under his belt, Kane Brown has consistently pushed the boundaries of contemporary country music. His unique fusion of country, pop, and R&B has garnered widespread acclaim and a dedicated fan base. As he joins the esteemed ranks of artists paying tribute to Randy Travis, this event promises to be a momentous celebration of not just one, but two iconic careers. Get ready for an unforgettable evening that not only pays homage to Randy Travis but also showcases the extraordinary talents of Kane Brown and his contributions to the genre. Join us at the Von Braun Center and be part of a historic night in country music.
The once-in-a-lifetime event will include performances of Randy's twenty-three global # 1 hits by hitmakers and some of Randy's favorite rising stars including Aaron Lewis, Ben Haggard, Craig Campbell, Darryl Worley, David Nail, Dennis Quaid, Jacob Tolliver, James Dupre, Jamie O'Neal, Jerrod Niemann, John Berry, Lorrie Morgan, Shenandoah, T. Graham Brown, Taylor Hicks, Thompson Square, Tony Jackson, The Original Randy Travis Band, and surprise guests!
A portion of the proceeds from the evening will be donated to the Randy Travis Foundation. The foundation is focused on stroke and aphasia awareness and supporting music education in schools.
Past tribute concerts at VBC Propst Arena have included artists such as Trace Adkins, Dierks Bentley, Lee Brice, Big & Rich, Gavin DeGraw, Sara Evans, Riley Green, Home Free, Jamey Johnson, Tracy Lawrence, Dustin Lynch, Justin Moore, Sam Moore, The Oak Ridge Boys, Brad Paisley, Jelly Roll, Michael W. Smith, Travis Tritt, Tanya Tucker, Gretchen Wilson, and Wynonna, just to name a few.
Tickets are on sale now at the Von Braun Center box office as well as ticketmaster.com and randytravis.com.
About Kane Brown:
Named "the future of country music" (Billboard), Multi-Platinum-selling, award-winning singer/songwriter Kane Brown recently released the follow-up to his 10th #1 single at Country radio- "I Can Feel It" and announced his 2024 In The Air Headlining Tour. Brown first broke onto the scene with the arrival of his self-titled, 2X Platinum debut album (2016), where he became the first artist ever to lead all five of Billboard's main country charts simultaneously and topped the Billboard Top Country Albums chart for 13 weeks and earned two of the most-streamed country songs of all time (chart-topping singles 9X Platinum "Heaven," 7X Platinum "What Ifs"). His album Experiment (2018) hit #1 on the Billboard Top 200 all genre list-becoming the first Country artist in more than 24 years to top the chart with a sophomore album. Brown released his multi-song project Mixtape Vol. 1- which earned Brown an ACM Award nomination for Album of the Year (2021) and an ACM win for "Video of the Year." Named to Time's 100 Most Influential People in the World (2021), Kane Brown has ascended from independently built social media notability to an ACM Entertainer of the Year nominee (2023)-and has become one of country music's most accomplished mainstays and global entertainers. He has earned ten chart-topping No. 1 singles at Country radio, headlined internationally sold-out tours and stadium dates, and garnered a series of milestones that continue to expand the perception of country music and break musical boundaries- from being named to the Time100 list (2021) to becoming the first black artist in history to headline and sell out Boston's historic Fenway Park (2023) to his win ACM Video of the Year (2021) and multiple CMA, ACM, Billboard, AMA, CMT, and People's Choice Award nominations, with The NY Times noting, "Kane Brown didn't fit the country music mold. So he made his own."
About Randy Travis:
With lifetime sales in excess of 25 million, Randy Travis is one of the biggest multi-genre record sellers of all time and a recent inductee into the Country Music Hall of Fame class of 2016. His honors include seven Grammy Awards, 11 Academy of Country Music statuettes, 10 American Music Awards, two People's Choice awards, seven Music City News awards, eight Dove Awards from the Gospel Music Association, and five Country Music Association honors. In addition, three of his performances earned CMA Song of the Year honors: "On the Other Hand" (1986), "Forever and Ever Amen" (1987), and "Three Wooden Crosses" (2002). To date, he has 23 No. 1 singles, 31 Top-10 smashes, and more than 40 appearances in feature films and television shows to his credit.
Four of his albums are Gold Records. Four are Platinum. One has gone Double Platinum. One is Triple Platinum and another is Quintuple Platinum. In 2004, Randy was honored with his own star in the Hollywood Walk of Fame and is honored on the Music City Walk of Fame in Nashville, TN. He has been a member of the cast of the Grand Ole Opry since 1986. In 2017, Randy was honored with a wax figure at Madame Tussauds™ Nashville. Since his near-fatal stroke in 2013, with the help of his wife Mary and rigorous physical therapy, Randy continues to make improvements in his speaking, walking, and yes, singing. With the help of author Ken Abraham, he released his critically-acclaimed memoir in 2019, Forever and Ever, Amen. In 2021 CMT named Randy the CMT Artist of a Lifetime and in 2022 the country music icon released his award-winning documentary "More Life." For more information please visit randytravis.com.
About the Randy Travis Foundation:
The Randy Travis Foundation is a charity dedicated to raising awareness for stroke and aphasia and providing arts and music enrichment for children. The two-part purpose connects a diverse group of people to support and find a cure for viral cardiomyopathy along with providing opportunities for at-risk children to participate in arts and music programs. The foundation's mission is to serve those affected by viral cardiomyopathy by facilitating research and support for individuals affected by the condition along with creating opportunities for involvement in enrichment programs for children. For more info, please visit randytravisfoundation.org.
About Outback Presents:
Outback Presents is the leading independent, full-service promoter of live entertainment. From their home base in Nashville, Tennessee, Outback Presents specializes in producing music and comedy shows, tours, and festivals across North America and connecting their diverse roster of artists with their fans. For more information, visit outbackpresents.com.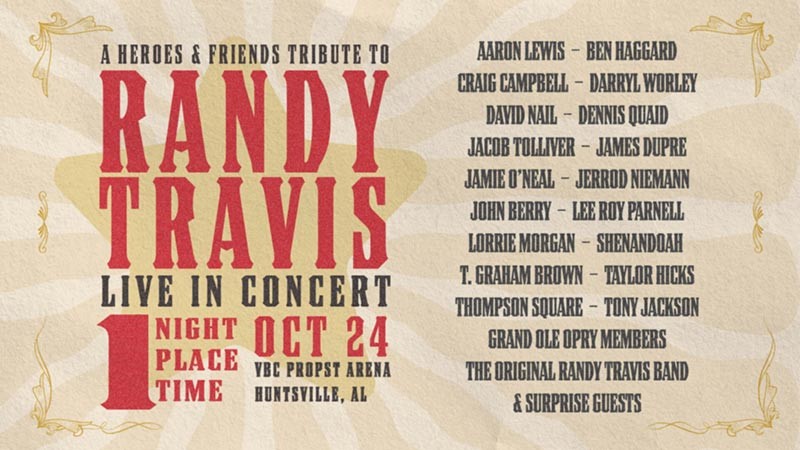 Summary
Article Name
COUNTRY MUSIC SUPERSTAR KANE BROWN TO JOIN ALL-STAR LINEUP FOR RANDY TRAVIS TRIBUTE AT VON BRAUN CENTER
Description
COUNTRY MUSIC SUPERSTAR KANE BROWN TO JOIN ALL-STAR LINEUP FOR RANDY TRAVIS TRIBUTE AT VON BRAUN CENTER