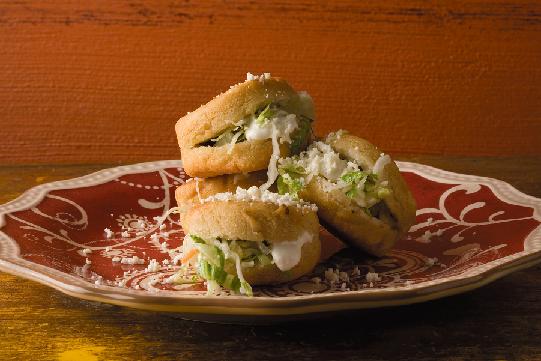 National Taco Day is Tuesday, October 4th and Dos Caminos inside The Palazzo is celebrating with a taco special from Corporate Executive Chef Ivy Stark's cookbook, Dos Camino's Mexican Street Food due out this October.
Dos Caminos will serve the Gorditas de Res taco, which is stuffed with Tamarind braised short ribs, topped with Habanero Aioli and then grilled for $17.
For those who cannot make it to Dos Caminos, you can try at home with the recipe from the book.
Gorditas de Res
2 cups masa harina
4 tablespoons flour
1 teaspoon baking powder
1 teaspoon salt
1 1/2 cups water
Corn oil, for frying
1 cup tamarind braised shortribs
1/2 cup thinly sliced red cabbage
1/4 cup crumbled cotija cheese
Habanero Aioli
1. Mix flours, baking powder, and salt and add the warm water. Combine thoroughly to make a smooth dough. Make balls the size of a walnut, a few at a time. Set aside and keep covered.
2. Moisten a cloth napkin and spread out on a flat surface. Roll each ball of dough in moistened palm of your hand until smooth, press your thumb into the ball to make a dimple and fill with a tablespoon of braised shortribs. Roll again to cover the short ribs.
3. Lay the ball down on a damp towel, cover with a plastic bag and press down to flatten slightly.
4. Heat a cast iron skillet, filled half way with corn oil, to 375 degrees F. Slide the patties into hot oil and fry until the light golden brown and crispy about 1 minute on each side.
5. Drain on paper towels and make a slit on the side as soon as they cool enough to handle. Stuff with 1 teaspoon of crumbled cheese and a little cabbage, and drizzle with habanero aioli.
Tamarind Short Ribs:
8 beef short ribs, weighing 6 to 8 pounds
4 tablespoons kosher salt
1 large onion
1 whole carrot
1 bay leaf
6 chiles de arbol
1 cup balsamic vinegar
1 tablespoon chopped garlic
1 cup tamarind paste
1 cup white wine
½ cup brown sugar
Salt and pepper to taste
1. Heat oven to 350. Season each of the short ribs generously with the kosher salt. Lay them side by side in a large, heavy roasting pan.
2. Scatter the onion, carrot, bay leaf, and chile de arbol over the ribs.
3. Combine the vinegar, wine, brown sugar and garlic in a small bowl and pour over the short ribs. Place the tamarind in the same bowl and add 1 cup of hot water to dissolve it a little. Whisk the tamarind to loosen it and then add it and the liquid to the short ribs.
4. The liquid should come ¾ up the sides of the short ribs. Add more water if necessary.
5. Cover the pan tightly with foil and then again with a second layer of foil.
6. Place the pan in the oven and braise the short ribs for 3 to 3-1/2 hours. Remove the foil and check that the short ribs fall apart when poked with a fork.
7. Remove the ribs carefully with tongs, cover and set aside at room temperature.
8. Strain the liquid through a fine strainer into a large container.
9. Chill the pitcher of liquid for at least 1 hour so the fat rises to the top. Remove the fat; it should form a large, solid chunk at the top when cold.
10. In a large deep-sided sauté pan over high heat, bring the skimmed braising liquid to a boil and add the short ribs. Reduce heat to medium-low and and simmer for 20-25 minutes until they start to glaze the sauce. The will thicken after 15 minutes. Keep warm.
11. Roll the short ribs around in their sauce, using a pair of tongs, to make them a little more glazed and sticky.
Habanero Aioli½ cup Habanero table salsa
2 quarts mayonnaise
Salt
1. Combine