La Isla Uniforms Donates $3,815.55 to
Dress for Success Southern Nevada for Ninth Anniversary
On Wednesday, Sept. 21, La Isla Uniforms donated $3,815.55 to Dress for Success Southern Nevada in honor of its Ninth Anniversary. La Isla Uniforms celebrated its Ninth Anniversary for nine days from Aug. 26 to Sept. 3 with nine percent of its proceeds being donated to Dress for Success Southern Nevada.

"After celebrating our Ninth Anniversary we are honored to donate to Dress for Success Southern Nevada," said Dimitrios Stavros, director of operations of La Isla Uniforms. "La Isla fully stands behind Dress for Success Southern Nevada's mission of helping disadvantaged women experience their own career successes and we could not be happier to develop this outstanding partnership."

"We are grateful for La Isla Uniforms' generous donation," said Paige Candee, founder of Dress for Success Southern Nevada. "As an organization that provides professional attire to disadvantaged women for job interviews and beyond, we hope to continue this natural partnership."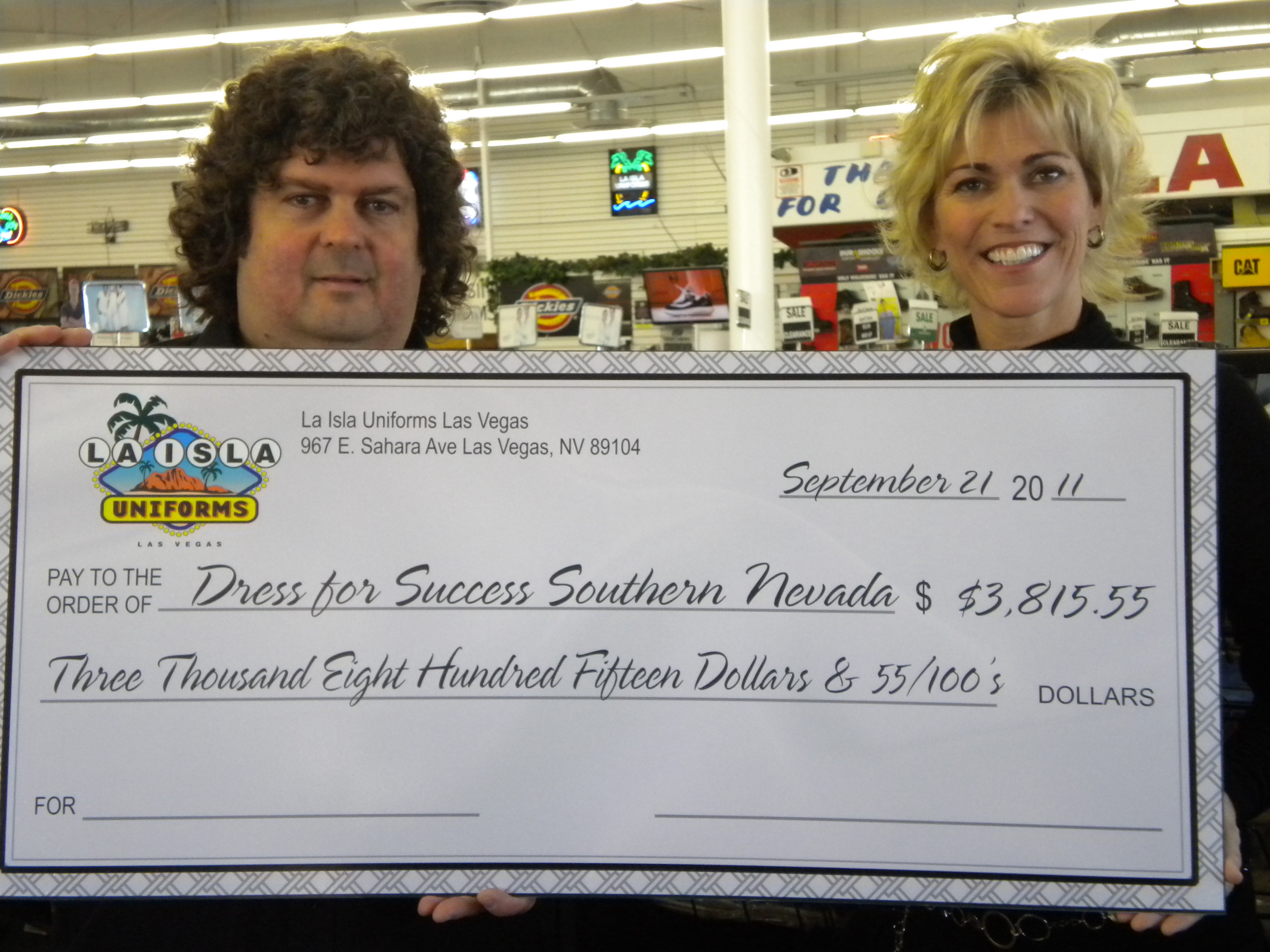 La Isla Uniforms Check Presentation – Dimitrios Stavros, director of operations of La Isla Uniforms, pictured with Paula Lawrence, a board member of Dress for Success Southern Nevada. La Isla Uniforms donated $3,815.55 to Dress for Success Southern Nevada in honor of its Ninth Anniversary.
About La Isla Uniforms & 5.11 Tactical
La Isla Uniforms, the largest uniform retailer in Nevada has been serving Las Vegas since August 2002. La Isla and the 5.11 Tactical and embroidery expansion are open Monday through Saturday 10 a.m. to 6 p.m. and Sunday noon to 5 p.m. La Isla Uniforms is located at 967 East Sahara Avenue and 5.11 Tactical is located in the adjacent building at 953 East Sahara Avenue, Suite B-20. La Isla Uniforms and 5.11 Tactical carry a variety of uniforms ranging from hospitality and culinary to security and law enforcement uniforms and apparel. For more information on La Isla, visit www.laislauniformslasvegas.com, or call 702-734-7070.

For more information on 5.11 Tactical visit www.lasvegastactical.com or call 702-739-7070. For Las Vegas Logos and Embroidery call 740-7070.

About Dress for Success
Dress for Success is an international not-for-profit organization that promotes the economic independence of disadvantaged women by providing professional attire, a network of support and the career development tools to help women thrive in work and in life. The local affiliate, Dress for Success Southern Nevada, is open on Tuesdays from 11:00 a.m. to 6:00 p.m. and on Saturdays from 10:00 a.m. to 4:00 p.m. to accept gently used, clean and on the hanger women's professional attire and is now accepting volunteer applications.
www.dressforsuccess.org/southernnevada.