UNLV VOLLEYBALL'S MARTIN AND KING EARN MOUNTAIN WEST WEEKLY HONORS
Isabel Martin named MW Offensive Player of the Week and Caleigh King recognized as league's Freshman of the Week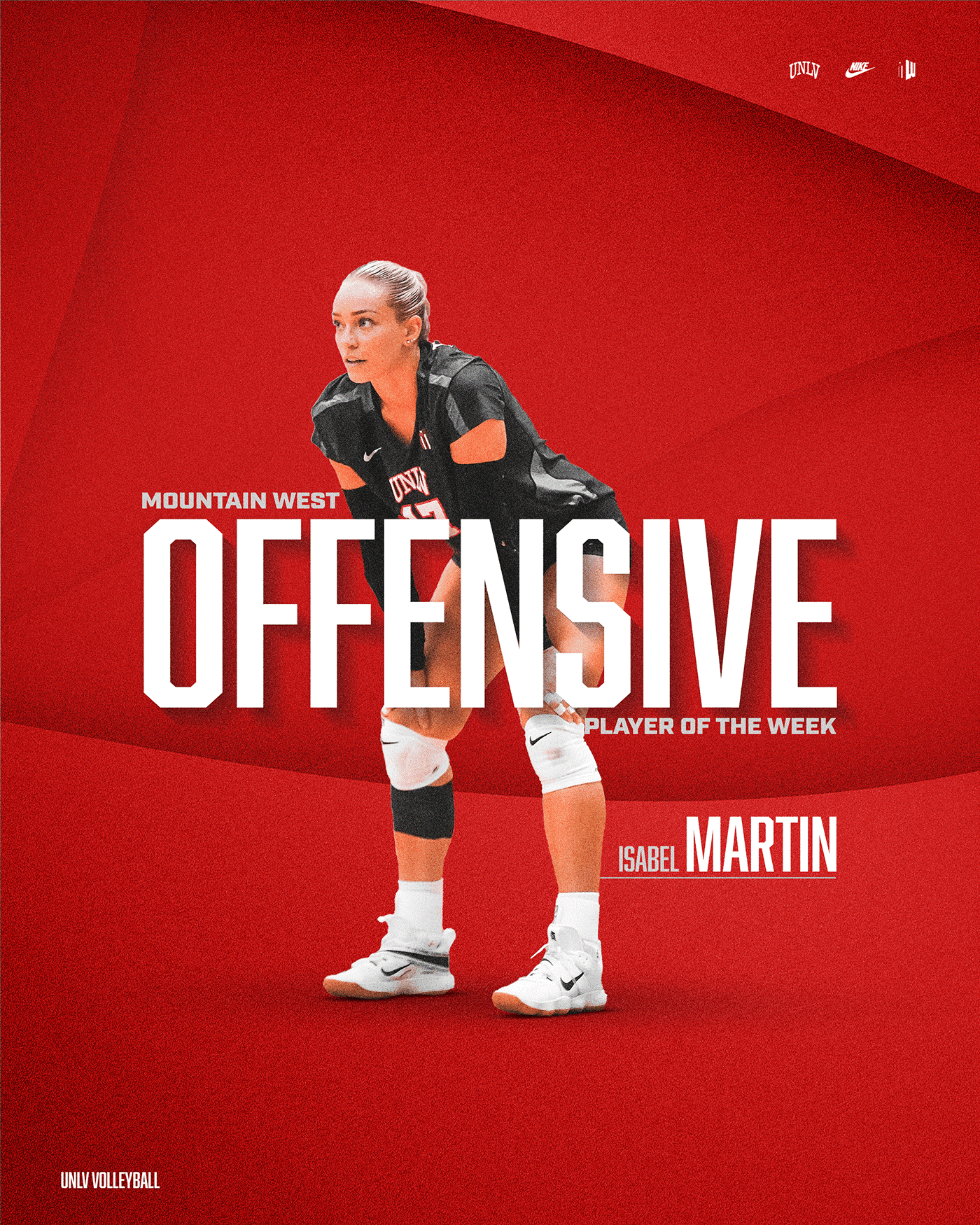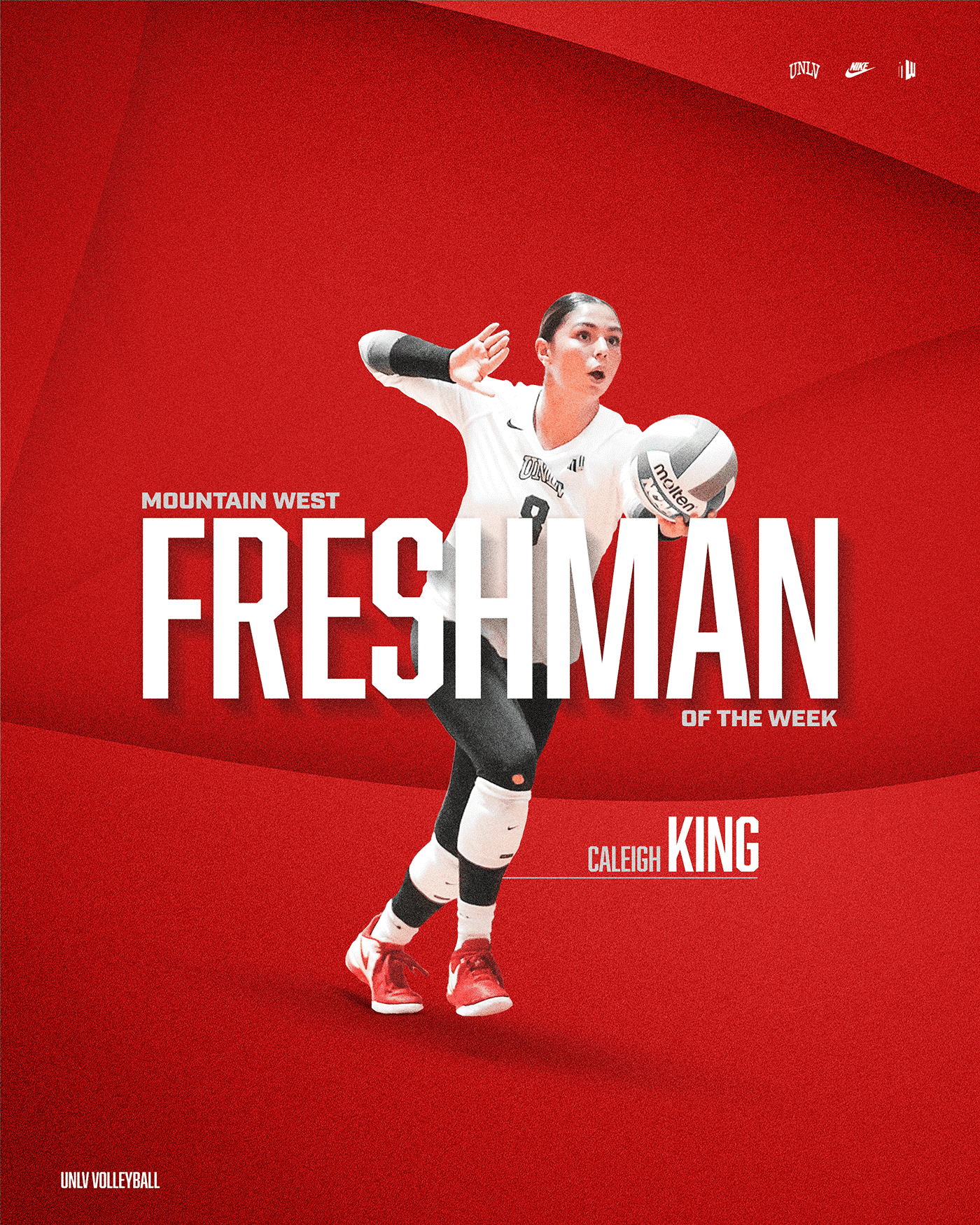 @UNLVvball | Season Stats | Schedule
UNLV volleyball senior Isabel Martin and freshman Caleigh King were both recognized by the Mountain West Monday.
Martin was named the league's Offensive Player of the Week, while King earned Freshman of the Week honors.
The Rebels went 4-0 last week, all at home, also capturing the Rebel Challenge title with three straight wins in their home tournament. UNLV swept Southern Utah on Tuesday, swept Coppin State on Thursday, defeated Portland (3-1) on Friday and swept Lamar on Saturday. The Rebels are now 8-4 on the season.
Martin, an outside hitter from Mauerstetten, Bavaria, Germany, was named the Rebel Challenge's MVP, and 4.2 kills per set and a .459 hitting percentage with 46 kills and only seven errors for the week. She recorded a match-high 14 kills in the home opener against Southern Utah, while also posting a .909 service percentage, six digs, two blocks and 14 points. She tallied a match-high 17 kills against Coppin State , hitting .500, also contributing six digs and a total of 18 points. She posted 11 kills against Portland, hitting .391, with only two errors, also also recording five digs and two blocks, totaling 13 points. In a single set played against Lamar, she had four kills, hitting .571, with one service ace and two digs.
King, a libero from Southlake, Texas, logged a team-high 3.0 digs per set, with five service aces a serve percentage of .822 for the week. She also recorded 49 receptions with only four errors and a .918 receiving percentage. Against Southern Utah, she posted a serve percentage of .900 on 10 serves with one ace and one error. Additionally, she had a match-high-tying nine digs, and 14 receptions with only one error for a receiving mark of .929. In the tournament's opening match against Coppin State, she tallied a match-high 15 digs with a .929 reception percentage, including 14 receptions and one error, and in the win over Portland, posted a match-high eight digs, with 17 service attempts with one ace and one error for a mark of .941. She also logged a .905 reception percentage on 21 receptions and two errors. In the tournament finale against Lamar, she only played a portion of one set, logging four assists, one service ace and one dig.
NEXT FOR THE REBELS: UNLV will open its Mountain West season with a Tuesday Night Block Party on Tuesday, Sept. 19 against San Diego State at the Cox Pavilion. The match will begin at 6:30 p.m. and will also be Greek Night. The Rebels will then wrap up their current homestand on Thursday, Sept. 21 at 6:30 p.m. against San Jose State, which will also be Polynesian night.
PURCHASE TICKETS: Tickets for UNLV volleyball may be purchased at UNLVtickets.com or by calling 702-739-FANS (3267). Season tickets are $50 for adults (13 and older), and $40 for active alumni, seniors, and faculty and staff. Single-game tickets are also available. Kids 12 and under receive free admission.
Summary
Article Name
Martin And King Earn Mountain West Weekly Honors
Description
Martin And King Earn Mountain West Weekly Honors