Rhonda Vincent & The Rage To Headline Springer Mountain Farms Bluegrass Nights At The Ryman Thursday, July 13th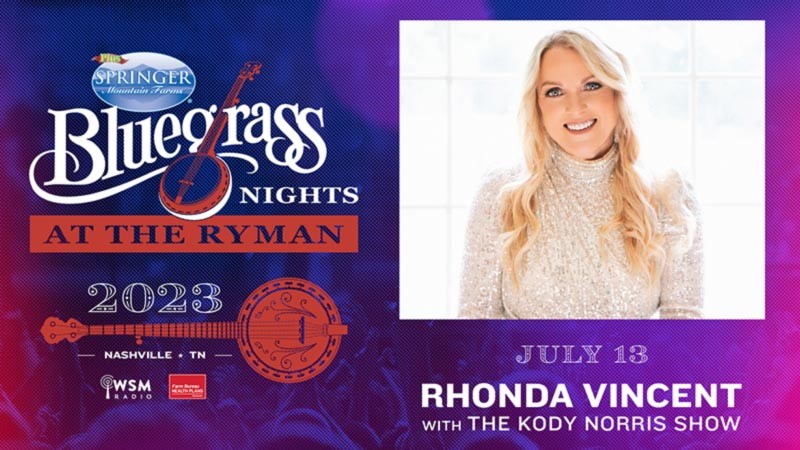 Vincent's New Single 'The City Of New Orleans' Available July 14
Multi-award-winning bluegrass artist and Grand Ole Opry member Rhonda Vincent along with her Grammy award-winning band, The Rage, is set to headline the world-famous Ryman Auditorium Thursday, July 13 at 7:30 pm as part of Springer Mountain Farms Bluegrass Nights At The Ryman. The "Queen of Bluegrass" along with her opening act, The Kody Norris Show, will entertain the audience during this Nashville summer tradition with both classic crowd-pleasers and possibly a few new tunes from her upcoming album. Their timeless yet innovative bluegrass sounds bring unmatched energy to every stage they step on, including the Ryman.
To purchase tickets, visit HERE.
"Every time I have the opportunity to set foot on the Ryman Auditorium stage is a truly remarkable day," expresses Vincent. "This sacred ground carries a profound resonance with each note, creating a magical experience. During the show, we will have special guests and some surprises along the way, and we will share with the audience our new upcoming single, "The City Of New Orleans," BLUEGRASS STYLE. I sincerely invite you to be a part of it!"
Vincent will be releasing her latest single, "The City of New Orleans" on July 14 along with a music video from an upcoming project release. The theme of the project is "destinations"; an idea born from a song contribution to the album from Grand Ole Opry Star, Jeannie Seely. Embracing her latest single and an expanding tour schedule, the renowned "Queen of Bluegrass" continues to work harder than ever!
"I feel it's important to be able to recreate what we produce in the studio on the stage," Vincent states. "I think people expect to hear a similar emulation of what we have recorded and make it translate on our show. That is easy to do when it's the same musicians. I travel with award-winning musicians, who are not only incredible musicians but great people. I am so honored to work and travel with these amazing men."
For more information and to keep up with everything Rhonda Vincent, visit her website and follow her social channels below.
Facebook | Instagram | Twitter | Website
About Rhonda Vincent:
The Grammy-winning Queen of Bluegrass Rhonda Vincent began her professional music career at the age of five, singing with her family's band, the Sally Mountain Show. She picked up the mandolin at eight and the fiddle at twelve, performing with the family band at festivals on weekends. Rhonda struck out on her own, singing with the Grand Ole Opry's Jim Ed Brown. Her opportunity eventually led to a deal with Rebel Records. Her work caught the attention of Giant Nashville's president, James Stroud, who signed Vincent to record two contemporary country albums. After Giant, she signed with Rounder Records where her passion for traditional bluegrass music flourished. With the release of her debut album "Back Home Again," "The Wall Street Journal" crowned Rhonda Vincent the New Queen of Bluegrass. She's a multi-award winner, with a Grammy for Best Bluegrass Album (2017), Entertainer of the Year (2001), Song of the Year (2004), and an unprecedented 7 consecutive Female Vocalist of the Year awards from the International Bluegrass Music Association (2000 – 2006). Her powerful vocal style transcends the boundaries of bluegrass music, as evidenced in her collaboration with Dolly Parton on the Elton John / Bernie Taupin Tribute Project "Restoration" 2018. Rhonda Vincent's lifelong dream came true when she became a member of the Grand Ole Opry on February 6, 2021. You can also hear her on the latest Cody Johnson project, "Treasures" and a current single from Tim Dugger "Mary Wanna."
Summary
Article Name
Rhonda Vincent & The Rage To Headline Springer Mountain Farms Bluegrass Nights At The Ryman Thursday, July 13th
Description
Rhonda Vincent & The Rage To Headline Springer Mountain Farms Bluegrass Nights At The Ryman Thursday, July 13th