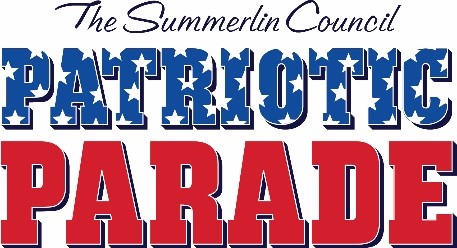 SUMMERLIN COUNCIL PATRIOTIC PARADE ANNOUNCES SPECIAL GUESTS:
GOVERNOR LOMBARDO TO KICK OFF THE PARADE; ZACH WHITECLOUD TO APPEAR ON VGK FLOAT
WHAT: The Summerlin Council Patriotic Parade is pleased to announce special guests for this year's parade. Nevada Governor Joe Lombardo along with Lieutenant Governor Stavros Anthony will help kick off the 29th Annual parade and Vegas Golden Knight, Zach Whitecloud, will appear on the VGK float.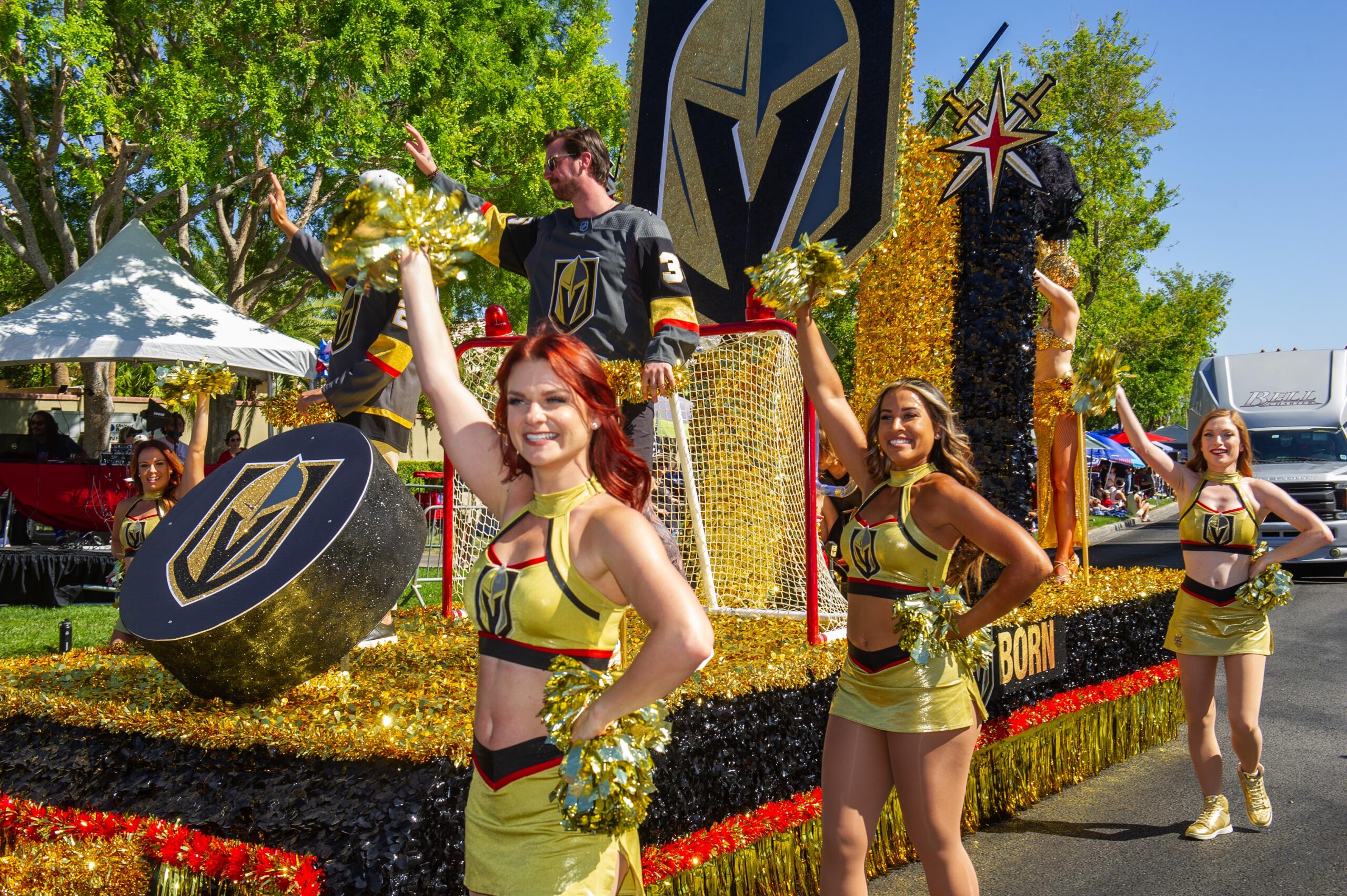 The entire Las Vegas valley is invited to celebrate Independence Day at the 29th Annual Summerlin Council Patriotic Parade, Southern Nevada's largest and most colorful Fourth of July parade. American spirit will be on full display with 70 entries, including a 40-foot American Eagle, 30-foot Grand Old Flag plus 18 more giant inflatable balloons, veteran and military organizations, both patriotic and pop culture-themed floats and performing groups. A fan favorite, the 2023 Stanley Cup Champions Vegas Golden Knights represented by Zach Whitecloud, The Golden Knight, The Knight Line and Vegas Vivas, return to the parade, along with the Las Vegas Aviators.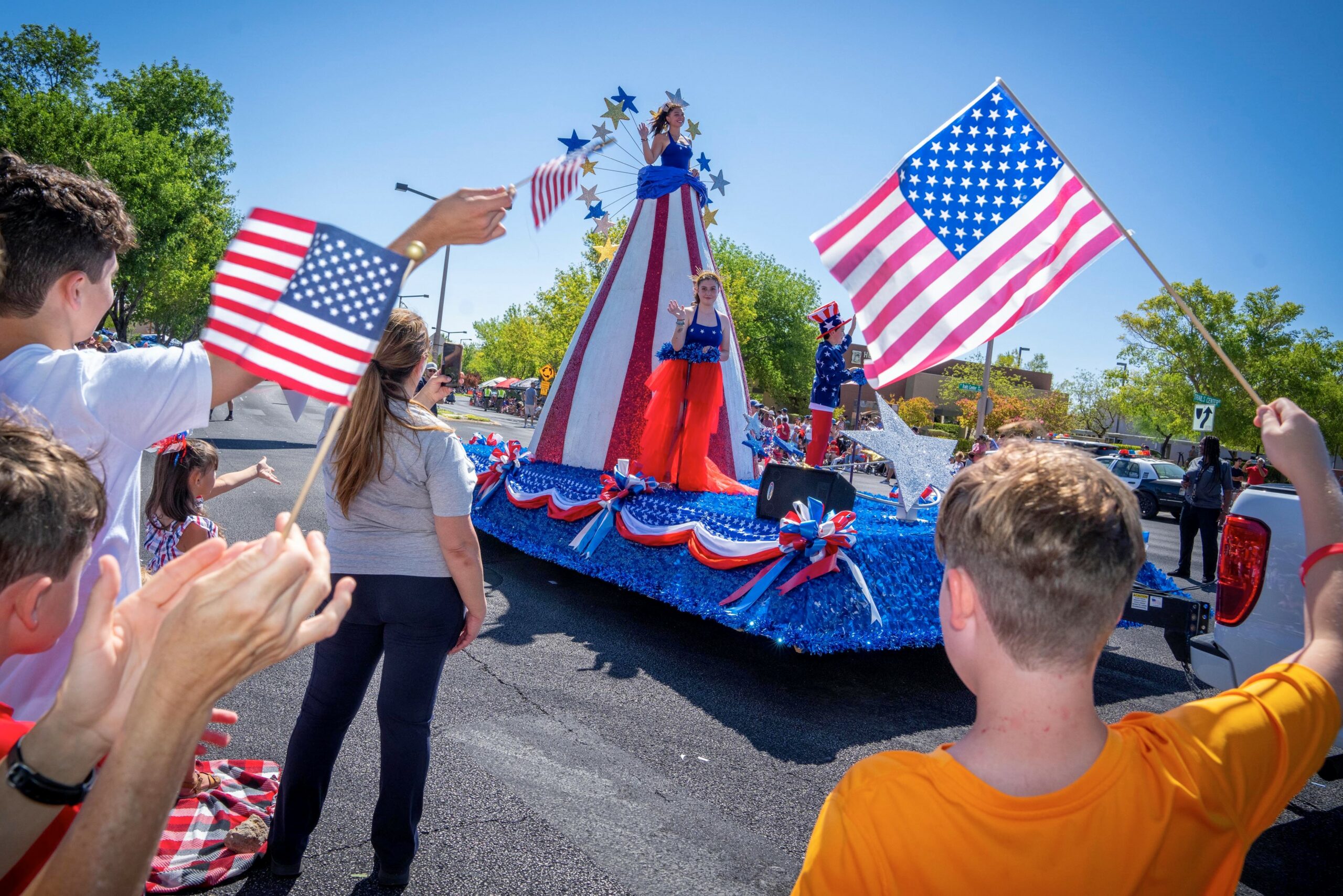 The parade features a myriad of new floats including, Indiana Jones Experience; Barbieland, U.S.A.; Parade of the Pink Ladies; Star Spangled Rodeo; Schoolhouse Rock; Red, White and Bluey; and Up, Up & Away with Peppa Pig. Several popular patriotic-themed entries return this year, including A Salute to the Military, honoring the service men and women from Nellis and Creech Air Force Bases; America Sings! featuring the Desert Angels gospel choir; America Standing Tall featuring a 15-foot Miss Stars and Stripes towering high above the crowd; Happy Birthday, America; and Can't Stop the Beat by the Las Vegas Academy of the Arts.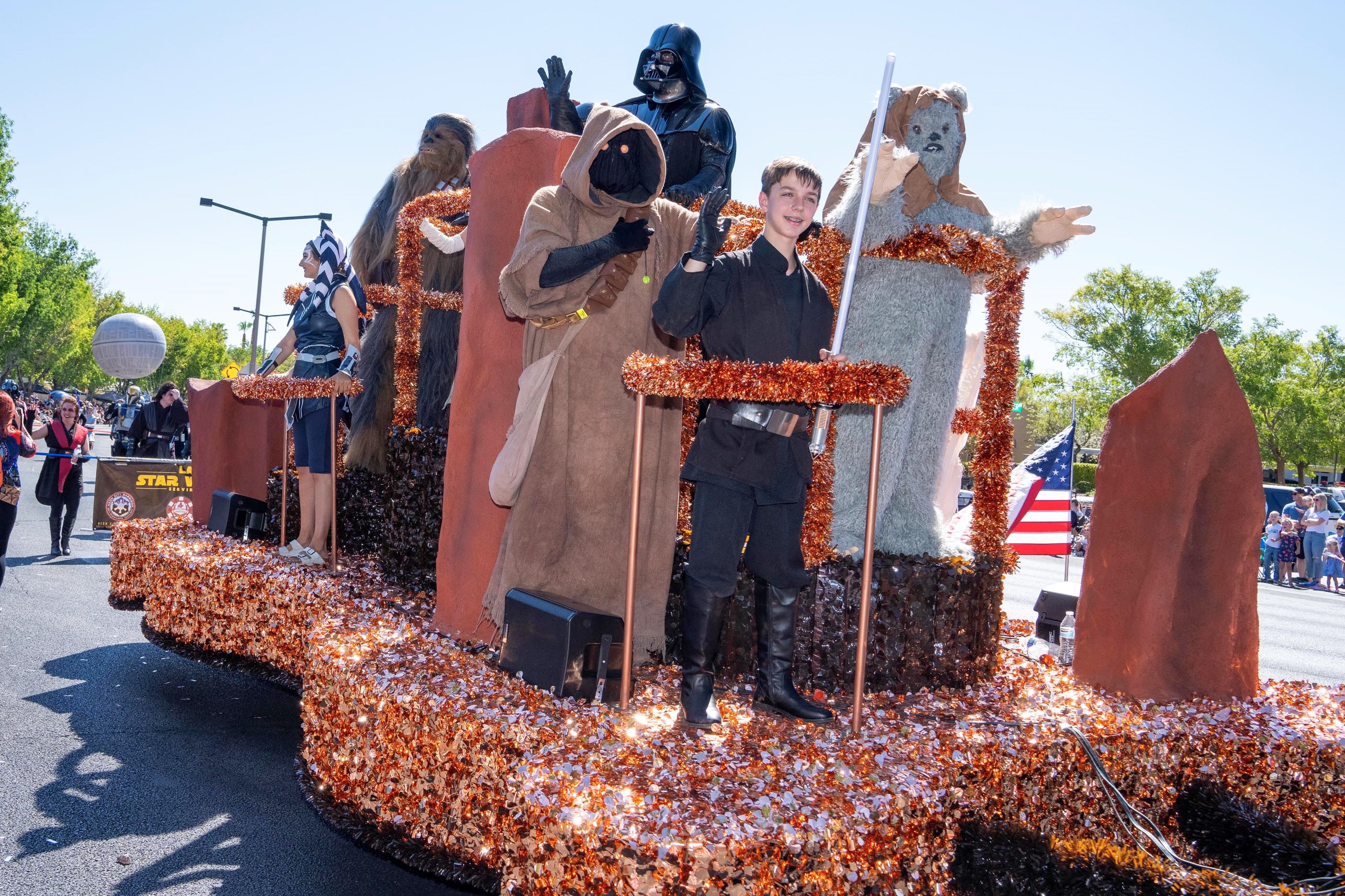 Other popular performing groups include Danza Del Carrizo Native American performing group, Nevada Latino Arts and Culture Association; and the Swing It! Girls. Veterans and military organizations will be represented by the Marine Corps League, American Legion, Forgotten Not Gone, the Southern Nevada Military Vehicle Association and the Military Order of the Purple Heart.
Returning to the parade this year are more fan favorites: Star Wars: The Fourth Awakens, featuring the Stars Wars Clubs of Southern Nevada; The Magic of Encanto; Mario Karts on Parade, featuring Mario and Luigi; Beach Day with Baby Shark; and Princesses on Parade.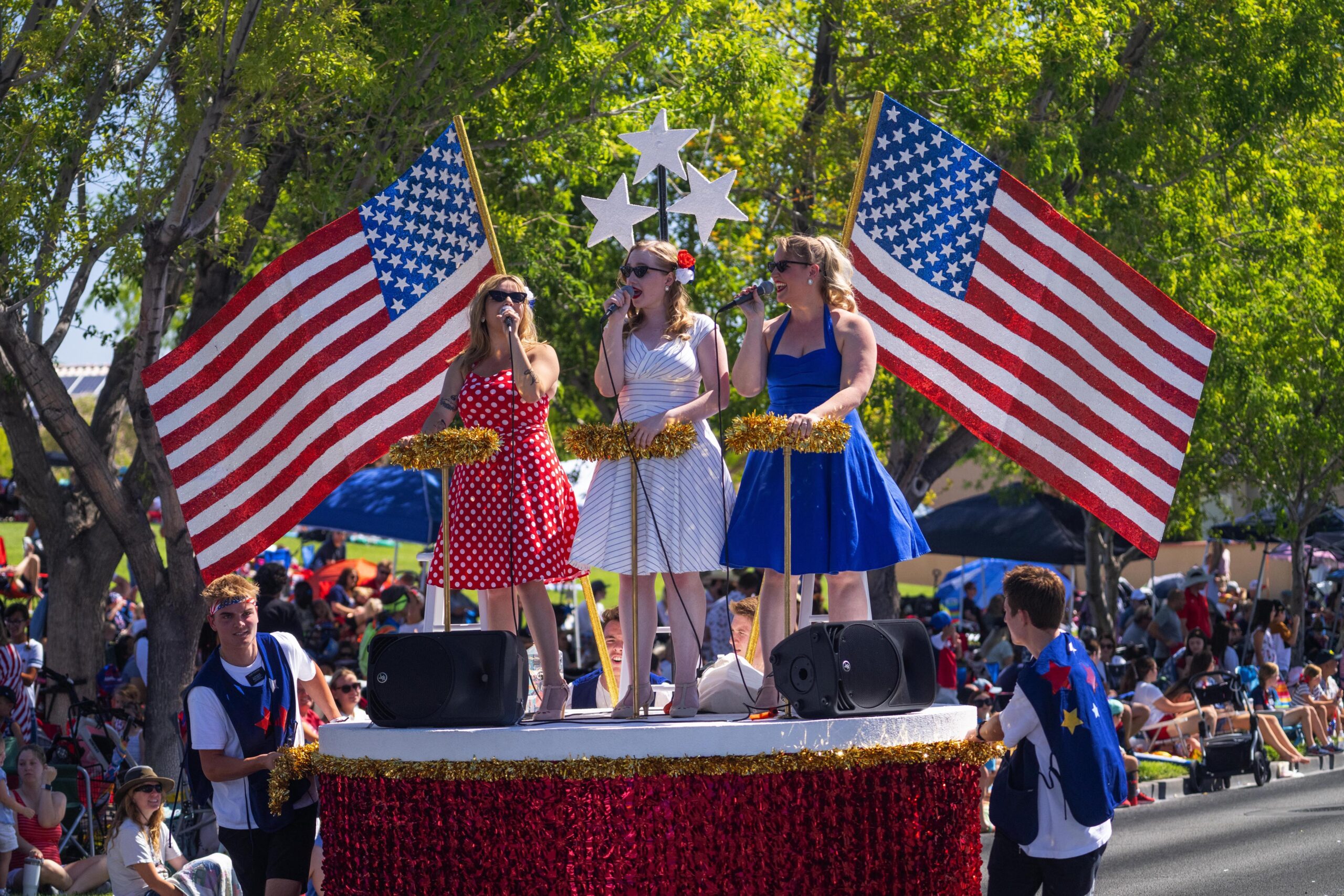 More than 2,500 people are expected to participate in the parade and more than 500 volunteers from dozens of local schools and community groups will assist with parade operations. Over 20,000 cubic feet of helium will be used for the 20 giant inflatables. Attendance along the parade route is expected to top 50,000 people.
The 2023 Grand Marshals are Colonel Brian T. Hobbins, director of operations, United States Air Force Warfare Center at Nellis Air Force Base, and Lt. Colonel Laurel Hobbins (Ret.), a U.S. Air Force Academy graduate who retired with 20 years of dedicated service to our country.
The parade is organized by The Summerlin Council, the nonprofit arm of the Summerlin Community Association dedicated to the social, educational, and recreational enrichment of residents.
The parade is free and open to the public. No parade/viewing set-up is allowed before July 3 at 7 a.m. Items placed before this time will be removed and donated. All persons and their property must remain on the curb.
Parade organizers suggest using RTC 210, which is the nearest public transportation route available, or new this year, Lyft rideshare. Parade organizers have partnered with Lyft to offer two dedicated, convenient drop-off/pick up locations close to the parade route: one near Hills Park; and one near Hillshire Drive and Village Center Circle. To access the parade-day special offering, go to https://lyft.com/lp/PATRIOTICPARADE.
Everyone is encouraged to arrive early, bring water and wear sunscreen.
Title Sponsor is The Howard Hughes Corporation/Summerlin. Major sponsors include Station Casinos; Summerlin Hospital Medical Center; City National Bank; Centralized Security Services; Tri Pointe Homes; Pure Plumbing & Air; Make-A-Wish Southern Nevada; One Hour A/C and Heating; Palmer Electric; BrightView Landscape Services; Par 3 Landscape and Maintenance; LandCare; and Downtown Summerlin.
WHEN: Tuesday, July 4, 2023, 9 – 11 a.m / Escort division commences at 8:30 a.m.
WHERE: The parade begins at the corner of Hillpointe Rd. and Hills Center Dr. in The Trails village of Summerlin. Participants travel south toward Village Center Circle, then west on Trailwood Drive. The parade ends near the corner of Trailwood Drive and Spring Gate Lane.
Summary
Article Name
Summerlin Council Patriotic Parade announces special guests: Governor Lombardo to kick off parade; Zach Whitecloud to appear on VGK float
Description
Summerlin Council Patriotic Parade announces special guests: Governor Lombardo to kick off parade; Zach Whitecloud to appear on VGK float