RUNNIN' REBELS TO HOST MOUNTAIN WEST-LEADING BOISE STATE SATURDAY NIGHT
7 p.m. game against Mountain West leaders at Thomas & Mack Center to feature numerous promotions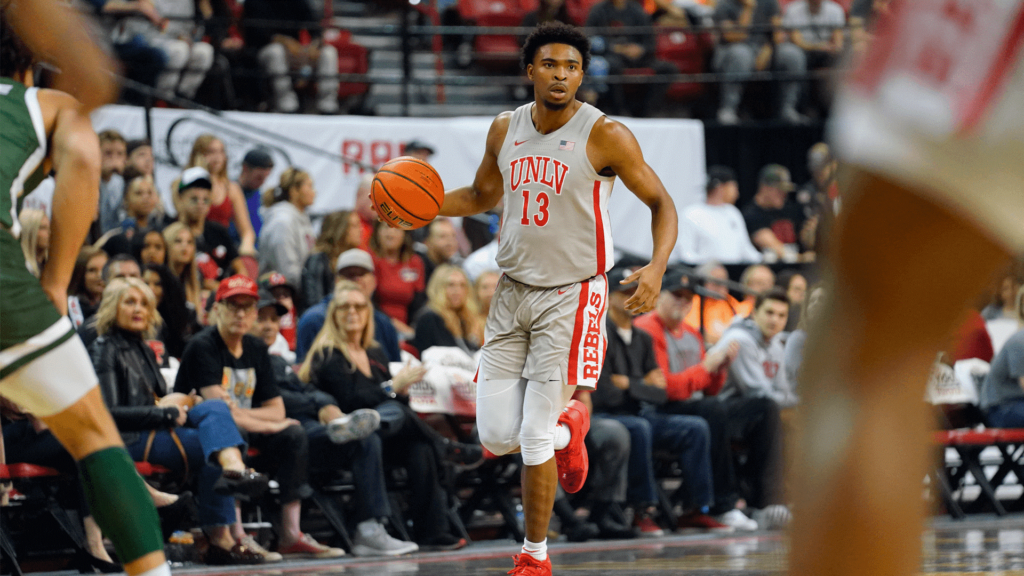 The UNLV men's basketball team, winner of three straight games and six of its last eight, will host Mountain West-leading Boise State on Saturday, Feb. 26 at 7 p.m. at the Thomas & Mack Center. The Runnin' Rebels own an 11-3 home mark this season.
PROMOTIONS: Saturday's game features a number of promotions:
One UNLV student will have a chance to win $10,000 by making a half-court shot.
Students will also have the chance to win Lil Durk and Strong Music Festival tickets.
Students must sign up at the pregame tailgate to enter to have the chance to participate in the $10,000 shot and also to win the tickets.
The tailgate, which is open to all fans, will take place outside of the arena near the Tarkanian statue beginning at 5 p.m. and include a live DJ, games and inflatables.
Additionally, $2 Miller Lite beers will be available during the first half of the game at designated locations on the concourse.
The Family 4-Pack is also available for this game, which includes four tickets, four hot dogs, four boxes of popcorn and four sodas for just $60.
All fans are encouraged to wear black as there will be a free black T-shirt giveaway upon entry to the Thomas & Mack Center while supplies last.
The new student loyalty program, which will culminate in a custom Nike Air Force 1 shoe giveaway, continues Saturday. To be eligible to receive the pair of shoes, UNLV students must bring the card they received before the San Jose State game on Jan. 22 and have it punched at the student entrance at Cox Pavilion prior to, and at the conclusion of, the Boise State game.
Saturday will also mark the second home game of the season that fans may attend regardless of vaccination status and with no mask mandate.
TICKETS: Tickets may be purchased online at UNLVtickets.com, by calling 702-739-FANS (3267) or by visiting the Thomas & Mack Center Box Office.
LAST TIME OUT: The Runnin' Rebels won their third straight game Tuesday night as they defeated UNR in Reno 62-54. It marked UNLV's first regular-season sweep of the Wolf Pack since 2013. Senior guard Bryce Hamilton led all scorers with 27 points, also grabbing eight rebounds with three assists. Senior forward Royce Hamm Jr. collected a game-high 12 rebounds, and senior guard Jordan McCabe dished out seven assists with only two turnovers. UNLV held UNR to just 16.7% on 3-pointers and improved to 16-0 this season when out-rebounding its opponent and to 12-0 when holding its opponent to less than 60 points.
LAST TIME AGAINST THE BRONCOS: UNLV and Boise State met earlier this month in Boise with the Broncos coming out on top 69-63. Hamilton scored 32 points, while senior guard Michael Nuga added 12 points and McCabe finished with nine points, six assists and just one turnover. Boise State scored 19 more points than UNLV at the free-throw line, recording 29 attempts to the Runnin' Rebels' seven. The game featured five lead changes and seven ties throughout, and the Runnin' Rebels held a 36-29 lead at halftime, however Boise State took a four-point advantage just before the first media timeout of the second half. Neither team led by more than seven the rest of the way.
THIS SEASON: Hamilton leads the Runnin' Rebels (17-11, 9-6) in scoring this season at 21.7 points per game, which ranks first in the Mountain West and sixth in the nation. Junior forward Donovan Williams is second on the team at 13.0 ppg and tops in field-goal percentage at 48.2. Hamm Jr. leads the team and is third in the MW in rebounding with 9.5 per contest (25th in the country) and is also averaging 8.3 ppg. McCabe leads the team in assists at 4.9 apg (fourth in the MW) and leads the conference and is fourth in the country in assist/turnover ratio (3.3).
UNLV has had an entirely new look this year with nine transfers – eight coming from the Division I level, including four from Big 12 programs. Ten of the Runnin' Rebels' 13 scholarship players had yet to play in a game in a UNLV uniform before this season began.
UNLV's 15-man roster includes 13 upperclassmen. Hamilton was selected to the 2021-22 Preseason All-Mountain West Team in October. Initially declaring for the 2021 NBA Draft, the second-team All-MW honoree last season who led the Runnin' Rebels in scoring with 17.9 points per game decided to return to the program.
ABOUT THE OPPONENT: Boise State (22-6, 13-2) is in first place in the Mountain West and has won three straight games: at Air Force (85-59) on Feb. 16, vs. Utah State (68-57) on Feb. 19 and vs. San Diego State (58-57) on Tuesday. The Broncos have won five of their last six with their only loss over that span coming against Colorado State in overtime (77-74). Boise State has two players who rank in the top 20 in the MW in scoring: Abu Kigab (14.1 ppg, 14th in MW) and Marcus Shaver Jr. (13.4 ppg). Mladen Armus leads the team in rebounding (8.0 rpg, 4th in MW), while Emmanuel Akot is the team's assist leader (2.9 apg, 14th in MW). Boise State is 7-2 on the road this year and ranks 10th in the country in overall scoring defense (59.6 ppg).
BROADCAST INFO: Saturday's game will be televised nationally on CBS Sports Network with Chick Hernandez and Avery Johnson calling the action. Jon Sandler, former Runnin' Rebel Curtis Terry and Steve Cofield (sidelines) will handle the UNLV radio call, which may be heard live on ESPN Radio 1100 in Las Vegas. All streaming links and live stats are available at UNLVRebels.com and through the UNLV Rebels App.
Summary
Article Name
Runnin' Rebels Host MW-Leading Boise State Saturday Night
Description
Runnin' Rebels Host MW-Leading Boise State Saturday Night