T.G. Sheppard and Kelly Lang Release "Christmas Without You" Just In Time For The Holidays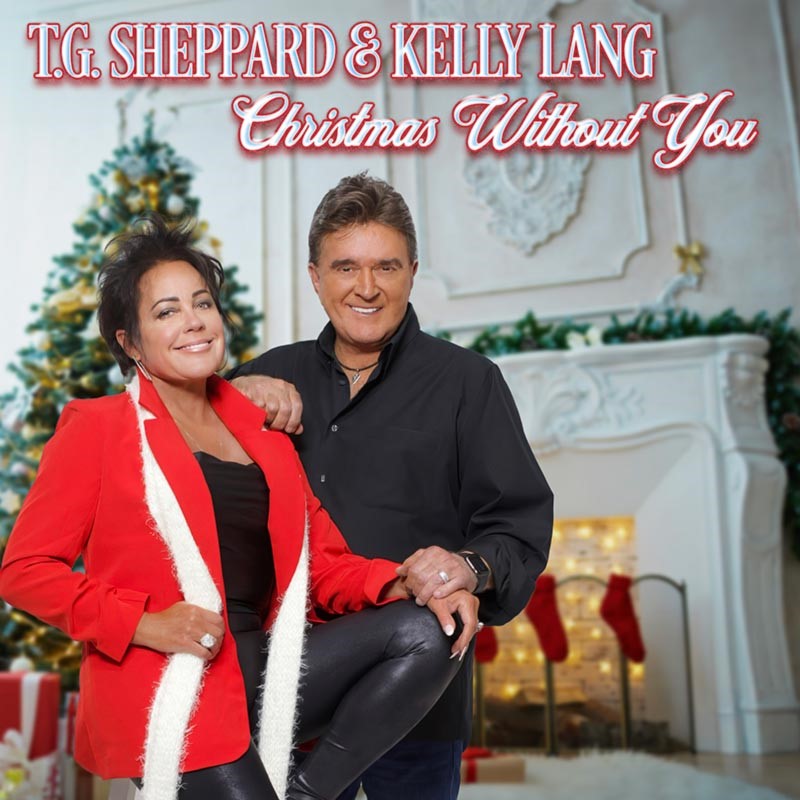 Christmas Without You" Was Premiered By Cowgirl Magazine
Country music legend T.G. Sheppard and singer-songwriter and author Kelly Lang have just dropped their new holiday single, "Christmas Without You" today! This track, a holiday favorite among Dolly Parton and Kenny Rogers enthusiasts, has cemented its place as a seasonal classic. The collaboration between Sheppard & Lang brings a distinctive touch that only they could deliver. Premiered by Cowgirl Magazine, "Christmas Without You" encompasses the emotions of love and yearning during the festive season through its heartfelt lyrics and soulful melodies. While paying homage to the traditional country sound, the song also introduces a fresh perspective, making it a must-listen for both long-time fans and those new to Sheppard and Lang's music.
To view the premiere with Cowgirl Magazine, visit HERE.
To purchase/stream: TGandKelly.lnk.to/ChristmasWithoutYouPR.
"We always enjoy recording Christmas music because it's our favorite time of the year. Last year we recorded and released "White Christmas" featuring our dear friends The Oak Ridge Boys. This time around we picked "Christmas Without You" which was originally recorded by Kenny Rogers & Dolly Parton. It's always been one of our favorite duets by them both. We hope everyone enjoys our version of this classic hit which we will be performing on The upcoming Dailey & Vincent Christmas Special. Happy Holidays!" – Love, T.G. Sheppard & Kelly Lang
Sheppard recently celebrated the 40th Anniversary of his #1 hit single "Slow Burn" which was released in September 1983 and was the title track of the hit album as well. "Slow Burn" became Sheppard's thirteenth number-one hit, spending fourteen weeks in the Top 40. The album also included the popular singles "Somewhere Down The Line" and "Make My Day" with Clint Eastwood, which was added to the record for a re-release in February 1984 and used in the hit film 'Sudden Impact' starring Eastwood. Produced by Jim Ed Norman and written by Charlie Black and Tommy Rocco, "Slow Burn" remains one of Sheppard's most requested songs to date.
Lang recently made her official Grand Ole Opry debut for Opry Goes Pink, in honor of Breast Cancer Awareness Month. Opry Goes Pink raises money for the Susan G. Komen Foundation to aid in the fight against breast cancer. Her latest album, 'Dragonfly' contains twelve songs, nine of them self-penned, including her popular singles "I'm Not Going Anywhere" and "I Think It's Jesus." 'Dragonfly' also contains classic hymns such as "Amazing Grace" and "Jesus Loves Me / I Surrender All." 'Dragonfly' also includes her powerful song called "Life Sentence," about cancer, which Lang and her fans have faced together. Lang's positive attitude towards her own battle with breast cancer gives hope to others dealing with similar situations.
To keep up with future releases and everything T.G. Sheppard, visit HERE.
To keep up with future releases and everything Kelly Lang, visit HERE.
About T.G. Sheppard:
T.G. Sheppard has always had an unstoppable passion for music. That passion, combined with a steadfast dedication to entertainment, has made him one of the most popular live performers in country music today. With 21 #1 hit songs, his live concerts are chock full of his chart-topping tunes like "Last Cheater's Waltz," "I Loved 'Em Every One," and "Do You Wanna Go To Heaven." Sheppard released his latest album, Midnight In Memphis, in 2019. With more than 40 years of show business under his belt, it's only natural that Sheppard has developed a reputation as a solid performer who delivers exactly what audiences want. All this and more, combined with a steadfast commitment to entertainment, has truly made T.G. Sheppard one of the great legends in country music.
About Kelly Lang:
As a songwriter, Lang has had a stellar career with her songs being recorded by artists such as Ricky Skaggs, Lorrie Morgan, The Oak Ridge Boys, Crystal Gayle, George Jones, B.J. Thomas, Jimmy Fortune, Jerry Lee Lewis, T.G. Sheppard, and Johnny Lee, just to name a few. She has also performed/recorded duets with iconic artists, Sir Barry Gibb, Dame Olivia Newton-John, Paul Shaffer, and Lee Greenwood. As an artist, Lang has released several albums including '11:11′, 'Shades of K,' 'Throwback,' 'Obsession,' and 'Iconic Duets' with her husband, T.G. Sheppard, and is a member of the Oklahoma Music Hall of Fame. In the spring of 2020, Lang re-released her classic children's album 'Lullaby Country,' which was originally sold at Cracker Barrel. Lang has released 'Old Soul' and 'Old Soul II,' a collection of classic hits that she produced highlighting songs that have stood the test of time. As part of a national campaign, her voice and writing skills can be heard on television with her song "I'm Not Going Anywhere" throughout the United States as the official anthem for the Ascension Hospital commercial. Lang released her autography also titled 'I'm Not Going Anywhere' which is also available as an audiobook. Lang's new album 'Dragonfly' is available now.
Summary
Article Name
T.G. Sheppard and Kelly Lang Release "Christmas Without You" Just In Time For The Holidays
Description
T.G. Sheppard and Kelly Lang Release "Christmas Without You" Just In Time For The Holidays