With the weather getting more cool and dry this time of year, dry and irritated scalps become more common and the symptoms can be difficult to deal with! Here are the best tips, tricks and product recommendations from Neutrogena Hair and Olivia Garden to maintain and improve scalp health through the winter season!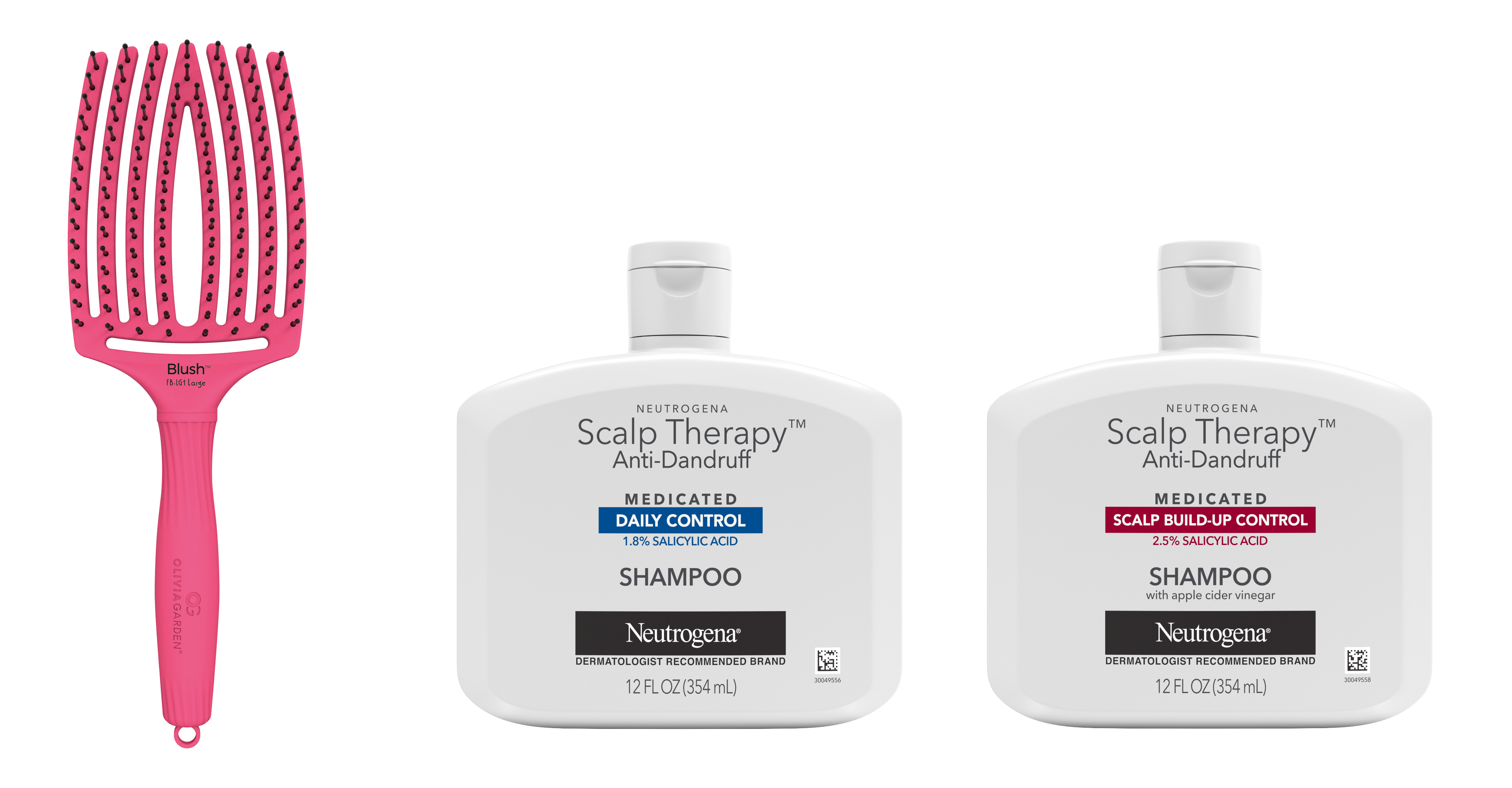 TIPS & TRICKS FOR A HEALTHY SCALP (DURING DRY, WINTER MONTHS)
INCORPORATE SCALP EXFOLIATION INTO YOUR DAILY ROUTINE
Gentle exfoliation of the scalp daily will help to maintain the cleanliness and health of your scalp as well as prevent product build-up. Regular shampoos may not always be able to properly cleanse the scalp so using one with exfoliating ingredients can be highly beneficial. We recommend Neutrogena Scalp Therapy Daily Control Shampoo – it's formulated with 1.8% Salicylic Acid to cleanse deep into your scalp while being gentle enough to use every day. It's clinically proven to fight and help prevent recurrence of scalp itchiness and flakiness while moisturizing a dry scalp.
GIVE YOURSELF A SCALP MASSAGE
Giving yourself a scalp massage can help boost blood circulation and regulate the health of your scalp to prevent flakes and itchiness. It also helps to evenly distribute the natural oils of your hair throughout the scalp to nourish the shaft of the hair. Olivia Garden Fingerbrush Collection offers three different-sized brushes with ionic bristles to help hydrate the hair cuticle and add shine. Its patented scalp-hugging curved design provides a comfortable and relaxing scalp massage with every stroke, and stimulates the scalp for the growth of healthier hair.
CLEAR SCALP BUILD-UP WEEKLY
Over time, with the use of our daily hair products like dry shampoo, leave in conditioners and scalp serums, excess product can build up quickly on our scalps and cause unwanted itching, irritation, and flaking. Using an strong exfoliating treatment once a week can help to break down any product build up and prevent any recurrence. Neutrogena Scalp Therapy Build-Up Control Shampoo has 2.5% Salicylic Acid and refreshing apple cider vinegar to penetrate deep into the scalp to remove excess oil and dead skin on the surface.
Summary
Article Name
Tips & Tricks for a Healthy Scalp (during dry, winter months!)
Description
Tips & Tricks for a Healthy Scalp (during dry, winter months!)