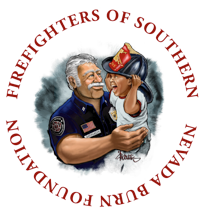 'Tis the Season for The Firefighters of Southern Nevada Burn Foundation's
10th Annual "Fill the Fire Truck Toy Drive"
Firefighters to collect toys and gift cards at select Wal-Mart locations
every weekend from Dec. 3 – Dec. 18
The Firefighters of Southern Nevada Burn Foundation will begin it's 10th annual "Fill the Fire Truck Toy Drive" on Sat., Dec. 3, collecting toys at select Wal-Mart locations across the valley throughout the holiday season, every Saturday and Sunday through Dec. 18.
 
"In this economy, there are many families struggling just to make ends meet and with the recession still hanging on, the need for our services has become even greater," said Warren Whitney, president of The Firefighters of Southern Nevada Burn Foundation. "With the 10th Annual 'Fill the Fire Truck Toy Drive' we hope to brighten more people's holiday season by helping more families provide gifts for their children this year."
 
Firefighters and volunteers will be collecting new, unwrapped toys and gift cards at the following locations on Saturdays and Sundays (Dec. 3 & 4, 10 &11 and 17 & 18) from 9 a.m. to 3 p.m. at any of the five designated Wal-Mart locations:

7200 Arroyo Cross Pkwy, located off of S. Rainbow Rd. and I-215

8060 W. Tropical Pkwy, located off of Centennial Pkwy and Highway 95

6464 N. Decatur Blvd., located at North I-215

4350 N. Nellis Rd., located at Craig Rd.

540 Marks St., located at Sunset Rd.  


Local fire departments are joining together to supply volunteers and fire trucks to help make this year's Toy Drive a success. Many local companies have also partnered with Firefighters of Southern Nevada Burn Foundation to sponsor this year's toy drive. Local sponsors showing their support through private toy and monetary donations include: Wal-Mart, Storage One; Vitality Medical & Wellness Center; and Links for Life Foundation. All local fire departments are supplying volunteers and trucks.
 
Several community service programs and organizations have partnered with Firefighters of Southern Nevada Burn Foundation to distribute toys to families in need including: The Boys & Girls Clubs of Las Vegas; Las Vegas – Clark County Urban League, Hemophilia Foundation of Nevada; Candlelighters for Childhood Cancer of Nevada; Clark County Department of Social Services; Cure 4Kids; as well as many family resource centers and local elementary schools.
 
The Firefighters of Southern Nevada Burn Foundation, a non-profit organization guided by valley firefighters from Clark County Fire Department, Las Vegas Fire & Rescue, North Las Vegas Fire Department, Nellis Fire Department and Henderson Fire Department, is a charitable organization that reaches out to the Southern Nevada community, as well as the local Red Cross chapter, during catastrophic situations and lends a hand in areas where other organizations are unable to help. The organization provides assistance for sick or injured children through financial aid, clothing and furniture donations. More than 40,000 Las Vegas Valley residents have benefited from the Burn Foundation in the past two years and the organization has raised more than $1,150,000 for the Southern Nevada community since 2003.